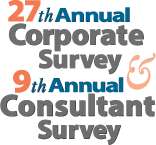 CONSULTANTS COMMENTARY

Survey Results Point to a "Positive Hold"
Brett Hunsaker
, executive vice president and regional managing director at Newmark Grubb Knight Frank

Emergence of Big Data Affects Corporate Survey Respondents' Priorities
Bill Luttrell
, senior locations strategist at Werner Enterprises

A Lackluster Recovery
Ed McCallum
, senior principal at McCallum Sweeney Consulting

"Caution" Is the Watchword in the Current Recovery
David Munson
, Consultant

Corporate Survey Results Mirror General Market Trends
Christopher B. Schastok
, vice president at Jones Lang LaSalleg

Incentives Are Still Important
Andrew Shapiro
, managing director at Biggins Lacy Shapiro & Company

Corporate Survey Reflects the New Economic Normal
Thomas Stringer
, Business Advisory Services, Ryan & Company
Respondents' Sources of Information
Eighty percent of the Corporate Survey respondents use site magazines like Area Development when making location decisions (see chart on page S26). Two thirds also use the Internet to satisfy their informational needs. Both of these numbers are up over last year's survey. When searching the Internet, about 70 percent of the respondents are looking for data on specific locations, and around 60 percent for listings of available sites and buildings.

The largest percentage (43 percent) start their information-gathering process one to two years in advance of making the location decision. Nearly two thirds of the respondents say they don't wait very long after their initial information search to contact the locations of interest — a month to three months later. Nearly 90 percent of the respondents put up to five locations on their "short list" and also visit the same number before finalizing their location decisions. Three quarters make that decision any time between three months to one year after contact is made with representatives from the prospective locations.

Interestingly, more than 60 percent of the respondents to our 27th Annual Corporate Survey say they don't use site selection or business consultants in this process. Of the third that do, 57 percent say the consultants help with the final real estate transaction; about half use their services of comparative location analyses as well as feasibility studies, incentives negotiations/management, and in the construction process.



Drawing Conclusions


Although the 27th Annual Corporate Survey results show no dramatic upswings in location or expansion plans, there are noted changes in site selection priorities — perhaps as a result of the lackluster economic recovery. Growth has been slower during this recovery than in previous ones. Nonetheless, there has been growth. In fact, the ISM index of manufacturing activity for January 2013 jumped to 53.1 from December 2012's seasonally adjusted 50.2, with manufacturers also adding 4,000 net new jobs in January, the fourth consecutive monthly increase.

With this slow, uneven recovery, it's no surprise then that nearly half of this year's Corporate Survey respondents say the economy will not improve for another two or three years, i.e., until 2015 or 2016. Eighty percent of the year-prior survey respondents had thought it would improve by 2013 or 2014 — the projections keep getting longer. And the nation's "economic instability" seems to be the culprit for the lack of optimism expressed by the corporate respondents. Worries about what the future holds in the way of taxes and government regulations are curbing business investment and hiring plans and keeping the recovery from taking off. Congressional stand-offs — like the one that brought the nation to the edge of the fiscal cliff in late 2012 — are keeping economic growth in check, and issues such as the debt ceiling and tax reform have yet to be fully dealt with by Congress.

As 2013 begins, Bernard Baumohl, chief economist for the Economic Outlook Group, recently noted that an otherwise fundamentally sound economy is being slowed by a lack of finality in the congressional budget debate. "What a shame," says Baumohl in a research note. "Companies are eager to ramp up capital investments and boost hiring. Households are prepared to unleash five years of pent-up demand."

In a January weekly address, President Obama said that signs of progress in real estate, manufacturing, and job-creation point to the fact that 2013 can be a year of economic growth. Ironically, the housing crisis brought the economy to its knees and now growth in housing may address its anemia. Just five years after the housing bust created a glut of empty homes, the country now doesn't have enough — only 149,000 at the end of November 2012 and just 6,000 more than the lowest total on records dating back to 1963. This should spur the construction industry as well as consumer spending on furniture, appliances, and other durable goods, which should further boost manufacturing.

Now, if Congress can get its act together — and avoid further damage to business and consumer confidence — companies may also boost spending on equipment and facilities. Yet, with companies now inured by more than a decade of uncertain uneconomic conditions, it is doubtful we can turn back to the 1990s when more than 70 percent of our Corporate Survey respondents consistently had robust investment and facilities plans. We continue to expect modest growth as today's corporate decision-makers continue to be as cautious as they are consistent in this regard.