Agribusiness


Agribusiness is a driving force in the national and global economy, and for reducing hunger throughout the world. Food research and food processing are major employers in the South. For example, during the last decade, companies in Virginia's food and beverage sector have invested over $1.8 billion and created more than 6,100 new jobs. The food processing industry accounts for 14 percent of total manufacturing employment in Virginia, making it the state's second-largest manufacturing sector. Major companies include Hampton Farms, the leading roaster of in-shell peanuts in the country, which will invest $5.5 million to establish a peanut-butter production plant in Southampton County. Research Triangle Park (RTP) in North Carolina has long been a leader in agricultural research and biotechnology. Three of the top five crop-science companies are headquartered at RTP — BASF Crop Protection, Bayer Crop Science, and Syngenta Biotechnology. Bayer CropScience will undertake a $33 million renovation of its North American headquarters, which will eventually employ 700 people working on the latest developments in sustainable agricultural processes.

Syngenta Biotechnology will also expand its crop protection and seed development operations at RTP, investing $94 million and creating 150 new jobs by the end of 2018. "This is an extraordinary time of growth for agriculture in North Carolina and we are proud to be part of the region's growing agricultural technology cluster," states Michiel van Lookeren Campagne, president of Syngenta Biotechnology.



Life Sciences


Research Triangle Park is also home to scores of biotechnology and life sciences companies. The region's universities are a steady source of highly qualified scientists and engineers, as well as established venture capital firms that invest millions in RTP-based companies every year. RTP tenants include ChemoGenics BioPharma, Dharma Laboratories, ENVIGEN Pharmaceuticals, GlaxoSmithKline, and Symmetry Biosciences, as well as many others at the North Carolina Biotechnology Center.

Georgia also has a strong life sciences sector. Anchored by the Centers for Disease Control and Prevention in Atlanta, the state's life sciences industry consists of more than 400 life sciences companies and 225 health IT companies. R&D specialties include health informatics, hematology and immunology, and medical devices. Leading companies include Baxter, GE Healthcare, Philips Healthcare, and Greenway Medical Technologies.

Other states are hard at work developing life science sectors. Kentucky, for example, is developing Nucleus Innovation Park, a $2 billion project in downtown Louisville. The park will support startup companies in the biotech and life sciences fields. In northern Kentucky, the College of Informatics at Northern Kentucky University has launched UpTech, a business accelerator program that supports more than 50 early-stage informatics companies — the first of its kind in the nation.



Energy


The South does it all when it comes to energy — coal, oil and gas, nuclear, and alternative fuels. Louisiana has long been a leading U.S. oil and gas producer. The state is the second-highest crude oil producer (including offshore production) and third-highest natural gas producer in the nation. Louisiana also has a robust and diverse agricultural base that can produce feedstock for alternative fuels. For example, Green Circle Bio Energy plans to build a $115 million wood pellet manufacturing facility in the George County Industrial Park, which will produce wood pellets for European markets as a renewable alternative to coal.

West Virginia is experiencing a natural gas boom, thanks to the Marcellus Shale, a deep rock formation that is believed to contain more than 50 trillion cubic-feet of recoverable natural gas. Unlocking these vast reserves will likely stimulate both the chemical and manufacturing industries. West Virginia is also developing coal-biomass-to-liquids (CBTL) projects as a cleaner alternative to imported petroleum.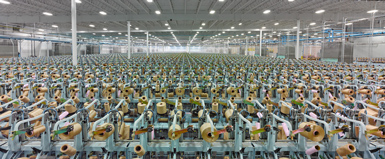 On the nuclear scene, AREVA, the largest technical resource for the nation's nuclear energy sector, will relocate its North American headquarters from Maryland to Charlotte, North Carolina. "Areva has taken the lead in the U.S. nuclear sector by investing millions to create domestic industrial capacity, which provides a tremendous boost to American energy infrastructure and the U.S. economy," says CEO Michael W. Rencheck. "North Carolina is a great place to do business because of its quality of life, extensive business infrastructure, investments in work force development, and commitment to forming partnerships with industry."



Foreign Direct Investment


"One of more powerful aspects of the South's success over the last 50 years is the targeted effort at FDI, especially in manufacturing," says consultant Mark Sweeney.

In the annual IBM-Plant Location International Global Location Trends report released in December 2013, South Carolina ranked first in the nation for per-capita employment by foreign-owned firms investing in the U.S. last year. Since January 2011, the state has recruited $6.7 billion in capital investment from foreign-owned companies, resulting in more than 15,600 jobs. For projects announced in South Carolina between 2011 and 2013, FDI represented 39 percent of new jobs and 61 percent of capital investment.

"South Carolina's strategy for attracting foreign direct investment has been a successful one for the past several decades, netting companies like BMW, Michelin, Honda, and others," says Secretary of Commerce Bobby Hitt. "While German companies have long been the top investors in our state, we're seeing increased interest in South Carolina by Chinese, Japanese, and Indian companies."

The long history of foreign direct investment in the South has been led by automobile manufacturing. Kentucky is developing very strong ties with firms such as Kayser Automotive, iwis Engine Systems, Dr. Schneider Automotive Systems, Mubea, Webasto Roof Systems, ZF Steering Systems, and others.

Tennessee is another FDI leader in the South, with a total investment of $27 billion by nearly 900 foreign-owned companies that employ 114,000 workers in their Tennessee operations. Japan, Germany, Canada, and the UK are the state's leading contributors to FDI. New projects continue to be impressive — in October 2013, Korean-owned Hankook Tire announced plans for an $800 million factory in Clarksville.

FDI is responsible for more than 2,500 establishments in Florida accounting for 236,000 jobs. Big attractions for foreign companies include strong air and seaport infrastructure and a well-trained multicultural work force. Unipharma, a Venezuelan pharmaceutical company, recently announced it would establish its headquarters in Tamarac. The company cited Broward County's easy access to foreign markets, growing life sciences cluster, and focus on contract manufacturing: "Our new facility will not only provide jobs for the local community, but also support Florida's growing life science industry," says Unipharma CEO Reinaldo Santa Marta.



Future Growth


By most indicators, the South's economy will continue to be a solid performer in 2014. Companies that survived the Great Recession have become lean and have more cash to spend. Banks are making commercial loans again, the housing market has stabilized, and consumer confidence is fairly high.

"Manufacturing production rose 2.6 percent in 2013, slowing from the 3.5 percent and 3.2 percent growth rate experienced in 2011 and 2012, respectively," indicates Chad Moutray, chief economist for the National Association of Manufacturers. "The lower 2013 figure stemmed largely from weaknesses in the first half of the year, with manufacturing output rising an annualized 4.2 percent in the second half. As such, the sector ended the year on a strong note, with a pickup in demand and cautious optimism for 2014. "

According to Moutray, the strongest manufacturing sectors are motor vehicles and parts, electrical equipment and appliances, primary metals, food, beverage and tobacco products, apparel, petroleum and coal products, and chemicals — all key economic drivers in the South's economy.

Foreign countries are also starting to emerge from the global recession. As a result, foreign companies are also feeling more secure about making investments in the United States, where states are showing they are highly competitive in going after capital investment. The southern states remain proactive in marketing themselves to companies across the world. Not only do they carry out periodic trade missions, but they also are committed to creating long-term relationships with key countries like Japan.

Alabama, for example, is an active member of the Southeastern U.S./Japan Association, which will hold its 2015 meeting in Birmingham. More than 65 Japanese firms have invested more than $4.4 billion in Alabama — and not just in big cities like Huntsville. In Jasper, Japanese firms HTNA (carpet, interior trim) and Nitto Denko Automotive (automotive supplier) will employ nearly 300 people combined once HTNA's recently announced expansion is completed.

"These two Japanese companies have had a great impact on our economy, both directly and indirectly," says David Knight, executive director of the Walker County Development Authority. "Anytime you have companies that employ hundreds of people and invest tens of millions of dollars, it can't help but be a positive