Where's the talent? Ask a corporate executive or a site selection consultant the number-one factor driving location decisions and the response will be skilled labor. In
Area Development's 33rd Annual Corporate Survey and 15th Annual Consultants Survey
, "availability of skilled labor" ranked number one on both surveys — not surprising while reinforcing talent-focused strategies. If talent is the number-one factor, why do so many economic development strategies focus on clusters of companies versus clusters of talent?
A New Approach
One benefit of starting a new regional economic development organization is the ability to consider new approaches without being tied to previous thinking. At the Detroit Regional Partnership, we developed our strategies based on a deep understanding of our region and its competitiveness through data collection and analysis.
Findings from performing an industry cluster analysis revealed a unique set of data that compelled us to tell our story differently and showcased the Detroit region as a leader in research, engineering, and design from both an industry and talent cluster approach. Additionally, initial exploration of industry codes in our region came up with what you would expect from Detroit — the Motor City. We performed extremely well in motor vehicle manufacturing, motor vehicle parts, metalworking, machine shops, and other smaller manufacturing.
In order to balance this, we also reviewed the occupation data for our region and saw the data through a different lens. Initially, architecture and engineering jumped off the page at over a 2.6 Location Quotient (LQ is a metric to identify how concentrated an occupation or industry is in a region as compared to the nation). An LQ of 2.6 meant that our region had more than two and half times the number of architects and engineers than a typical U.S. region. In addition, an LQ above 1.5 indicates that there is a higher degree of specialization in the region than what is expected for a region of our size.
As we re-examined our clusters from a talent perspective, it also became clear that design services and research and design were also regional strengths. Hence, the research, engineering, and design (RED) talent cluster was born.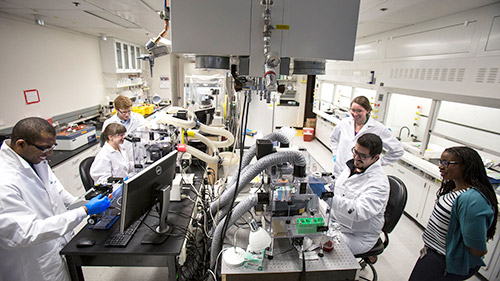 Key Data and Related Assets
Key regional data include:
The highest concentration of engineering talent in the U.S., with +90K engineers
The third-largest design hub of any U.S. metro, trailing only New York City and Los Angeles
The nation's fifth-largest talent pool working in research
The fastest-growing STEM cluster outside of San Francisco
Initially partners believed that this cluster was overwhelmingly automotive-focused. In fact, the data shows that only 4 percent of sales within this cluster are to transportation equipment manufacturing. The largest sectors that this cluster sells to are professional, scientific, and technical services (22 percent); real estate (21 percent); federal government, likely defense (14 percent); and specialty trade contractors (8 percent).
Data is great — but being able to point to specific assets that have assisted in this development makes it more real for others and are assets that our team will use to help promote the region.
The Detroit region's key assets include:
#2 R&D university in the U.S., the University of Michigan
The only UNESCO City of Design in the U.S.
Detroit's University Research Corridor, which is #3 nationally in R&D growth and #3 on the Innovation Power Index
The College for Creative Studies and Design Core Detroit, a nonprofit dedicated to supporting the design community
A Broad Impact
This RED talent cluster pushes beyond and impacts other all other regional industry clusters.
The traditional industry clusters that came from our research are automotive and mobility, smart manufacturing, transportation and logistics, financial services, corporate and professional services, and digital technology, but these are all supported by the talent within the research, engineering, and design cluster.
Our specialization within research, engineering, and design lead us to be a place to design and develop the automobile of the future within automotive mobility; provide a place for Industry 4.0 to foster a smart manufacturing hub; and attract corporate offices that are research, engineering, or design-driven. RED talent also supports newly engineered fintech offerings like Rocket Mortgage or StockX, and newly designed digital technology offerings such as Duo Security and AMBR Detroit, as well as the design of next-generation logistics offerings.
The power of being first in engineering, third in design, and fifth in R&D talent creates a continuum to leverage innovation across all clusters: R&D expertise to push the boundaries of what is possible, engineering knowhow to create the state of the art, and design talent to align product offerings with user needs to ultimately support product and service makers, i.e., the complete package.
Talent clusters have the potential to support other clusters and tie into those narratives of what differentiates your region within your industries. They can be a very helpful marketing tool.
For more information, go to
detroitregionalpartnership.com
Regional Data Source: Emsi
Key Assets Sources: University Research Corridor, UNESCO, Innovation Power Index