About

Area Development is pleased to bring the 4th Annual Workshop Forum to the Hyatt Regency in downtown Greenville, South Carolina.

Limited to 120 attendees, the interactive event will provide the opportunity to hear from and engage face-to-face with 18 leading site consultants and corporate real estate advisors, featuring multiple boardroom presentations and roundtable discussions. Attendees will pre-select preferred sessions prior to the event.

Schedule

The Workshop opens Monday with a reception and dinner. The daily agenda consists of six 45-minute consultant-led boardroom sessions on Tuesday and concludes Wednesday with roundtables and a closing lunch.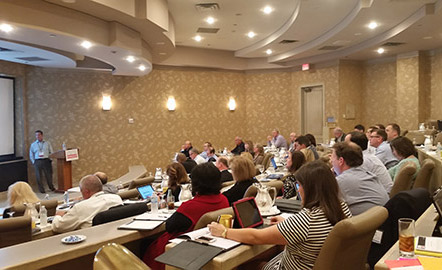 Links:

Registration

Past Agenda

Schedule

Hotel



2022 Workshop Feedback

"I was so impressed with this workshop! It was very well organized and efficient. I got so much out of the breakout sessions and the networking time. I thought it was a great variety of being on-site at the hotel and going off-site for dinner. The programming could not have been better, and I loved the location and the hotel!"
Northern Kentucky Tri-ED

"This was my first Area Development conference, I found it to be a wealth of professional development information for my role in economic development. I also found the presenters to be highly engaging, and just plain helpful. I stayed after most of my sessions to have a conversation with the presenter and returned to my office with several follow ups."
Washington County Department of Business Development, Maryland

"Wonderful conference. It was a lot of useful and eye-opening information. And it was great networking with the consultants."
City of Greenville, South Carolina

"Appreciated the site selection experts Area Development brought together for this conference and enjoyed hearing their insights and real-world case studies. Thanks!"
Economic Development Council of St. Charles County, Missouri

"Great group of site consultants. Interesting topics. Great set up for getting face time with the appropriate people. Good size of the conference."
Gray Construction, North Carolina


Read More Comments



| | | |
| --- | --- | --- |
| | | |