About

Area Development is pleased to bring the 5th Annual Workshop Forum to The Omni in downtown Louisville, Kentucky.

Limited to 125 attendees, the interactive event will provide the opportunity to hear from and engage face-to-face with 18 leading site consultants and corporate real estate advisors, featuring multiple boardroom presentations and roundtable discussions. Attendees will pre-select preferred sessions prior to the event.

Schedule

The Workshop opens Monday with a reception and dinner. The daily agenda consists of six 45-minute consultant-led boardroom sessions on Tuesday and concludes Wednesday with roundtables and a closing lunch.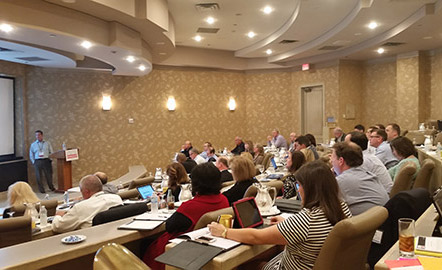 Links:

Registration

Past Agenda

Schedule

Hotel



2023 Workshop Feedback

"Fantastic workshop! I got great time with the consultants, and everything ran very smoothly."
Greater Memphis Chamber, Tennessee
"Wonderful conference again. Really good interaction with the consultants and they did a great job presenting relevant information."
Orangeburg County Development Commission, South Carolina
"It was a great conference! I liked the smaller speaker sessions as they felt more personal and allowed me to meet more participants in the sessions. The second night dinner and networking were probably one of my favorite parts and when I made the most connections."
Greater Louisville Inc., Kentucky
"Very well organized. Enjoyed the smaller session, and very knowledgeable and friendly speakers. It was a great opportunity to network, as well."
Michigan Economic Development Corporation

"Content was fantastic by all speakers, looking forward to the slides. There is much I want to review."
Charlotte Regional Business Alliance, North Carolina

"This was my first Workshop Forum, and it was excellent - exceeded my expectations. The event was well organized. The time for each session was perfect. The topics were timely, and the speakers were knowledgeable."
Minnesota Department of Employment and Economic Development