Location plays a critical role in the success of a high-technology company — particularly start-ups. Whether it's a start-up capitalizing on the proximity of venture capitalists, a company in search of the best and brightest talent, or an established brand that continues to expand, operating in the right market with the right office location is paramount to the success and sustainability of any technology venture.

Similarly, technology companies can contribute to a community's economic development and job-creation efforts. A new report from commercial real estate services firm Jones Lang LaSalle identifies the U.S. cities that are leading the pack in this economic cross-pollination, and creating the best breeding grounds for vibrant technology clusters.



What Makes a Community Tech-Friendly?


Technology companies seeking new markets and new labor pools — and the communities courting them — make strategic decisions based on multiple criteria of a vibrant tech-friendly community. These factors played a key role in each of the 26 U.S. cities included in the recent Jones Lang LaSalle (JLL) High-Tech Office Outlook report. The report includes a market score for each the cities based on the following five key drivers of high-technology industry momentum:


High-tech job growth: Broad measurement of economic success and job creation


High-tech services concentration: Number of jobs in the industry that fall within office-using employment sectors as a percentage — Larger concentrations have a greater impact on office space demand when changes to employment occur, providing a strong indicator of how the high-tech industry in each market could move real estate.


Share of U.S. venture capital funding: The impact venture capital funding has on the industry in each market, and the potential for company growth and new job creation Intellectual capital: The availability of skilled labor in each market, quantified by the percentage of individuals 25 or older with a bachelor's degree or higher


Innovation: Utility patents granted in each market as a leading indicator of new inventions or ideas

Overall, JLL's market score demonstrates that metro areas with strength in high-tech hiring, innovation, education, and investment have seen the greatest market momentum from the high-technology sector in terms of office market demand and overall economic benefit. Markets with a score near the top of the list are seeing more market momentum than those near the bottom, while markets with a lower score simply have more opportunity to grow.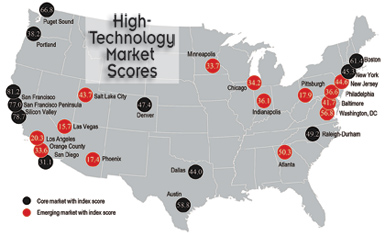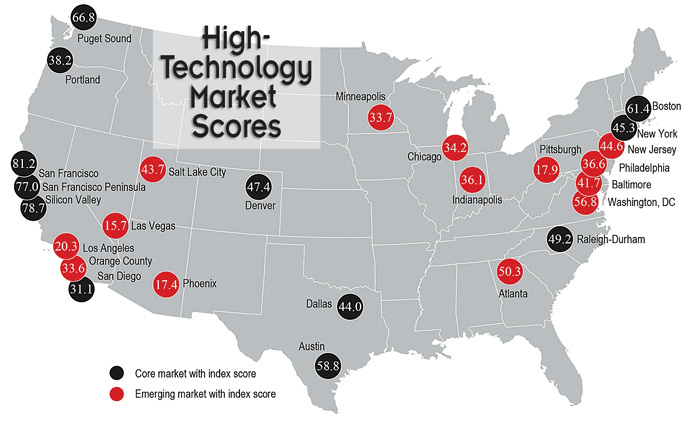 Beyond Silicon Valley: New Innovation Centers


The high demand for skilled talent in core clusters has led to the creation of emerging innovation centers outside of traditional markets such as Silicon Valley, New York, Seattle, and Boston. High-tech start-ups — powered by significant VC funding — continue to spread to promising new cities such as Atlanta and Phoenix in an effort to tap the highly skilled talent pools in those regions. In addition, cities such as Minneapolis, Indianapolis, and Baltimore are rapidly climbing the list with robust high-tech clusters located in proximity to highly skilled labor pools of GenX and millennial technology professionals.

For start-ups, leasing office space in a new city can be a significant challenge. In fact, for high-tech occupiers, the lack of supply of creative office space has sparked a new wave of development across the country. Developers have been seizing the opportunity to appeal to these innovative companies through both re-use and ground-up construction, resulting in a current construction pipeline of more than 23 million square feet across the 12 core markets, nearly half of all construction taking place in the United States. New York leads with 9.1 million square feet under construction, followed by Boston, San Francisco, and Silicon Valley, which currently have 4 million, 2.6 million, and 1.7 million square feet under construction, respectively.

Incubators have emerged as a compelling solution to the innovation challenge — not only giving start-ups access to office space, but also to professional services, collaboration, and venture capital opportunities. And then there's also the opportunity for water-cooler conversations with other like-minded entrepreneurs.

Incubators are also acting as "connectors" to larger, traditional companies. Furthermore, corporate funding and venture capital opportunities naturally emerge for the start-ups, while the corporations access a deep pool of product and service ideas.



High-Tech Industry's Impact on the Local Economy


For economic development corporations, taking steps to attract high-tech companies has great potential to benefit the local economy. Despite the small absolute number of jobs (comprising only 3.3 percent of private national employment), the high-tech sector is a significant driver of economic growth. Jobs within innovative industries, of which high-tech is a major component, have such a significant economic impact that for each innovation job created, five additional jobs in a variety of other industries are created as a result1. In contrast, the manufacturing sector only creates roughly 1.7 new jobs per manufacturing job created. Hair stylists, cab drivers, baristas, yoga instructors, doctors, accountants, and lawyers demanded by the highly skilled and well-compensated innovative work force have a profound impact on local markets.

When it comes to leasing commercial real estate space — another proxy for the health of a local economy — the high-tech industry also punches above its weight. While nearly all other office-using industries have experienced flat or minimal growth, high-tech companies have hired so many employees over the past three years that they now face a highly competitive recruiting environment. For the CRE market, this has resulted in local market recoveries and, in many instances, expansion. The growth has occurred so quickly that high-tech companies in many of the country's core markets now face a dwindling supply of creative office space, which is offered at a premium. Average rental rates in the country's core high-tech markets at the end of the second quarter of 2013 were 11.6 percent higher than the national average, at $32.69 per square foot compared to $29.29. Additionally, rental rates in core markets increased by 5.1 percent year-over-year, 1.2 percent higher than the U.S. growth rate of 3.9 percent. These markets also recorded a lower vacancy rate — 14.2 percent compared to the U.S. rate of 16.9 percent.



Creating the High-Tech Win-Win


Communities need jobs, and high-technology companies need skilled labor. By looking at the factors that define the leading U.S. high-tech locations, emerging communities can emulate their formulas for success. While it may not be possible to become "the next Silicon Valley" overnight, there is a long list of cities that are making important contributions to the growth of their local economies by supporting and welcoming high-technology companies, start-ups, and expansion centers for larger tech companies.



1 Enrico Moretti, New Geography of Jobs