AD: Michelin has been making innovative products for 125 years. I understand that in 2012 the company formed a Group Innovation Committee. Can you tell us about the committee's purpose and composition?

Brauen: The Michelin Group Innovation Board is an 11-person group-level team formed to oversee the governance of the innovation process. Set up in 2012, it sets the course for Michelin's strategy in this area and chooses the priorities for innovation in order to ensure resources and energy are channeled into value-creating innovations.

The corporate Innovation Board has two roles: (1) to define the group's innovation strategy from a cross-functional perspective and (2) to direct the innovation ecosystem's vitality to optimize its strength throughout the company. In so doing, Michelin opens up fresh opportunities to:
Expand its resources and methods;
Focus its efforts on its research priorities; and
Seek customer and market feedback on projects as early as possible in order to speed up innovation and maintain alignment on required step-up efforts in the materials field, since its integration feeds the group's progress in technology and value creation.
AD: Michelin has 6,000 employees at its Technology Centers worldwide. Can you give us examples of the type of work they are engaged in?

Brauen: Michelin relies on research and develop-ment teams who work on constantly improving products. At locations all over the world — including North America, South America, Europe, Japan, China, India, and Thailand — they meld their skills and passion to create innovation. Their research includes everything from how products are used through fundamental laboratory research.

R&D teams work over three time horizons that include:
Advanced research (10-year or longer horizon)
Research (3–5-year horizon)
Development (1–3-year horizon)
AD: Does Michelin partner with academia? Can you provide specific examples?

Brauen: Yes. For example, The College of Charleston's School of Business worked with Michelin North America to develop a professional development program focused on global logistics and transportation. The School of Business turned the program from the partnership into a comprehensive logistics professional development program open to any business, educational, or government entity operating or looking to operate in South Carolina.

In 2011, Michelin announced plant expansions in the state of S.C. totaling more than $950 million in investments that would create more than 700 manufacturing jobs. A significant portion of these investments was centered in Lexington County. One of the most difficult and challenging positions to fill was the advanced manufacturing technical position. At the same time, the facilities were preparing to replace employees eligible to retire. Michelin turned to Midlands Technical College and the Lexington County school districts to build a pipeline of technical talent to fill these new positions.

As a result of this endeavor, the Midlands Technical College (MTC) partnership with Michelin North America, Inc. was honored by the American Association of Community Colleges (AACC) as being the best corporate partnership by any two-year college in the country. The AACC presented Midlands Technical College with the Award of Excellence for a College/Corporate Partnership at its annual national convention, which brings together more than 2,000 community college leaders, advocates, researchers, and policymakers.

Additionally, Michelin North America is one of the founding partners of Clemson University's International Center for Automotive Research (CU-ICAR). CU-ICAR is home to the nation's only graduate Department of Automotive Engineering. Here, over 200 Clemson University students are pursuing Master of Science and/or Ph.D. degrees in Automotive Engineering. These graduate students learn in an innovative research-and-educational program that focuses on the vehicle and its infrastructure from a systems-integration perspective.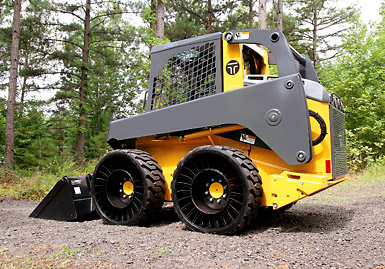 AD: How about Michelin's suppliers? How have they contributed to innovation?

Brauen: Michelin does partner with suppliers on material technology, manufacturing optimization, and other areas that contribute toward innovative mobility. As an example, Michelin has partnered with BASF since 2012 on polyurethanes material technology and manufacturing process optimization in the commercialization of the innovative MICHELIN® X® TWEEL® Airless Radial Tire. This synergy helps Michelin to further improve its innovative products and drive growth in other industrial and utility applications.

AD: How are Michelin's employees encouraged to foster innovation at the company?

Brauen: Michelin has established initiatives to tap the creative potential of all of its employees. The company has developed an international innovation initiative that promotes innovation in all facets of its operations. It deploys tools to give impetus to innovation and encourage and facilitate the emergence of these new ideas. Its goal is to foster individual creativity and collective intelligence by encouraging employees to offer suggestions and share ideas.

Because it makes sound business sense, Michelin wants to solicit and develop its employees' solutions to big and small issues throughout every aspect of the company, including such areas as plant manufacturing operations, business practices, logistics, and of course making the highest quality tires in the world.

You mentioned the TWEEL® Airless Radial Tire, which was named "one of the most amazing inventions of 2005" by Time magazine and one of the "100 most innovative products of 2005" by Popular Science. Tell us about that innovation and on which types of vehicles it is used.

Olney: The award-winning MICHELIN® X® TWEEL® SSL is the first commercially available airless radial tire for skid steer loaders. This revolutionary tire offers a solution to the seemingly unavoidable challenge of chronic flat tires that plague the millions of skid steer loaders relied upon by many commercial operations. The skid steer loader is used in the landscaping, construction, contracting, refuse/recycling, and agricultural industries. The MICHELIN® X® TWEEL® Airless Radial Tire is a non-pneumatic tire/wheel assembly offering several advantages over pneumatic tires: no air pressure to maintain, damage resistance, and improved productivity due to reduced down time (no flat tires), and improved operator comfort — clearly concepts that create value for the end-user.

AD: Can you tell us anything about the development process of the TWEEL® tire?

Olney: In 1999, Michelin engineers were asked to discover why a pneumatic tire was the dominant technology for mobility, despite the inherent vulnerability associated with air loss. What they found was pneumatic tires offer significant performance advantages including:
Low contact pressure
Low vertical stiffness
Low rolling resistance over rough surfaces
Low mass per unit load carried
When the co-inventors started working on this premise, they were still designing a structure that looked like a regular pneumatic tire. What they discovered was that because they didn't need to seal in the air pressure, they could change the configuration of the tire, and in doing so the concept of the TWEEL® Airless Radial Tire (a tire and wheel assembly) was born. The TWEEL® tire replaces the 23 components of a typical radial tire. The TWEEL® tire is comprised of a rigid hub, connected to a circular shear beam by means of flexible, deformable polyurethane spokes and a tread band, all functioning as a single unit.

Over the following decade, the engineers worked diligently on various prototypes of the TWEEL® tire and, in 2005, the TWEEL® tire was finally showcased at the North American International Auto Show in Detroit on the iBOT wheelchair and Segway Concept Centaur Human Transporter.

AD: Are there any other innovative products in Michelin's pipeline that you are at liberty to tell us about?

Olney: The continued focus is to concentrate on off-highway, low-speed, unregulated markets. Michelin's original equipment strategy is to partner with select innovation partners to optimize integration. Michelin places a high degree of importance on the selection of these partners.

AD: Is there anything else you'd like to add about Michelin's culture of innovation ?

Brauen: Since 1889, Michelin has constantly innovated to facilitate the mobility of people and goods. Today, it is setting new global standards in every tire and travel-related services market, while leading a unified strategy to drive sustainable, profitable growth.

In the broad mobility space, the mission of the Incubator Program Office (IPO) is to seek, promote, develop, and deliver novel business activities beyond our core business, which will create value and contribute to profitable growth for the Michelin Group. This mission will also increase the innovation capability of the Michelin Group.