AD: After a few fits and starts back in the 1990s, 3D printing/additive manufacturing has grown rapidly from a "prototyping" technology to broad-based manufacturing solutions used on the production floor for end-use parts. What do you think has contributed to its success?

Wohlers: Additive manufacturing (AM) really hit its stride and gained the respect it deserves in the second half of 2012. We credit a number of activities that occurred around that time.

First, the renaming of the process from "rapid prototyping" to "additive manufacturing" provided a mindset that it could serve as a true manufacturing tool. I believe that when ASTM formalized the term to "additive manufacturing," it had a bigger impact on the industry than most people consider.

Second, the 3D printed gun put AM in the spotlight. This notoriety introduced AM to a lot of people who'd never heard of it before.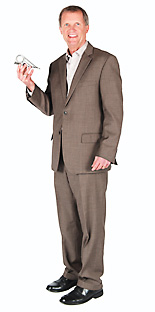 Third, low-cost 3D printers got AM technology into the hands of a lot of people, not just engineers or product designers, but home-grown inventors and entrepreneurs, and media picked up on that fact, publishing many articles on what was possible with the technology.

Fourth, the National Additive Manufacturing Innovation Institute — America Makes — brought together many people and organizations. America Makes is at the forefront of AM research, technologies, processes, materials, and education. This came at a time when large corporations, such as GE, were making significant commitments to AM. Finally, none of this would matter if we weren't seeing strong growth at the time. Since 2012, the industry has grown at compound annual rate of 31.5 percent, according to our research for the Wohlers Report 2016.

AD: Do you think that 3D/AM is a disruptive technology?

Wohlers: It is indeed a disruptive technology, but not in all cases. We're seeing some things many didn't anticipate such as the manufacture of high-value complex parts being made in entirely new ways. For example, Boeing consolidates many parts into one digitally, and uses 3D printing for manufacturing. GE and Airbus are now doing the same thing. Airbus combined 126 components of a hydraulic reservoir rack into a single part that was made possible by AM. The implications of that are big. It's not only saving material and weight but also reducing manufacturing processes, inventory, part numbers, labor costs, and maintenance. It's easier to inspect one part than 126. The reduction in certification paper work alone provides significant savings. AM technology is incredibly important to a company like Airbus to the point where it plans to 3D print 30 tons of metal per month by December 2018. It sees this technology as a big part of its future.

AD: What role will the ongoing development of materials — both polymers and metals — play in the continued success of AM?

Wohlers: Companies have a strong appetite for a large range of AM materials, yet relatively few have been available in the past. Patents are expiring and new systems and materials are being developed to meet the needs of the market. Customer demand for new production applications is really driving these developments. OEMs do not rely on a single material supplier; they must have two or more to keep the supply chain moving. These companies set the rules and not their suppliers. The manufacturers of metal AM machines generally allow companies to buy from third-party material suppliers, which has also contributed to the strong growth of AM.

AD: The major players in AM machines, such as Stratasys and 3D Systems, seem to be struggling a bit. To what do you attribute this?

Wohlers: Some of the major players were among the early entrants into this industry, but now have competition that they did not have previously. In 2011, we found 31 companies that sold industrial grade AM machines — those priced at $5,000 or more. Last year 62 companies sold industrial grade machines. Customers have many more options compared to a few years ago. The established AM manufacturers are feeling some pressure.

AD: It seems that many of the big manufacturing OEMs like GE Aviation, Ford, Moog (which just purchased Linear to get access to that company's 3D printing technology) are embracing AM far faster and in bigger numbers than smaller manufacturers. What is this reluctance among smaller suppliers all about?

Wohlers: We're seeing companies of all sizes invest in the technology, but the larger ones are getting the most attention. Their financial resources are enabling them to launch initiatives focused on the use of AM for final part production. Small companies are using it mostly for design concepts, prototyping, and some types of tooling. 3D printers that sell for less than $2,000 are available and some are pretty good. They don't do everything the larger and more expensive machines do, but it's often good enough for the price.

AD: What is the future of this industry and what are the primary factors that will drive this?

Wohlers: The future of AM is very bright for many applications, including the production of final parts. The industry is going to grow large over time. The world manufacturing economy is about $12.8 trillion, and a market penetration of just 5 percent is $640 billion. Companies such as Canon, HP, and Ricoh are entering the field. While 3D printing continues to be incredibly important for conceptual design and prototyping applications, the real money is in manufacturing. The producers of machines, materials, and services, coupled with major customers, are driving it to places we have never been. Companies are producing very sophisticated parts for rocket and aircraft engines, for example. Market demand and competition are causing the producers of the products and services to constantly improve, such as developing better control systems to meet quality manufacturing requirements. Even so, there's a lot of room for growth.

The investment we're now seeing globally among large OEMs is unprecedented. Stryker, for example, is building a $400 million facility dedicated to AM. For a technology to transition broadly and successfully, a lot needs to happen, including major investment, and we're finally seeing it. AM is now getting the attention and respect it deserves.