AD: Why is manufacturing so important to the U.S. economy?

Gold: Start with basic economics: to raise living standards you need to increase your society's wealth and/or purchasing power. Countries do this by creating new value and increasing productivity. That would be much harder to achieve if the U.S. were solely a service economy. A vibrant manufacturing base leads to more research and development, innovation, productivity, exports, and middle-class jobs. Manufacturing helps raise living standards more than any other sector.

Manufacturing generates more economic activity than other sectors. For every dollar of domestic manufacturing value-added, another $3.60 of economic activity is generated elsewhere across the economy. For every manufacturing job, there are 3.4 jobs created in nonmanufacturing industries. No other sector comes close to these numbers.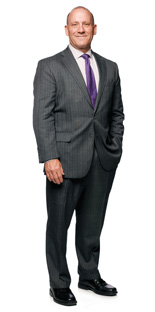 AD: Why is it underestimated in official government data?

Gold: First, the government categorizes businesses by the North American Industry Classification System (NAICS) — manufacturing industries are accounted for in codes 31 through 33. But most of the activities within these codes are measured at the plant level, not the full company level. Because manufacturing-related activities such as R&D, corporate management, logistics operations, and advertising and branding often do not occur on-site at a plant, they are considered to lie in other sectors, and thus outside the scope of manufacturing's impact.

Secondly, in calculating the manufacturing footprint, the federal government measures the value chain from the production of raw materials to the loading dock at the manufacturing plant — in other words, the upstream supply chain. This ignores the downstream sales chain, whose businesses — without the manufactured products — would operate at a more limited extent, if at all.

And finally, government statistics measure only the value of manufactured goods sold to "final demand" — that is, destined for households, business investment, government, or export. Products made as an intermediate input into another sector's supply chain (for example, bricks, aluminum, and lumber for the construction sector) are not included in the federal government's measurement of manufacturing.

AD: How are disruptive technologies — e.g., robotics, IoT, 3D printing — affecting manufacturing productivity?

Gold: For decades, and especially between 1992 and 2007, manufacturing labor productivity averaged over 3 percent. Since then, productivity in the sector has been halved. This is a key factor behind the slow output growth and slow wage growth we've experienced since the recession's end in 2009. If we are to significantly increase living standards for Americans, productivity must rise again.

The good news is that manufacturing is in the midst of a new revolution, driven by digitalization and the integration of cyber and physical systems. The most important new technologies being developed have the potential to dramatically increase productivity in the coming decades. This is especially true of efficiency-enhancing equipment such as robotics and other advances in automation that will allow U.S. manufacturers to compete with companies across the globe.

AD: What is the impact of Big Data?

Gold: Manufacturers have lagged behind other sectors, such as retail and finance, in adopting Big Data analytics. Manufacturers rarely sell directly to consumers — their customers are typically other manufacturers that use the inputs to make their own products or distributors that act as middlemen to get the products to market. So the opportunity for manufacturers to create a big database wasn't apparent for a while.

But a new era is dawning. With widespread use of sensors and controls and more sophisticated use of analytics, companies can explore uncharted waters. Advances in technology enable more accurate forecasts of product demand and production, a better understanding of plant performance across multiple factors, and faster service and support to customers. The advances also allow manufacturers to take a more strategic view of quality from a corporate-wide perspective. The biggest game changer, perhaps, is that in time manufacturers will be able to use data to provide full product lifecycle services, increasing their value even more to society.

AD: Even as their workforces shrink, what are manufacturers doing to satisfy their needs for highly skilled workers?

Gold: The best opportunity to train students for manufacturing careers is for businesses to partner with school districts and technical colleges. We see this happening nationwide. In Latrobe, Pa., Kennametal's Young Engineers Program provides a dozen local high school students with hands-on experience at the company for a semester. In Charlotte, N.C., Siemens has partnered with Central Piedmont Community College to create a 3.5-year mechatronics apprenticeship program. In Columbus, Ga., Pratt & Whitney works with Columbus Technical College and the Muscogee County School District so that high school students can take a certified manufacturing course at the technical college and work part time at the jet engine manufacturer. Manufacturers have introduced hundreds of programs like these across the country.

AD: Can you give us your predictions as to what U.S. ?manufacturing will look like by mid-century?

Gold: It's not difficult to imagine smart factory floors, robotics and advanced automation, and supply chains fully integrated through real-time data collection and analytics — all staffed by technologically savvy employees. At the same time, certain fundamentals of manufacturing will stay the same. Even in the most knowledge-based economies, manufactured goods will continue playing a critical role in the public's experience. The sector's ability to innovate and lift living standards through increased productivity will remain central to policymakers' desire for economic growth. Proximity to customers will continue to drive investment decisions. This means the United States, as the most affluent, influential economy in the world, will remain one of the top focal points for manufacturing for decades to come.