Editor's Note: This article was contributed by the Michigan Economic Development Corporation which approved and paid for this post.


Michigan has one of the most talented, diverse, and abundant workforces in the country. Many of these workers have the tech skills that will be in high demand as we emerge from the pandemic — especially for running Industry 4.0, Internet of Things, cloud-based computing systems and equipment, and the technology driving an emerging mobility and electrification sector — the "new collar" jobs.

A Robust Workforce Pipeline
Michigan's abundant labor pool is replenished every year by a steady flow of graduates from both community colleges and universities across the state. Approximately 550,000 students attend Michigan colleges and universities every year, ranking in the top 10 nationally for STEM degree completions in the fields of science, technology, engineering, and math. This pipeline has helped create a density of engineers across Michigan that is unmatched throughout the United States. With the highest concentration of commercial and industrial designers anywhere in the nation and an incredibly experienced and diverse manufacturing ecosystem, Michigan has become a place where R&D thrives across industry sectors.

Samuel Stanley, president of Michigan State University, says one of his institution's major goals "is to develop a talent pipeline that's going to serve the state of Michigan, and the world."



Graduates from universities and colleges across the state are in high demand in the manufacturing sector, especially automotive and advanced manufacturing, as well as a growing tech industry.

Graduates like those from MSU — and other universities and colleges across the state — are in high demand in the manufacturing sector, especially automotive and advanced manufacturing, as well as a growing tech industry in the state. According to Maureen Donohue Krauss, president and CEO of the Detroit Regional Partnership , Michigan alone accounts for 72 percent of all U.S. automotive R&D. "As a result, the Detroit Region's talent quotient in research, engineering, and design is so strong it's an industry cluster unto itself," she notes.

While companies inevitably look to ensure future talent needs can be met, Michigan has the highly skilled workforce to meet demand today as well. In 2020, the engineering workforce in the state totaled over 123,000. And the state's skilled trades workforce is nearly 250,000, eighth-largest in the nation. This relationship between a density in engineering, design, and development along with a reputation and heritage as a manufacturing powerhouse creates a unique value proposition for companies considering the state. Add in the fact that Michigan has more than 185,000 workers employed in professional and corporate services industries, or front-office operations, and you have a state with workforce for every aspect of a company's operations.

"The talent in Michigan, and Detroit specifically, is incredible," says Greg Schwartz, COO and co-founder of StockX. "You have phenomenal talent, just grit and determination, and we found that these are hard workers that are hungry to innovate."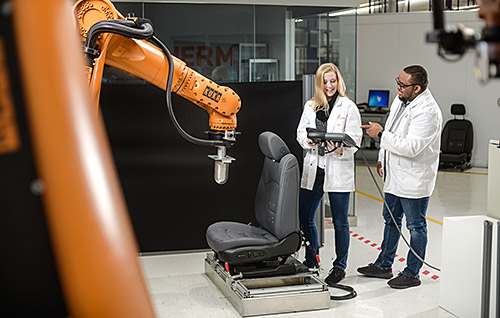 An Evolving Workforce
As a result of COVID-19, manufacturing and other industries are restructuring their business models — including the acceleration of adopting Industry 4.0 technologies such as automation, robotics, and cloud-based systems that better manage operations and supply chains. Workforce development also remains key to improving competitiveness and agility, more so than ever in the wake of workforce trends being driven by the pandemic.

Reskilling, upskilling, and increased training are going to play an important part in the nation's economic recovery. Business models have been severely disrupted and employers are now forced to pivot and reallocate their workers into unfamiliar roles. Initiatives like the Michigan Economic Development Corporation's Industry 4.0 effort — in partnership with Automation Alley and the Michigan Manufacturing Technology Center — are working to help the state's small to mid-sized manufacturers access resources to harness the convergence of digital and physical technologies. The goal: ensure more than 6,000 Michigan small to mid-sized manufacturers are prepared to adopt Industry 4.0 technology by 2025.

Evolving the state's existing manufacturing workforce to transition along with the manufacturing process is paramount to economic success in the state. To help employers and employees meet their evolving needs, Michigan Works! has increased its training offerings for job-seekers in areas such as robotics technicians and CNC machine operations.

Michigan backs up its commitment to reskilling and training with critical funding. In January, $39 million in grants were awarded by Michigan's Going PRO Talent Fund to train workers around the state. To date, this fund has helped nearly 30,000 workers across the state to secure employment and industry-recognized credentials through valuable training.

"With 530,000 professional trades job openings expected through the year 2028, this fund plays a vital role in helping Michigan employers meet their talent needs by investing in homegrown workers," says Susan Corbin, acting director of the Michigan Department of Labor and Economic Opportunity (LEO).

Governor Gretchen Whitmer's ambitious goal to increase the number of working-age adults in Michigan with a skill certificate or college degree from 49% today to 60% by 2030 is also getting a boost from Michigan Reconnect, a scholarship that pays the costs of tuition or training for eligible adults who want to pursue an associate degree or skills certificate. Already, more than 75,000 Michiganders are on a path to fill the state's most in-demand, high-wage careers through the program.

Businesses looking to expand to, or grow in, Michigan also have the opportunity to receive support for specific workforce training needs through the MEDC's Jobs Ready Michigan program. Jobs Ready Michigan exists to address the costs associated with recruiting and training individuals for occupations that are high-wage, high-skill, or high-demand, such as development of customized training plans, instructor and training materials costs, purchase of equipment related to training, construction of training facilities, and on-the-job training costs.

According to Dug Song, co-founder and general manager of Duo Security at Cisco, "Opportunity in Michigan is really about the people, and we definitely punch above our weight-class when it comes to what the support for technology and innovation looks like." Full STEM Ahead
Every state is concerned about the shortage of skilled workers and looming skills gap in manufacturing. STEM education and training is critical for advancing innovation and maintaining a lead in the global economy. Creating more STEM jobs in the state is crucial to the success of Michigan's economy — through these and other initiatives, Michigan is working to both anticipate and fill gaps that may currently exist in the state's talent pipeline.



In January, $39 million in grants were awarded by Michigan's Going PRO Talent Fund to train workers around the state.

With training programs in place, like Michigan Reconnect, for an existing workforce, Michigan is also active in promoting STEM to high school and university students across the state to build and strengthen this critical workforce for the future. MiSTEM Network unites education, business, and community partners across the state to create pathways for all students to consider and pursue high-wage, high-demand STEM careers. MiSTEM Forward matches students attending Michigan colleges and universities with internship opportunities at the state's leading innovative companies.

The "Michigan STEM Forward" internship program provides internship opportunities for college students throughout the state who are interested in studying STEM sectors. The initiative builds on Ann Arbor SPARK's decade of success with the program — with 84 percent of participating students, post-graduation, still working in Michigan today in their desired professional field — scaling up and taking it statewide.

Bill Mayer, vice president of Entrepreneurial Services at Ann Arbor SPARK puts it in perspective: "There's a crunch for STEM talent nationally, if not globally. It's really encouraging to have the opportunity, especially if you're a smaller business, to tap into your own backyard for talent."

For more information on how Michigan is fostering high-wage skills growth to produce, attract, and retain the workforce needed in today's business climate, visit michiganbusiness.org/workforce.