Companies are rapidly adopting big data analytics, enabling data-driven business decisions. In a late 2017 survey, Forbes found that over half of respondents reported using big data in some capacity — up from less than 20 percent in 2015.1

But how can this information be applied to site selection? This article outlines key considerations in how big data — specifically in the form of large, detailed, observation-level data sets ("microdata") — can be used to inform company location strategies.

Opportunities
While most companies draw from external data sources and also perform internal data analytics, these processes are often not linked — a significant missed opportunity.

Build on prior experience: Internal company data can help organizations make more informed decisions about future locations. Companies should bring together internal stakeholders from more than just real estate — human resources/talent; supply chain/ procurement; sales/distribution; tax; and others — to understand what factors have historically been key to a location's success (or challenges). Internal observation-level data can provide valuable insights — even for new markets. Examples include identifying critical roles based on employee function analyses, mapping existing supplier and distribution networks from procurement data, and describing employee willingness to relocate.

Add new sources of "micro" external data: To improve the predictive strength of external data, internal microdata should inform the selection of specific metrics from detailed external national, regional, and local microeconomic — not macroeconomic — data sets. These metrics could include specific occupations and employee skills, detailed industry/individual employer investment activity and linkages, line-item business costs, and local infrastructure and amenities. Companies must critically evaluate the quality and reliability of the source and the comparability of data points, which may require imputation and mathematical analysis.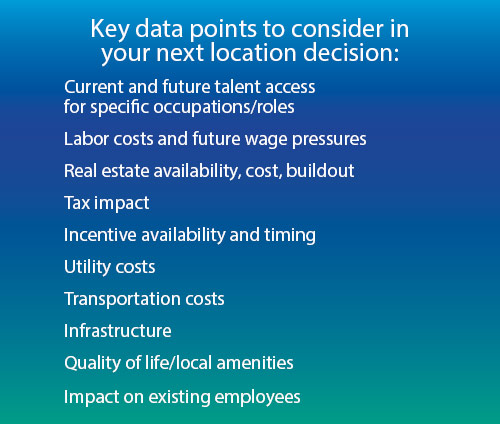 Navigating Challenges
Synthesize disparate data points to achieve new insights: The real power of data comes from combining internal and external microdata in a way that is meaningful and specific to the project. Often, the story may vary depending on whether you're looking individually at suppliers, labor availability, or costs. The internal stakeholder group should identify the critical evaluation factors to carry the greatest analytical weight — thus linking internal experience and external data.

Navigate the incentive process: With advanced data tools, companies are able to benchmark historical awards for similar projects, which provides an understanding of the potential range of cost offset across locations. This range can be compared against the estimated cost differentials among locations. Once incentive agreements have been finalized, cutting-edge compliance tools can help companies track agreement reporting requirements and deadlines, and can minimize potential penalties.

Consider the investment life cycle: Many companies may not consider the impact of timing on the success of a project. Companies should consider future labor needs and market trends, such as aging workforce, skills production, and recent industry growth that could put pressure on existing worker supply and wages. Similarly, an incentive package that takes 20 years to realize may be less attractive than a smaller offer realized more immediately.

Apply smart visualizations to produce quick insights: Data visualization allows users to quickly process large quantities of data to highlight trends and outliers. However, companies should deploy these tools in a thoughtful way, considering which metrics or comparisons add the most value.

In Sum
Big data analytics helps companies make more informed location decisions by moving beyond aggregate macroeconomic indicators to provide more customized and relevant evaluation metrics based on historical company experience.



1 "53% of Companies Are Adopting Big Data Analytics," 2017 Big Data Analytics Market Study, via Forbes Magazine, December 24, 2017, ©2017 Dresner Advisory Services.



The views expressed are those of the authors and do not necessarily reflect the views of Ernst & Young LLP or any member firm of the Global EY organization.



Katie Ballard-Bloomfield Katie Ballard-Bloomfield has completed economic impact, tax policy and location investment studies for public- and private-sector clients around the world. Her clients include small and medium enterprises as well as global Fortune 100 companies, industry trade associations and public-sector economic development agencies.
Katie's experience includes helping U.S. and international clients analyze labor, tax and other operating costs. In a recent engagement, she helped a large pharmaceutical manufacturer assess the potential operating costs related to a proposed consolidation and relocation of their North American headquarters.
In addition to location competitiveness evaluations, she has conducted economic contribution studies in 13 countries and over half of the U.S. She is skilled in economic modeling software as well as in the construction of input-output multiplier estimation models using national economic data. In the U.S., she has used modeling software to estimate customized impacts of proposed investments across a wide range of industries.

Dominick Brook Dominick Brook is the EY Global Sustainability Tax Leader in the United States. He has extensive experience involving sustainability-related incentives, global environmental and energy taxes, and global carbon regimes. He is adept at analyzing and improving the return on investment (ROI) for sustainability strategies, including renewable-energy investments, energy-efficiency improvements, recycling initiatives, advanced manufacturing, and Leadership in Energy and Environmental Design (LEED) certified buildings. His depth and breadth of knowledge enables him to identify business incentives and tax credits at the federal, state, and local levels and to help clients find tax relief based on their energy strategies. He also assists clients by analyzing risks and mitigation strategies associated with the expansion of emission trading schemes and carbon taxes.
His experience also extends to related federal tax credits and grants, including New Markets Tax Credits, Advanced Energy Manufacturing Tax Credits, and Department of Energy grants.
Dominck previously led the expansion of economic development services at Ohio University's Voinovich School for Leadership and Public Affairs and served as an adjunct instructor of Economics at Ohio University. He holds a Juris Doctor degree from Ohio State University, a master's degree in Economics from the University of Edinburgh, Scotland, and a master's degree in Political Science from Ohio University. He is LEED-accredited and is a member of the Ohio Bar Association.

Martin Polivka Martin Polivka has extensive experience managing engagements for international and multistate site selection and incentives negotiations. He works with companies across service lines and industries, helping them to set up and expand their manufacturing units, shared services centers, research and development, and other types of operations. Additionally, he assists state and local governments and agencies, advising them on economic development and investments.
Before joining the U.S. tax practice with Ernst & Young LLP, he was with an EY member firm in France, where he served for five years as part of the International Location Advisory Services team that covered the EY EMEIA area. He has also contributed to EY thought leadership publications on foreign direct investment and related topics.