If education is the ticket to employment opportunities, it should logically follow that the job picture is brightest in areas with the highest educational attainment. The statistics from labor market analytics firm Emsi (see chart) certainly support that hypothesis. Eight of the states with the lowest jobless rates also rank among those with the highest rates of residents who have earned an associate's degree or higher.

Massachusetts, for example, ranks at the top of the educational attainment charts — 49 percent sport an associate's degree or higher, according to the data, which pegged the jobless rate at an enviable 3.1 percent as of March. Colorado ranks second in educational attainment by this measure, with 46.9 percent having earned at least an associate's degree, and the Centennial State had a 3 percent jobless rate. In third is New Hampshire, with 45.6 percent educational attainment at this level, and a still-lower jobless rate of 2.8 percent.

It's also worth noting that Massachusetts leads the way in attainment at the very highest levels, with 18.4 percent having a graduate degree or higher — only a few points behind the share with a bachelor's degree. With 17.5 percent reporting a graduate degree, Maryland places second in that category, and Connecticut boasts 16.6 percent with graduate degrees or higher — also just a few notches below bachelor's-level attainment.

Opportunity Knocks and Pays Well
Bureau of Labor Statistics data also support the notion that higher educational attainment correlates with the greatest occupational stability. A report from September indicates those with a doctoral degree had an unemployment rate of just 1.6 percent, while those with a professional degree had a jobless rate of 1.5 percent. A master's degree was associated with an unemployment rate of 2.1 percent; only 2.2 percent of those with a bachelor's degree were shown as unemployed; and the unemployment rate for those with an associate's degree was 2.8 percent. In fact, a degree of any kind correlates with a jobless rate below the national average, while those without a degree had unemployment rates above the national average.

The same BLS report showed similar trends with regard to earnings — the higher the degree, the higher the earnings. The only exception was that a doctorate may be considered the highest degree, but a professional degree edged it out slightly in weekly earnings: $1,884 to $1,825. Heading down the list: master's, $1,434; bachelor's, $1,198; associate's, $862; some college but no degree, $802; high school diploma, $730; and, less than high school diploma, $553. The average for all workers was $932, so a bachelor's was required to beat the average.

Taking a look from a geographic perspective, BLS data shows an annual mean wage of $63,910 in Massachusetts — the state that tops Emsi's ranking by percentage with an associate's degree or higher. Mean annual pay for the rest of the top 10 on that chart is as follows: Colorado, $55,820; Vermont, $50,150; New Hampshire, $52,350; Minnesota, $54,200; Connecticut, $60,780; Maryland, $58,770; Virginia, $55,310; New Jersey, $58,210; and Washington, $59,410.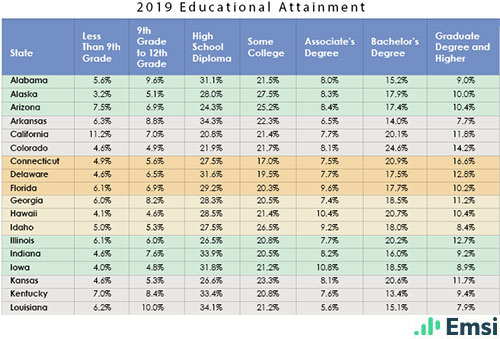 Meeting the Needs of Businesses
Achieving a well-educated workforce doesn't just happen, of course. It takes a combination of strong educational opportunities, supportive programs and policies, and cultural traditions that honor the value of education. That said, today's wins are never a guarantee for tomorrow's successes, and degree programs may still leave some gaps in worker readiness for certain occupations. Success at the state level requires ongoing commitment and innovation.

In Colorado, for example, there's a wealth of workers with strong educational credentials, and plenty of jobs to go around. Yet there are always specific situations in which an employer may need some assistance finding the right workers at the right time. The Colorado Community College System and the state's Office of Economic Development and International Trade operate such programs as Colorado First and the Existing Industry program to facilitate training as needed for relocating or expanding companies. Higher-education institutions also work to meet the needs of expanding businesses through the Rural Jump-Start Program.

Minnesotans also boast a high level of educational attainment (with 45 percent having an associate's degree or higher), but the state recognizes the need to continually build upon those achievements. Nearly three dozen public colleges and universities collectively provide training services for more than 6,000 employers each year — usually customized programs that are often made from scratch for each employer's specific situation. Department of Employment and Economic Development Job Skills Partnership Grants also help with training and retraining.

The Job Training Fund in New Hampshire also works to fill in the gaps that remain despite the impressive educational attainment of that state's residents. Businesses are able to tap into funds to support skills development, and the state has made hundreds of grants that have upgraded skills for thousands of workers.

Even the state at the top of the educational attainment list, Massachusetts, finds it vital to fill in gaps through supplemental programs. Grant programs, for example, support employers' training or retraining programs, especially those that target job growth for workers presently in low-wage or lower-skill jobs. Companies of any size may apply, as long as they employ workers in Massachusetts.

Opportunities Without Four-Year Degrees
As the programs above suggest, a degree is certainly helpful but isn't always a panacea for all workforce needs. Indeed, statistics indicate plenty of unfilled jobs across the board, including in blue-collar professions that don't always require higher levels of education.



There are some 140 million Americans over 25 who do not have a bachelor's degree.

Though a bachelor's degree has long been hailed as a ticket to a more lucrative job, there are some 140 million Americans over 25 who don't have one. For them, there is still a path to above-average pay, but it's a trickier road.

Federal Reserve researchers earlier this year examined the prospects for what they termed "sub-baccalaureate" workers — those whose education hasn't reached the level of a bachelor's degree. The sweet spot these researchers were seeking to shine a light on was the ability to earn pay above the national median income, even without a four-year degree. They termed such jobs as "opportunity occupations."

They found registered nurses to be the most common workers to fit this bill. Many RNs have a bachelor's degree or higher, but generally speaking, it takes only an associate's degree to break into the field, so that's the degree many RNs have. Here are the top 10 roles that the researchers identified as opportunity occupations, ranked by the number of people working in these roles nationally:
Registered nurses
Heavy and tractor-trailer truck drivers
Bookkeeping, accounting, and auditing clerks
Maintenance and repair workers
Carpenters
Electricians
Licensed practical and licensed vocational nurses
Supervisors of office and administrative support workers
General and operations managers
Sales representatives, wholesale and manufacturing
The researchers also projected which of the opportunity occupations are likely to have the greatest growth potential in the next several years. They projected the most promising prospects for those in plumbing and pipefitting, for RNs, those in the HVAC business, construction workers and their supervisors, LPNs, and computer-user support specialists.

As it happens, some of the places further down the list of educational attainment fared quite well when it comes to opportunity occupations — those that pay well without requiring a four-year degree. The Fed researchers ranked metropolitan areas that have the biggest shares of opportunity employment. Topping the list was Toledo, and seventh was Cleveland, both in a state that ranks in the bottom third when it comes to the percentage with a bachelor's degree or higher, according to Emsi data. Iowa was in that bottom third, too, and yet Des Moines ranked third in opportunity employment, while Cedar Rapids was sixth.

There were also healthy shares of opportunity employment spotlighted in Missouri's two biggest metro areas, as well as in some of the major cities of Alabama, Kentucky, and Alaska. Only one metro area was in the top 10 for opportunity employment while also being in a state in the top third in bachelor's or higher educational attainment: Spokane, Washington.