A major shift in work style has taken place. Technology has not only changed the way we work, but also the space we use. We no longer need a desk space that accommodates a large computer tower — nor do we need lots of drawers for filing paper documents.

Over the past several years, large corporations have been looking at their workplaces and the space they use through a magnifying glass to ensure that even the smallest criteria for improving their business has been addressed. Among all these factors, office rental costs and employee compensation are probably the two largest expenses for a company. With the economic uncertainty, it is imperative that companies look at alternate ways to keep their business growth successful and business costs low. Companies that pay attention in evaluating their organization's real estate plan find it beneficial.

With this in mind, companies like Google and Apple have spent time and money to implement alternative workplace strategies. These are large corporations with large real estate portfolios. The basic principal is to create an efficient space with less real estate, but with more flexibility and choice. However, it is important to point out that the small and mid-size companies can be equally successful with workplace alternatives. These companies may not have a large facility, but the end-users are ultimately humans striving for a productive environment.



Opportunities of the Middle Market


America is made up of hundreds of thousands of small to mid-size companies. Business owners may find it difficult to justify the reason to look into understanding their workplace flow and patterns as an important factor that can lead to increased productivity and reduced real estate. But offices with even 10 to 50 employees can implement the process of workplace planning and realize the benefits.

Through the strategies presented in the accompanying chart — gained from experience — businesses can find a strong connection between real estate, a well-designed workplace, and company performance. The chart presents a few a guidelines to consider when developing cost-efficient and productive workplaces.



Implementation Timing


These strategies can be implemented when a change is required. This change could be in:


Company size — Running out of space or too much space, or merging and acquiring


Office location — Relocating, consolidating, or lease expiring


Business objectives — Reducing rental costs, improving business performance, emphasizing employee retention


Work environment — Increasing mobility, flexibility, or agility


Culture — Collaborating, balancing work life and personal life


Brand — Establishing a new vision or company mission

As a business owner, create an office space that works for you. Don't go overboard in trying to adapt everything that is out there. An office space should be designed with these alternative workplace strategies in mind, not forgetting your economic goals. Consult a workplace strategist or a designer and/or a real estate professional to help guide you through the process. Build on what you learn, and learn from what you build.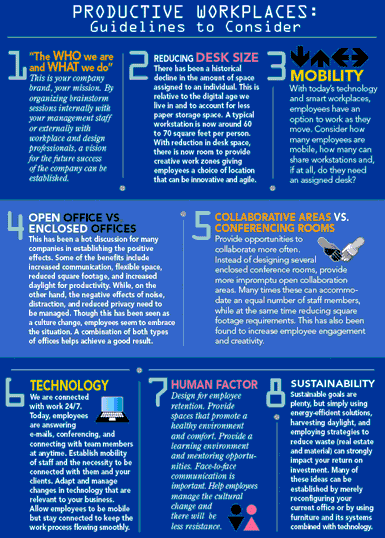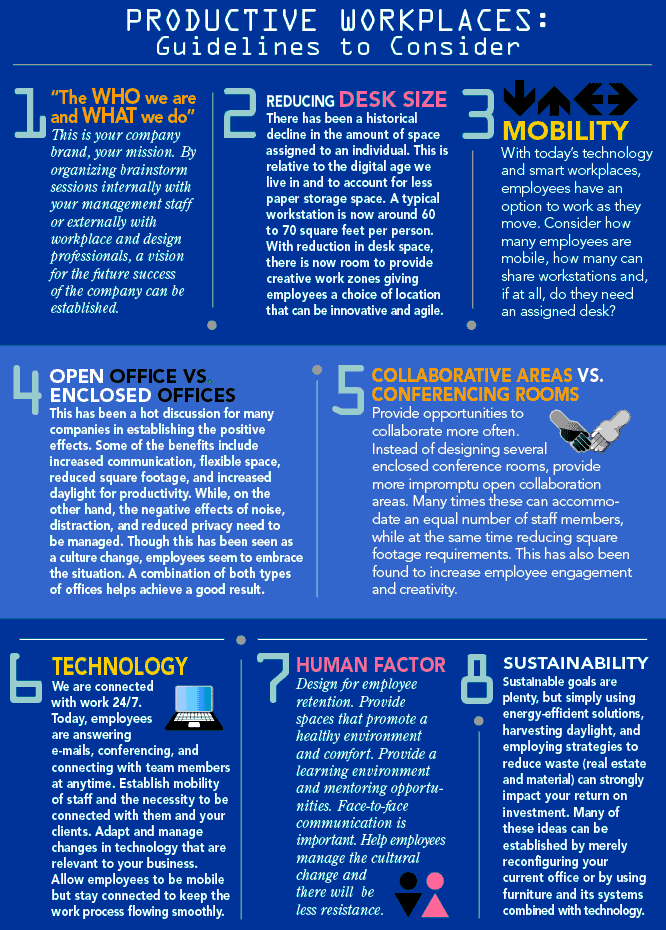 Productive Workplaces: 8 Guidelines to Consider
1. "The who we are and what we do"
This is your company brand, your mission. By organizing brainstorm sessions internally with your management staff or externally with workplace and design professionals, a vision for the future success of the company can be established.


2. Reducing desk size
There has been a historical decline in the amount of space assigned to an individual. This is relative to the digital age we live in and to account for less paper storage space. A typical workstation is now around 60 to 70 square feet per person. With reduction in desk space, there is now room to provide creative work zones giving employees a choice of location that can be innovative and agile.


3. Mobility
With today's technology and smart workplaces, employees have an option to work as they move. Consider how many employees are mobile, how many can share workstations and, if at all, do they need an assigned desk?


4 . Open office vs. enclosed offices
This has been a hot discussion for many companies in establishing the positive effects. Some of the benefits include increased communication, flexible space, reduced square footage, and increased daylight for productivity. While, on the other hand, the negative effects of noise, distraction, and reduced privacy need to be managed. Though this has been seen as a culture change, employees seem to embrace the situation. A combination of both types of offices helps achieve a good result.


5. Collaborative areas vs. conferencing rooms
Provide opportunities to collaborate more often. Instead of designing several enclosed conference rooms, provide more impromptu open collaboration areas. Many times these can accommodate an equal number of staff members, while at the same time reducing square footage requirements. This has also been found to increase employee engagement and creativity.


6. Technology
We are connected with work 24/7. Today, employees are answering e-mails, conferencing, and connecting with team members at anytime. Establish mobility of staff and the necessity to be connected with them and your clients. Adapt and manage changes in technology that are relevant to your business. Allow employees to be mobile but stay connected to keep the work process flowing smoothly.


7. Human Factor
Design for employee retention. Provide spaces that promote a healthy environment and comfort. Provide a learning environment and mentoring opportunities. Face-to-face communication is important. Help employees manage the cultural change and there will be less resistance.


8. Sustainability
Sustainable goals are plenty, but simply using energy-efficient solutions, harvesting daylight, and employing strategies to reduce waste (real estate and material) can strongly impact your return on investment. Many of these ideas can be established by merely reconfiguring your current office or by using furniture and its systems combined with technology.