Highly skilled and educated workers are a top labor consideration for any company, making educational attainment a key site selection factor in location/expansion decisions. With an increasingly diversified economy and tech-oriented job needs, level of education helps HR departments determine qualifications and certifications, as well as the motivation of potential candidates. Overall, educational attainment can also be a measure of how intelligent or multidimensional a regional workforce can be. And for many workers, who seek higher wages in higher-tech industries, a bachelor's degree is often needed for career advancement.

Adults with a bachelor's degree generally earn higher incomes, are less susceptible to serious financial hardships, and are more desirable candidates for employers. Also, according to the National Center for Education Statistics, in 2016 the employment rate was higher for those with higher levels of educational attainment. For example, the center indicates "the employment rate was highest for young adults with a bachelor's or higher degree (88 percent). The employment rate for young adults with some college (77 percent) was higher than the rate for those who had completed high school (69 percent), which was, in turn, higher than the employment rate for those who had not finished high school (48 percent)."

There are exceptions, of course, for states that have blue-collar sectors that provide high wages, such as oil and gas. For example, in Alaska, 17 percent of the workforce has a bachelor's degree, according to Emsi data. However, according to the 24/7WallSt.com 2017 ranking of most educated states, the "typical bachelor's degree holder in Alaska earns just $19,600 more than the typical high school graduate, less than the $21,700 average difference nationwide. One reason for this may be the state's large oil industry, which can provide high-paying jobs to workers with lower levels of educational attainment."

The Highest Educated States
In fourteen states — Colorado, Connecticut, Hawaii, Maryland, Massachusetts, Minnesota, Montana, New Hampshire, New Jersey, North Dakota, Utah, Vermont, Virginia, and Washington — at least 20 percent of the 25 years-and-older population holds a bachelor's degree. These higher-educated workers tend to work in professional, technical, and management fields.

Several surveys rank Massachusetts first for the most-educated workforce in the country. Over 40 percent of residents 25 and older have either four-year or advanced college degrees. According to 24/7WallSt.com, the share of college educated adults in Massachusetts climbed by 1.2 percent between 2015 and 2016, the fifth-highest increase among all states. Median income for those with a degree is $60,503; the state also had one of the lowest unemployment rates in 2016 at 3.7 percent.

States with tech-oriented economies that require highly skilled workers tend to pay higher wages. According to the Massachusetts Budget and Policy Center, this does, however, widen the wage gap in the state, with the college educated earning on average 99 percent — or nearly double — the wages of those in the labor force with only a high school education. This difference, often referred to as the "college wage premium," was 56.6 percent across the entire nation in 2016.

As another example, in Maryland (20.4 percent of the adult population holds a bachelor's degree), median earnings for bachelor's degree holders in 2016 were $61,049 (third-highest in the U.S.); the state unemployment rate was 4.3 percent. "In Maryland," writes 24/7WallSt.com, "15.6 percent of the labor force is employed in the professional, scientific, and management sectors — the largest such share of any state. High employment in such highly skilled industries would likely not be possible in many states with a smaller share of college educated adults."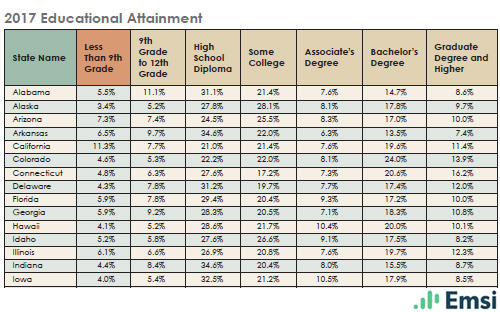 The Least Educated States
The states with the lowest percentages of bachelor degrees are Alabama, Arkansas, Indiana, Kentucky, Louisiana, Mississippi, Nevada, New Mexico, and West Virginia. Even though their educational attainment levels are less, this does not mean their unemployment rates are necessarily higher. For example, even though only 15.5 percent of adults in Indiana have bachelor's degrees, according to Emsi data, Indiana ranks 7th for the number of workers employed in manufacturing, which typically does not require a four-year degree. The state's strong manufacturing sector keeps unemployment in the 3.8 percent range (seasonally adjusted), well below the national average of 4.1 percent in October 2017.

Other lower-ranked states do, however, struggle with unemployment. In Ohio, 16.3 percent of the adult population holds a bachelor's degree. "The typical high school graduate in Ohio earns only about $30,000 a year," reports 24/7WallSt.com. "Meanwhile, the median income among college graduates in the state is over $50,000 a year." However, the unemployment rate of about 5.3 percent (non-seasonally adjusted for August 2017) in Ohio was far higher than the national average. Louisiana is similar, with a bachelor's degree percentage of 14.8 and an unemployment rate of 5.6 percent (non-seasonally adjusted for August 2017).

The lowest-ranked state is West Virginia, where only 11.5 percent of adults have bachelor degrees and the state unemployment rate in August was 5.4 percent. West Virginia, however, continues to work hard to bring in more business investment, especially manufacturing. Very recently the West Virginia Department of Commerce announced that China Energy Investment Corporation Limited plans to invest $83.7 billion in shale gas development and chemical manufacturing projects in the state.



The four-year degree is no longer a necessity for individuals entering today's workforce.

Susan Kryczka, assistant vice president, Extended Education for Excelsior College, Boston

How Much Educational Attainment Is Really Necessary?
Higher education benefits workers, businesses, and state economies. However, with the high cost of post-secondary education (and associated student debt), some question the value in obtaining a four-year degree. Yet, in 2016, 33.4 percent of the adult population held a bachelor's degree or higher — an increase from less than 30 percent in 2010 and 28 percent in 2006, according to Census Bureau data.

Educational attainment, however, does not just mean bachelor's degrees. Many "middle-skill jobs" that require education beyond high school, but not a four-year college degree, comprise a large portion of current labor market needs — especially for STEM (science, technology, engineering, and mathematics) positions. Two-year associate degrees can usually provide these skills and get workers into these jobs more quickly than four-year college programs.

"The four-year degree is no longer a necessity for individuals entering today's workforce," states Susan Kryczka, assistant vice president of the division of Extended Education for Excelsior College in Boston. "Institutions need to do more to ensure their offerings are in demand both by students and employers. A recent study by Northeastern University predicts that most job openings in Massachusetts over the next seven years will not require a four-year college degree, and that the vocational education system in the state will be unable to train enough people to fill the expected job vacancies. Three out of five job openings will require employees with less than a bachelor's degree, and many will need vocational training, postsecondary certificates, and associate degrees."

Kryczka indicates that many local community colleges and vocational schools are finding it difficult to keep pace with the demand for skilled workers. "The study warns that critical labor shortages in healthcare, manufacturing, and other key industries could result as the economy expands and more baby-boomers retire, creating some 1.2 million job openings by 2022," she adds.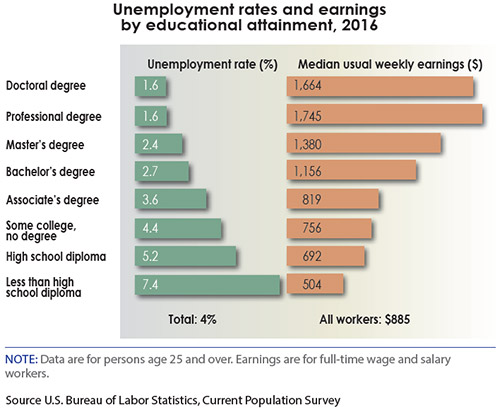 Building a Skilled Workforce
The evolving U.S. economy does require increasing levels of postsecondary educational attainment. A recent study by Georgetown University's Center on Education and the Workforce predicts a shortfall of five million workers with postsecondary degrees in the U.S. by 2020. In addition, about 65 percent of all jobs in 2020 will require a bachelor's or associate's degree, or some other post-high school training, especially for STEM, healthcare, and community service occupations.

According to Emsi data, states with the highest percentage rates of associate degrees are Hawaii, Iowa, Minnesota, North Dakota, South Dakota, and Wyoming. States with high rates of both associate degrees and four-year degrees reflect a highly skilled and diversified workforce that appeals to a variety of industries.

With the pressing need for more middle-skill workers, states are also creating more opportunities for workers to obtain associate degrees and certifications. For example, Georgia colleges and universities are making degrees more affordable and attainable. The state guarantees 90 percent tuition scholarships for high-performing students to attend Georgia Tech, the University of Georgia, and 30 other colleges and universities, with 100 percent tuition paid for the very best students. The HOPE Scholarship pays college costs at any public institution for the highest achievers.



Three out of five job openings will require employees with less than a bachelor's degree, and many will need vocational training, postsecondary certificates, and associate degrees.

Susan Kryczka, assistant vice president, Extended Education for Excelsior College, Boston

Alabama is streamlining and improving its overall workforce development program. New initiatives include AlabamaWorks, which brings together key components of the K-12 and two-year college systems, state workforce training and placement services, and industry. The program makes it easier to connect businesses and workers and develop career and job-training opportunities.

To help meet current workforce demands, Indiana recently announced several new grant programs geared toward high-demand, high-wage jobs. The Workforce Ready Grant and the Employer Training Grant will help offset the costs to employers when they train new employees. The grants provide more than $20 million over the next two years to fund training and certifications. With the state's low unemployment rate, and nearly 100,000 job openings, the Next Level Jobs program covers full tuition costs for adult learners to earn career certificates in high-growth sectors of Indiana's economy, especially advanced manufacturing, building and construction, health and life sciences, IT and business services, and transportation and logistics.

With the increasingly high-tech, billion-dollar-plus capital investment announcements coming out of Nevada, the state is busy developing a more educated and skilled workforce. For example, the LEAP (Learn and Earn Advanced Career Pathway) Initiative for advanced manufacturing is a pilot program for developing a fully integrated, long-term manufacturing career. LEAP works through the community college system to deliver two-year degrees for advanced manufacturing technician, with opportunities to move into degreed programs in mechanical engineering, diversified industry engineering, and management. The program also offers work-based learning through apprenticeships and internships.

Kryczka stresses much more needs to be done to build the workforce of the future. "There's a lesson for each of our institutions, no matter how traditionally focused, to recognize our responsibility to not only educate our students, but also to offer them the skills that provide flexibility in their career path."

Not all students will seek or require a four-year degree to succeed. Some may want certifications and licenses beyond academic credit or instead of a degree. "We need to expand what we offer and be flexible in defining our mission to educate for the future," Kryczka adds. "We should talk to economists, our state governments, and regional industries to look into the future. And while states should continue to support our higher education institutions, we all need to acknowledge the importance of vocational and technical training for a skilled workforce."