As home to manufacturing facilities ranging from jet engine parts and automobiles to advanced radar systems and battleships, Mississippi is supplying key industries with a well-trained workforce ready to meet rigorous quality standards.

"The quality of the workforce has improved since we've been here consistent with the development of the technical requirements that we have for our workforce," says Andrew Mallinson, CEO of Multicraft International in Pelahatchie.

As a manufacturer of essential automobile parts, including braking and electronic systems, and other industrial products, Multicraft's mission demands skilled labor able to adapt to changes — and Mississippi provides it.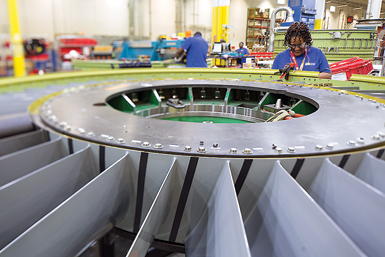 "The level of ability has always been capable of reaching the levels that we required," Mallinson says. "And over time as we have more sophisticated processes, more electronic, more quality-control systems, we have been able to coach and train our employees to adapt to the ?new technologies in our manufacturing processes."

Multicraft complements its internal training with specially adapted programs made available through Mississippi's community college system. Ranked No. 1 by Wallet Hub in 2015, the state's community college system offers 131 career and technical degrees and certificates. In fiscal year 2014, the state's community colleges served more than 600 companies and awarded more than ?8,400 career-readiness certificates.

The alliance between industry and the community college system provides manufacturers with a workforce who is ready to work today, yet nimble enough to adapt to modifications, says Nate Beach, plant leader at ?GE Aviation in Ellisville.

"GE Aviation has partnered with Jones Junior College for several years now," he explains. "They really have a great ability to figure out exactly what we need and provide custom training that really meets the needs of our workforce today. And then, as business changes, we kind of have a continuing dialogue where they'll always make improvements to the program and just never stop improving."

Mississippi's community colleges work hand in hand with industries, providing an array of assessment tools to quickly review applicants. ?The schools also provide pre-employment training and customized training programs, meaning workers are ready to contribute to a high quality product on Day 1. "The partnership we have with the state and with the community college system around workforce development is really top-notch," Beach says. "It's been benchmarked by other companies, by other sites within GE in other states, and it is really held up as a best practice for how workforces should be developed."