Reporting and regulatory requirements, transparency, traceability, closed-loop manufacturing, and building strong communities are five key sustainable supply chain issues to consider.

Often, facilities and value chain partners are presented with Key Performance Indicators (KPIs) or mandates to demonstrate and integrate sustainable supply chain practices. Or worse, facilities are confronted with business-damaging events that illustrate the importance of integrating these controls…though a bit too late. For example, Toyota profits slid 18.5 percent over six months as the company scrambled to get visibility into its supply chain and recover supply shortfall after the 2011 Japan Tsunami.

Whether addressed proactively or reactively, the first step is to understand what each topic means and how it enhances existing goals to reduce costs, mitigate risk, and increase speed to market.

1. Reporting and regulatory requirements: Reporting is widely adopted. KPIs, customer expectations, and regulatory requirements are driving this scrutiny up and downstream into the supply chain.

Seventy-five percent of the S&P 500 published corporate sustainability reports in 2014, drastically up from 20 percent reporting in 2011. Like financial reporting, sustainability reports build accountability and trust with stakeholders and drive continuous improvement towards KPIs. Eighty-eight percent of firms that report say it increases their efficiency and decision-making capacity. Further, as supply chain scrutiny heightens, technology improves, and globalization broadens, firms are integrating the full supply chain into sustainability reporting. The lens is no longer at an individual facility.

Reporting pressures come from regulators, customers, and special interest groups. Conflict minerals are regulated under Dodd Frank, human trafficking under California's SB 657, and best-in-class brand practices under the consumer's watchful eye. In addition to traditional accounting for energy, waste, water, and toxins, companies also look to their manufacturers for fair labor practices and the presence of commodities of concern like conflict minerals, palm oil, and unsustainable seafood. Facilities and manufacturers need to build capacity to respond to these reporting requirements in order to maintain B2B relationships, speed-to-market, and smooth operations.

2. Transparency: Transparency allows supply chain partners to respond to stakeholder needs, proactively manage risks, and build a resilient supply chain.

Supply chain transparency starts with having visibility in your supply chain: Where did the raw materials come from? Who made them? How? As we saw with reporting and regulatory requirements, customers and governments already ask some of these questions. Supply chain partners who can provide data and assurance from their own operations as well as their suppliers' operations will be valued.

While reporting is about building systems to efficiently respond to partners' requests and goals, transparency is about building visibility in order to proactively identify risks and opportunities, lower costs, and avoid disruptions. In 2011, if Toyota had more visibility into its suppliers, they could have built stronger contingencies and mitigated the 18.5 percent profit slide. The insight gained creates a new set of opportunities for procurement teams. Insights often present opportunities to proactively mitigate risk to build a more resilient supply chain internally and for B2B partners.

3. Traceability: Traceability helps facilities — and ultimately the entire supply chain — maintain strict quality standards and effective recalls and minimizes supply chain disruption.

While transparency is about getting visibility and acting on it, traceability further specifies and documents the precise path of a product, commodity, or process. According to the UN Global Compact, traceability is "the ability to identify and trace the history, distribution, location, and application of products, parts, and materials, to ensure the reliability of sustainability claims, in the areas of human rights, labor (including health and safety), the environment, and anti-corruption."

Traceability enables targeted and effective recalls, protects against counterfeiting, and helps meet regulatory and safety standards. As such, traceability can minimize costs and supply chain disruptions and maintain speed to market. A timely example is the Chipotle E. coli event which led to a 6.8 percent year-over-year decline in Q4 2015 earnings; perhaps E. coli will always exist, but it can no doubt be isolated and targeted more specifically — so as to not damage an entire brand network. Further, robust traceability programs can provide competitive advantage by helping customers and end-consumers avoid allergenic products or meet customer preferences for certifications such as organic or kosher.

Many traceability systems offer facility-level tracking, using RFID and lot coding. While these systems are important, heightened supply chain scrutiny, regulations, and consumer preferences of today demand that companies expand traceability beyond the facility walls. Meeting this expectation is increasingly challenging with more extractors, processors, intermediaries, manufacturers, packagers, and shippers to consider. These challenges highlight the imperative that each individual facility operates as a finely tuned, well-oiled player in the system.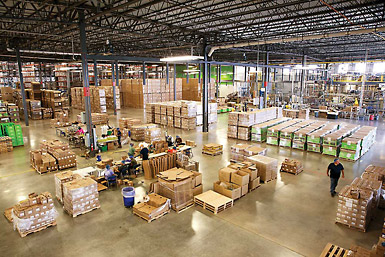 4. Closed-loop manufacturing: A $4.5 trillion opportunity awaits those who can effectively eliminate "waste" in their supply chain.

In its broadest sense, a closed loop, or circular, economy is one in which resources are endlessly repurposed, reused, and recycled. Large companies are integrating closed-loop thinking to increase resource-use efficiency, cut costs, and gain competitive advantage.

Fundamental to closed-loop manufacturing are products made from benign, nontoxic, and durable components. A closed-loop system "aims to keep products, components, and materials at their highest utility and value at all times," according to the Ellen MacArthur Foundation, the foremost authority on closed loop research. For example, Interface Carpets, the world's largest carpet manufacturer, pioneered a glue-free, carpet tile system that is easily replaced, recovered, and recycled. In 2014, 50 percent of Interface's raw materials were recycled or bio-based.

In Waste to Wealth research, Accenture Strategy identifies a $4.5 trillion opportunity for those who can transform their business for a circular economy by 2030 using natural resources, products, and assets to effectively eliminate "waste." How do you make this tangible and realistic now? Firms looking to integrate closed-loop thinking should engage with partners and even competitors to explore innovative new opportunities to change the way resources are made, used, and repurposed.

5. Strong supply chain communities: Ensuring a strong community and location is not only critical for an individual facility, but also provides big wins for an entire business and value chain.

Social and environmental variables are the basis of sustainability and, not surprisingly, the basis of strategic, lasting site selection decisions. Viewed qualitatively and quantitatively, these include access to environmental resources (water, energy, waste disposal) and social capital (a willing workforce, welcoming community, license to operate). Stakeholder engagement is necessary when identifying a site location where both business and community can thrive with sufficient environmental and social resources.

For resources, Ceres, a network of investors and companies established to advance sustainable business practices, has developed a set of community engagement tools in its Facility Reporting Project (FRP). Further, the following offers a great case study in site selection and strong community engagement:

Method, an innovative green cleaning product company, recently opened the industry's first LEED-platinum certified manufacturing plant in the Pullman neighborhood in Chicago. The company chose the Pullman Park district in the south side of Chicago because of its rich history and need for economic development. Before breaking ground, method met with municipal and civic groups to engage the community and set the foundation for a strong, sustained community, site, and workforce.

"Building a sustainable, transparent, closed-loop supply chain allows us to optimize our triple-bottom-line approach," said Garry Embleton, VP of Global Supply Chain at method. "At our South Side Soapbox, we're primarily hiring people who live in the local community, we have greater control over our environmental footprint, and have eliminated non–value-added freight costs that improve our financial health."

Migrating from a disaggregated supply chain spread across multiple locations to a single site has dramatically increased method's supply chain flexibility and responsiveness. With bottles now traveling an average of 1,000 feet instead of 1,000 miles, method has eliminated freight — a non–value-added cost — and reduced its carbon footprint. Operating a highly sustainable manufacturing and distribution site enables greater transparency and control. It empowers method to take real-time action to respond to changes in customer demands.

In Sum
As illustrated, sustainable supply chain practices do not need to be a reactive "add-on." Used proactively, they can help reduce costs, mitigate risks, and maintain speed to market. Trends suggest companies across the entire supply chain must now internalize these value chain effects. No longer a single facility, each player is a spoke in the whole system. Once each sustainable supply chain strategy is understood, the next step is to prioritize the topics as they relate to a specific facility, industry, or operation.