Continued investment in America's highway infrastructure may reflect a compelling need for communities across the country. Significant federal and state monies will likely need to be invested in our existing highways, bridges, and other public infrastructure over the next decade to meet the needs of the current and projected corporate and residential demand.

The most recent Corporate Survey speaks volumes regarding the need for additional highway improvements with "highway accessibility" ranked #1 as a site selection factor with a rating of 94.4 percent. This is up from a rating of 88 percent and the second spot overall in the 2015 survey. Adding miles of new and expanded highways can improve access to available skilled labor (ranked #2 as a site selection factor this year) and connect qualified employees to both existing and yet to be developed commercial and industrial hubs. Infrastructure investments, e.g., converting a two-lane county road to a four- or six-lane highway, can spur future economic development and create potential opportunities for affected communities to redevelop and rebrand themselves as an ideal place to live, work, and play.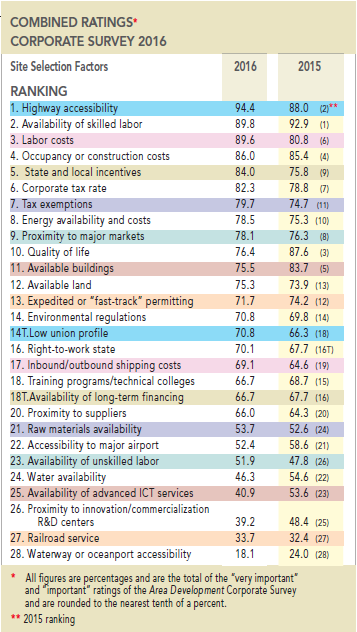 Although "quality of life" slipped from the third spot in the 2015 Corporate Survey, this site selection factor still remains in the top 10 with a rating of 76.4 percent. Despite that drop, communities with good highway accessibility and top-notch talent will likely continue to emphasize their unique quality of life as a differentiator to both attract and retain employers and employees alike. "Quality of life" is a phrase that can refer to many different and often unique qualities of a local community. It could be a cluster of great restaurants all within walking distance, access to world-class museums and art galleries, or simply close proximity to parks, trails, streams, and other outdoor activities. Like the ability to draw in labor from greater distance, good highways and bridges allow residents access to nearby amenities and are factors that a community may use to demonstrate what makes them unique and drive future prosperity. Given the federal government's focus on transportation, infrastructure, and U.S.-based corporate growth, local communities should consider how best to position themselves to benefit from additional infrastructure investments.

* This analysis does not constitute tax, legal, or other advice from Deloitte Tax LLP, which assumes no responsibility with respect to assessing or advising the reader as to tax, legal, or other consequences arising from the reader's particular situation. Copyright 2017 Deloitte Development LLC. All rights reserved.