Road transportation continues to undergo significant technological transformations as wireless technology increasingly enables vehicles to communicate with each other and with infrastructure, and advanced driver assistance systems enable warnings and limited amounts of automation. This transformation is driven by the proliferation of sensors, actuators, wireless connectivity, and artificial intelligence systems that are enabling vehicles to perceive and react to their environment in ways that human drivers cannot. Automated vehicle technology can sense dangerous situations and issue driver warnings or even actively control vehicle systems in response. Connected vehicle technology will enable vehicles to instantaneously communicate with each other and the roadway — providing information to make the transportation safer and more efficient.

In addition to enabling improvements in safety, mobility, convenience, and environmental performance, automation and connectivity present major opportunities for economic development and industry growth. Automakers, auto suppliers, government agencies, universities, research institutions, and other organizations are partnering with each other to collaboratively develop and test these emerging technologies in hopes of taking advantage of the opportunities they present.

Various regions are competing for new test bed and research and development (R&D) facility investments, building up technical expertise within their work forces, and attempting to establish themselves as knowledge centers in automated and connected vehicle technologies. Private-sector decision-makers seek to leverage their expertise to expand into these growing technology markets. They are interested in locating in areas near their suppliers and customers, with access to skilled labor, specialized goods, services, and facilities. Unique features — such as the existence of specialized roadside infrastructure for vehicle communications or licensing laws for automated vehicles — are also important factors to consider when considering a new investment.

Connected Vehicle Technology
Connected vehicle technology will enable vehicles to communicate with each other and with the roadway using technologies such as dedicated short-range communications (DSRC), a wireless channel using the 5.9 GHz spectrum that was specifically designed for use in vehicular communications or cellular networks (i.e., 4G LTE connectivity). Connected vehicle systems can be embedded, as with factory-installed units, or may be brought into the vehicle in the form of a mobile device that can be plugged into or wirelessly connected to the vehicle. Many vehicles in operation have some form of connectivity, such as GM OnStar, Ford Sync, or Chrysler Uconnect.

Connected vehicle technology consists of vehicle-to-vehicle (V2V) and vehicle-to-infrastructure (V2I) communications. V2V refers to communication directly between vehicles. V2I involves communication between vehicles and the roadway, traffic signals, bridges, and other pieces of infrastructure. Vehicles equipped with V2V and V2I communication capabilities broadcast information (brake status, location, direction, speed, and other vehicle data) as they are driven, and the systems use cues such as sounds, lights, displays, and seat vibrations to alert drivers of various threats. In the United States, many states are working to deploy and test connected vehicles and infrastructure, but Michigan and California are centers of connected vehicle technology development.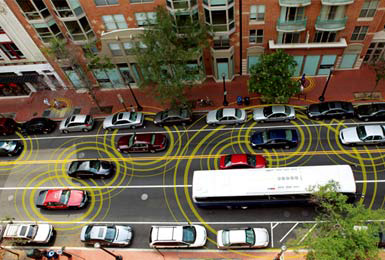 Michigan


Michigan is home to several connected vehicle infrastructure deployments. Testing site investments have been made in numerous locations, such as the U.S. Department of Transportation (USDOT) Developmental Test Environment in Oakland and Wayne counties, the Chrysler Tech Center in Auburn Hills, the Rock Financial Showplace in Novi, the Connected Vehicle Proving Center Intersection in Southfield, the Michigan International Speedway, the intersections of Telegraph Road at 12 Mile and 15 Mile, Farmington Hills, and Owosso. The most recent large testing area for connected vehicle technology is the USDOT "Safety Pilot Model Deployment," which is located in Ann Arbor, Michigan.

In August 2012, the University of Michigan Transportation Research Institute and its research partners began conducting the $14.9 million, USDOT-funded Connected Vehicle Safety Pilot Model Deployment field test. The test involves more than 2,800 vehicles equipped with communications devices, including cars, trucks, and transit vehicles. Testing is taking place on public roads, and roadside infrastructure has been installed at 29 different sites. Of the vehicles used for the test, 64 have integrated devices, approximately 300 vehicles have aftermarket devices, and the remaining vehicles are equipped with simple transmission-only devices that will broadcast information. Several major automakers have provided vehicles with integrated devices, including Ford, General Motors, Honda, Hyundai-Kia, Mercedes-Benz, Nissan, Toyota, and Volkswagen. The Safety Pilot field test is significant on a global scale, because previous connected vehicle studies have collected data over shorter periods of time, involved fewer vehicles, and used staged scenarios rather than observing normal driving conditions. The test is also important because its results will be used to inform a regulatory agency decision concerning a mandate of connected vehicle technology on new vehicles sold within the United States. Companies that are heavily involved in the development of connected vehicle technology and that have Michigan facilities, such as Delphi, DENSO, and Visteon, will benefit from successful deployment of connected vehicles in Michigan. Continued growth in the connected vehicle technology market could lead to future expansions for these companies. Michigan's involvement in testing and deployment of connected vehicle technology has also attracted new companies to the region, such as Savari Networks and Cohda Wireless.

California
Thanks to its strong university system and Silicon Valley heritage, California is a high-tech research hub and conducts a significant amount of research into intelligent transportation systems. The California Department of Transportation (Caltrans) and California Partners for Advanced Transportation Technology (PATH), which is part of the University of California-Berkeley, are leading the way on a variety of efforts, with aid from several private-sector entities, including a handful of automotive R&D facilities located in Silicon Valley. Additionally, Stanford University has a strong research program with advanced vehicle technology testing facilities (e.g., the Center for Automotive Research at Stanford and the Volkswagen Automotive Innovation Lab). As with Michigan, California is home to several connected vehicle infrastructure deployments. Near Palo Alto, along the US101 and State Route 82 corridor, is the VII California Test Bed, which contains several DSRC-based roadside units. At the corner of 5th Avenue and El Camino Real is an intersection installation that was created for the USDOT Cooperative Intersection Collision Avoidance Systems (CICAS) project, which examined left-turn assistance using connected vehicle technology. To the north at Richmond Field Station is the PATH Test Intersection, which has a traffic light equipped with a DSRC unit. In the San Diego area, the USDOT has funded a deployment along the I-15 corridor for its Integrated Corridor Management, which will be used to analyze various communications technologies for connected public transportation systems.

In addition to installing new DSRC infrastructure for test beds, California projects, such as Mobile Millennium and SAFE TRIP-21, have used existing cellular infrastructure for vehicle communications testing. Caltrans and PATH have also partnered with other organizations on connected vehicle projects outside of California, such as work on speed management and work zones with the Western Transportation Institute and work on smart traffic signals with the University of Arizona.

In addition to public-sector and university activities, California is also involved with private-sector connected vehicle activities. The state is home to several automotive electronics research units belonging to major automotive manufacturers. This includes facilities operated by BMW, Daimler, and Volkswagen North America.

Automated Vehicle Technology
Automated vehicle technologies use sensor inputs such as video cameras, radar, and lidar (which is a laser-based ranging system) along with computing power and detailed digital maps to issue warnings or actively react to hazards. Several automated features already exist in many vehicles sold today, such as automated emergency braking, lane-keep assist systems, adaptive cruise control, and active parking assistance.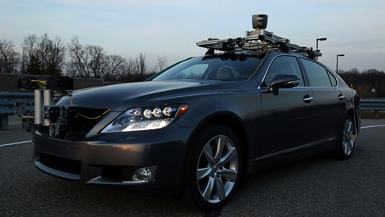 Automakers may soon offer vehicles that combine some of these existing systems, allowing a vehicle's speed, steering, and brakes to be automatically controlled. For instance, Cadillac is currently testing its "Super Cruise" technology, which is capable of semi-automated driving on highways. Ford, Mercedes, and Volvo are each testing similar "Traffic-Jam Assist" systems, which will be capable of semi-automated driving in low-speed, stop-and-go conditions. The version of the technology developed by Mercedes, known as the "Stop & Go Pilot," will debut later this year on the 2014 S-Class.

The final frontier of automated vehicle technology is the self-driving, fully automated vehicle capable of operating on the road in mixed-traffic. Despite the complexity involved, multiple stakeholders are working to develop such vehicles. Google is testing fully automated vehicles on public roads in Nevada and California, and has logged hundreds of thousands of miles in its automated vehicles. Traditional automakers such as Volkswagen and Toyota are also developing advanced automated functionality. Additionally, high-tech firms such as Bosch, TRW, Delphi, and others are developing advanced technologies both in cooperation with, and independent from, the automakers.

By the end of 2012, three states (Nevada, Florida, and California) and the District of Columbia had passed laws addressing fully automated vehicles. Several other states throughout the country have considered similar legislation, including Michigan. In May, the National Highway Traffic Safety Administration released guidelines for states issuing licenses for testing fully automated vehicles on public roads. Current Michigan law allows many automakers and Tier-1 suppliers to operate proto-type automated vehicles with manufacturer license plates on public roads, and some have already been involved in such testing. New legislation could further clarify rules and broaden eligibility to include more automotive suppliers as well as upfitters (e.g., Google). The Michigan Senate Transportation Committee approved a bill in March 2013, but it has yet to pass the House. A revised version of the bill may be considered in the Michigan legislature as early as September 2013.



Technology Leadership and Location Advantages


Technology leadership has become an important factor in location decisions in many industries. While many states are vying for investments related to connected and automated vehicle technologies, such as new test beds and R&D centers, Michigan and California have emerged as leaders in these fields. Michigan's role as the largest automotive R&D hub in North America, as well as the presences of large automakers and many Tier-1 suppliers in the state, has given it many assets to leverage in attracting new investments. Similarly, California's Silicon Valley technology cluster and its existing automaker R&D facilities have helped it position itself as an automotive technology center. Both states have also benefited from strong connections between their large research universities and industry.

For automakers and automotive suppliers, there are several advantages to locating facilities in states that have shown leadership in connected and automated technologies. Such locations have a work force with skills and training related to those technologies, allowing firms to take advantage of a larger and more specialized pool of workers. Suppliers benefit from a larger pool of potential customers for their products; and customers, in turn, benefit from a more accessible and competitive supplier base, as well as improved access to specialized goods, services, and facilities. Furthermore companies can benefit from shared resources, such as public testing and demonstration centers or specialized roadside infrastructure installed on public roads.