Editor's Note: This article was written for the Northeast Indiana Regional Partnership, which approved this post.


Stéphane Frijia has been fascinated by the trajectory of manufacturing in Northeast Indiana since arriving last year as president and CEO of the Northeast Indiana Regional Partnership. The state as a whole, including the northeast portion that is his focus, has honed generations of expertise making things — not only finished products of all kinds, but the components and raw materials that make up those products.

That storied past, he says, has provided an exceptional foundation for an advanced and increasingly diverse economic future. Northeast Indiana, he says, is "a place where real things are made." "There's an understanding of what it takes to make something from nothing. We use innovative technologies to turn advanced materials into products that enhance our way of life," Frijia says.

Take the medical device sector as just one example of how that plays out. It employs more than 22,000 people across Northeast Indiana, at more than a hundred medical device and technology companies regionwide.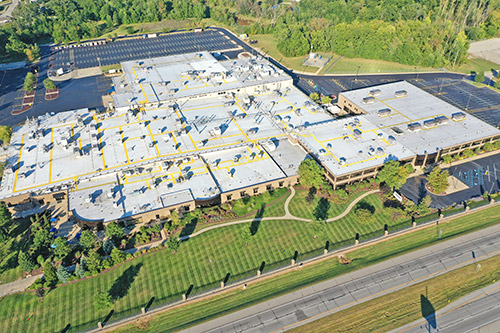 "Orthopedic Capital of the World"
A key part of that success, at the center of a county dotted with picturesque lakes, is the small community of Warsaw, Ind. It's a seemingly unlikely place to stake a rightful claim as the "orthopedic capital of the world," a term coined by OrthoWorx, a nonprofit focused on preserving and extending the medical device industry in Northeast Indiana. But that it is — the place where Revra DePuy in 1895 launched what is said to be the world's first commercial orthopedic manufacturer.

As his company grew, orthopedic competitors launched and grew in Warsaw, too, along with suppliers. Today, this city of about 15,000 people claims fully half the global market for total joint replacements. It's a hotbed of innovation, with a patent rating five times the state average.

DePuy Synthes remains a huge part of the Warsaw economy, and Zimmer Biomet is a 2015 combination of two longtime Warsaw orthopedic competitors — Zimmer was founded in 1927 by a former DePuy employee, Biomet 50 years later. Helping the "orthopedic capital" continue to thrive is OrthoWorx, a Warsaw-based initiative that works strategically and collaboratively with community and industry stakeholders. OrthoWorx has been a critical partner supporting the orthopedic sector through talent development, talent attraction, innovation and entrepreneurship since it was founded in 2009.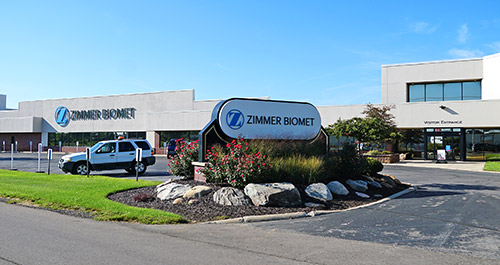 The critical mass of orthopedic-related manufacturing is why RAZOR Medical Instruments, Inc. chose to move its headquarters to Warsaw, according to the company's founder, president, and chief technology officer, Bruce Khalili. RAZOR announced the move from New Hampshire last year, seeking to create up to 63 jobs over a three-year period.

"I've been in orthopedics about 30 years," Khalili says. "The significant amount of resources available and concentrated in this area, engineers and other technical people, and the manufacturing know-how concentrated in this one area is fantastic." He also sees partnership and talent recruitment opportunities involving area economic development agencies, OrthoWorx, nearby universities, and a local business accelerator focused on musculoskeletal health.

Beyond the experience available in the sector, Khalili has found the business climate exceptionally welcoming. "Indiana is very friendly, especially to manufacturing."

That welcoming attitude extends to the people, he adds, recounting the story of a visit to a supplier facility this past winter. Following the meeting, Khalili drove off into a February snowstorm and his car ended up in a ditch. He was pleasantly surprised when he phoned the colleagues he had just visited — a short time later his suppliers arrived with a bottle of water, a truck, and a tow rope, and pulled his car back onto the road.

In its new Warsaw home, RAZOR makes single-use instruments for hip-replacement surgery, a market that grew rapidly during the pandemic. As many hospitals were forced to cut back on surgeries, more hip replacements were scheduled at surgery centers that didn't have as extensive capabilities for sterilizing and reusing medical instruments. As a result, an already promising business in single-use instruments took off even more quickly.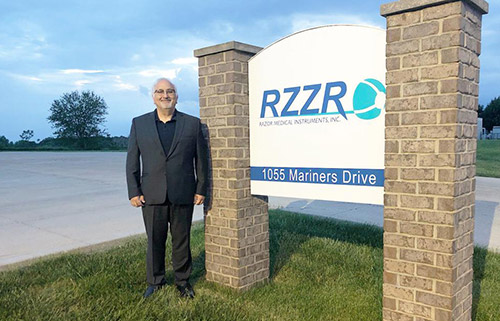 Advancement in Materials
One key piece of the Warsaw orthopedic story provides an excellent early example of a regional dynamic that has caught Frijia's attention today — the role of advancements in materials. In the 1890s, Revra DePuy created a fiber splint that was an improvement over the wooden barrel splints used at the time to set broken bones. Thus began a local focus on improving medicine through advanced materials.

"The string that connects it all is understanding the science around advanced materials," Frijia says. "How do we create new materials for applications, and how do we manipulate them and construct them with different techniques to achieve desired outcome?"

And that dynamic, he says, fuels growth and opportunity not just in the medical device sector but across the region's manufacturing operations. For example, the advanced material used in a screw that anchors a medical implant may also be ideal for an aerospace fastener, he says.

Frijia points to Fort Wayne Metals. The company could be described in simple terms as a wire manufacturer, but that description doesn't really capture the science of advanced materials that drives its products. The manufacturer works in a wide range of materials and alloys engineered for many different applications.

Its products are essential in stents and catheters used in vascular therapy, and across medical applications ranging from orthopedics to orthodontics to cardiac rhythm management to neurostimulation. But to Frijia's point about the cross-sector application of materials science, Fort Wayne Metals also supplies manufacturers in aerospace, automotive, and electronics. Its ongoing growth and diversification led to a $50 million expansion completed a couple of years ago.

As its name suggests, Paragon Medical has a narrower medical focus, but it's another good example of a future built on advanced materials. Located just down the road from Warsaw, Paragon last fall announced a multimillion-dollar expansion that will add to its 3D printing and other capabilities. It'll be making porous titanium implants initially, then evolve into other metals and polymers.

The key point, says Frijia, is that Northeast Indiana has a long history in manufacturing, with innovations all along the way and ongoing advances in the materials used. Steel has driven the economy of northern Indiana for generations, he notes, and these days there's a world of opportunity in advanced metals and alloys, polymers, and a variety of new exotic materials that are ever-stronger and lighter.

The region's future, he says, "is going to be around companies in that space that really are pushing the envelope on developing and inventing new materials and applications. Those are the ones that are going to be the market leaders of tomorrow."