Editor's Note: This article was written for the Tennessee Department of Economic & Community Development which approved and paid for this post.


Developments like this don't come along every year. Not even every decade, to be honest. The Tennessee plan that Ford Motor Co. announced in late September was quite simply one of the biggest projects ever.

Ford picked what's been known as the Memphis Regional Megasite for a mega-project it's calling Blue Oval City. It represents a $5.6 billion investment by Ford and battery maker SK Innovation, on a 3,600-acre campus, creating some 5,800 new jobs. Ultimately, the project could create as many as 27,000 jobs directly and indirectly.

Bill Ford, executive chair of Ford Motor Co., called it "the largest investment in American manufacturing in the history of our company. Blue Oval City will be America's largest vehicle and battery manufacturing campus — and it will be the first in the world that's carbon-neutral." Manufacturing of all-electric F-Series trucks is slated to begin at Blue Oval City in 2025.

"This is Ford's first greenfield OEM in 50 years in the U.S.," says Bob Rolfe, commissioner of the Tennessee Department of Economic and Community Development. "We provided a megasite that has the bandwidth that allows them a campus approach, with their OEM, acreage to build electric vehicle batteries, and also enough land to invite suppliers." Ford's campus will be a truly integrated operation, with a sustainable ecosystem that includes key suppliers. That was a big reason for going all-in on such a massive site — ensuring that batteries and other vital components would be manufactured nearby. The importance of that kind of strategy is, perhaps, clearer than ever right now, given the global supply chain woes that have given fits to manufacturers in all industries lately.

The massive, integrated approach has had some industry observers recalling the Rouge manufacturing complex in Michigan, developed by Ford about a century earlier. It was, at the time, the world's largest integrated factory, intended to produce most of the components for assembling Ford vehicles (it actually produced anti-submarine warfare boats to support the World War I effort before rolling the first Model A off the line in 1927). Rouge was, and is, quite massive, but Blue Oval City has the potential to encompass even more acreage.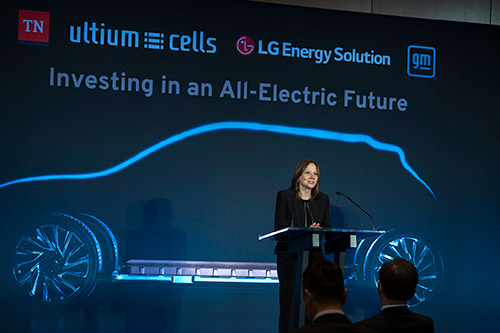 Supplying the Human Capital
A sustainable ecosystem is an ideal approach for parts and components. Of course, it's not just parts that are hard to come by right now, but also human capital. Tennessee is pulling out all the stops to ensure the availability of the right skilled labor. For example, a new Tennessee College of Applied Technology, or TCAT, is being developed right on site at the Memphis Regional Megasite.

The TCAT will, among other things, provide customized training for Ford and SK Innovation. Its specialized curriculum focusing on mechatronics engineering and automechanics will align well with the needs of electric vehicle and battery manufacturing and repair. The state has in recent months been working hard to get this kind of technical education to students across Tennessee, and about a thousand students were added to the rosters of TCAT locations this past fall to help ease the labor crunch.

The state's educational efforts have primed it for the kind of development Ford is bringing. Rolfe adds that Ford's plan is so exciting, with so many lucrative jobs, that it's likely to attract the interest of qualified applicants from outside Tennessee, too.

Blue Oval City will be the fourth Tennessee automotive assembly plant. Notably, it'll also be the fourth Tennessee OEM building electric vehicles, further cementing the state's status as a hub of EV production — today and tomorrow.



Blue Oval City will be America's largest vehicle and battery manufacturing campus — and it will be the first in the world that's carbon-neutral.

Bill Ford, executive chair, Ford Motor Co.

Tennessee has for years now had a big place on the map for automotive manufacturing, and already is the top EV-making state in the Southeast. It is the region's leader in EV-related jobs and investment. Prior to the big news from Ford, there have been massive, forward-focused EV investments from General Motors in Spring Hill, Nissan in Smyrna, and Volkswagen in Chattanooga. Following are some of the highlights:
Nissan was the first to bring automotive production to Tennessee, opening its Smyrna plant in 1983. The company chose the site to build pickup trucks and said it was ideal because of its central location within the automotive market and the ability to transport parts there efficiently. A variety of models now roll off the line in Smyrna, including the Pathfinder, Maxima, Murano, Rogue, and the Infinity QX60 — and the Leaf electric vehicle.

Notably, Nissan has pursued an integrated approach along the lines of what Ford is planning. In 2010, the company began work on a battery production plant in Smyrna, and it started producing EV batteries in late 2012. The next year, the Nissan Leaf became the first EV to roll off a Tennessee assembly line.
Spring Hill Manufacturing was initially built to make vehicles for GM's Saturn Corp. subsidiary. Plans for the factory were announced in 1985, and the first vehicle rolled off the line in 1990. The Saturn brand eventually faded, and Spring Hill was transitioned into assembling other GM vehicles, most recently including Cadillac and GMC sport-utility vehicles.

About a year ago, GM announced that Spring Hill would start making electric vehicles, the company's third EV production facility, along with two in Michigan. The company promised to invest $2 billion in Spring Hill to add production of EVs, including its luxury Cadillac Lyriq. The investment includes expanded paint and body shops as well as major upgrades to the assembly lines.

Additionally, Ultium Cells LLC — a joint venture of LG Energy Solution and General Motors — will invest $2.3 billion to build a 2.8 million-square-foot, state-of-the-art plant on land leased from GM. Scheduled to open in 2023, the Ultium plant will supply the battery cells for GM's Spring Hill assembly plant. "The addition of our second all-new Ultium battery cell plant in the U.S. with our joint venture partner LG Energy Solution is another major step in our transition to an all-electric future. The support of the state of Tennessee was an important factor in making this investment in Spring Hill possible," said Mary Barra, GM's chairman and CEO.
The first vehicle destined for a showroom rolled off Volkswagen's Chattanooga assembly line in 2011, and within the first year 100,000 Passat vehicles were produced there. The company continued to invest in its Tennessee facility, bringing in production of the Atlas midsize SUV, the first of which rolled into dealers in 2017. And in 2019, the company announced that Chattanooga would be its North American base for making electric vehicles, which meant investing more capital and hiring many more Tennesseans.



Tennessee is pulling out all the stops to ensure the availability of the right skilled labor.

The Volkswagen ID.4 was unveiled in 2020, and as its launch was being finalized, VW was expanding its Tennessee operation into a full-blown center for electric vehicles, not just assembly but also engineering. The company determined that it wanted its battery development and testing work to be done in-house, so it began beefing up its Engineering and Planning Center with state-to-the-art equipment for that purpose. In Chattanooga, the company promises to really put batteries through the wringer — subject to the most demanding capability testing, climate simulation, and durability challenges, with testing conducted using high-end equipment designed specifically for EV batteries.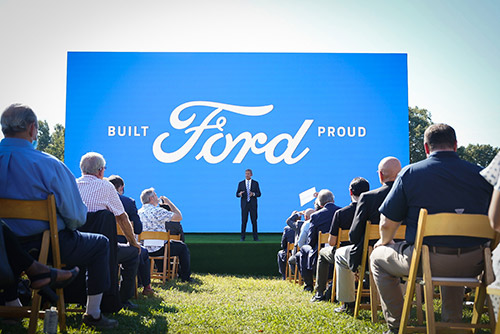 Planting the Flag
"Tennessee is playing a key role in leading American advanced manufacturing," Lisa Drake, Ford North America chief operating officer, said in making the Blue Oval City announcement. "This once-in-a-generation investment will create thousands of high-quality jobs and support America's transition to electric vehicles."

According to Drake, Tennessee will play a big part as Ford pursues the electric vehicle revolution and solutions to climate change. "We look forward to working to create the future together."

Rolfe says Tennessee's business climate and comprehensive economic development capabilities make it a logical choice for a project this big. "We're very pro-business, with low taxes and no personal income tax," he points out.

And Tennessee was able to act quickly when Ford came knocking. "The sense of urgency was incredible. Ford reached out to us in February, and by the end of August notified us that they would come to Tennessee. When you look at a project of that magnitude, that shows the sense of urgency," Rolfe says, noting that the state responded at what he calls the "speed of business."

Now, the state is on the way to an even stronger claim of regional leadership in automotive manufacturing. Rolfe says it already has a thousand suppliers in the ecosystem, and counting, with more focus on EVs inevitable as electricity becomes the fuel of choice. "At the end of the day, Tennessee has planted our flag," he concludes.