In the logistics space, multiple factors can impact a location strategy for distribution centers. Real estate and staffing costs, transportation capacity, labor quality, export strategies, tax implications, and training incentives are just a few of the issues that are universal to all industries. The food and beverage industry has the additional challenges of sensitive product requirements and more frequent volume surges.

Given the extensive product diversity in the food and beverage industry, it shouldn't be surprising to learn that the logistics needs of companies vary greatly. Just visit your local supermarket: you'll find not only fresh produce and fresh meat, but also canned produce and pre-packaged meat. There are countess variations of cereal, snack bars, beer and soda, bread, dairy, and more.

One Industry, Multiple Needs
This diversity makes it untenable to assign "one size fits all" solutions by vertical. Two obvious examples are the concepts of freshness and shelf life, and their importance in time-to-market. A household gadget slated for retail shelves can take two days in transit by truck and still be acceptable to retailers, whereas the identical transit time to the same destination can be disastrous for the food and beverage supply chain.

Knowing the particulars of a client's needs, the regulations it operates under, and the expectations of end customers determines the type of solution a company requires. For example, at XPO we run a distribution center (DC) for a baked goods client that essentially operates as a cross-dock. Fresh goods come in daily from the bakery and are staged for outbound delivery. By closing time the DC is empty, until the process starts over again the next morning. Conversely, companies that manufacture and sell pasta, pre-packaged snacks, candy bars, and sports drinks need to maintain large safety stocks due to the nature of their products. This requires a different type of facility, warehouse technology, and distribution plan.

For many types of logistics, it's important to locate DC facilities near major ports; but that's not necessarily the case in the food and beverage industry. Generally speaking, the food and beverage industry has a smaller percentage of import products than, say, technology, textiles, or consumer packaged goods. There are exceptions of course, such as wine from France, olives from Italy, and fresh produce from South America.

Selective imports, coupled with an increasing number of exports, particularly in the cold chain, point to the need for at least some port interaction. But by and large, food and beverage products are sourced and manufactured within the country of consumption, with relatively modest cross-border flows. This impacts the distribution strategies utilized by the food and beverage industry.

When considering population density and rapid transit, the five primary distribution hubs for the United States shouldn't need any explanation: the Northeast, the Southeast (Atlanta), Dallas/Ft. Worth, Chicagoland, and Southern California. These five areas service more than 75 percent of the domestic population and have been staple locales in the great majority of supply chains for decades. Here again, the food and beverage industry diverges from the norm.

The two main differences with the food and beverage industry are the greater emphases placed on (1) the point of manufacture and (2) the point of sourcing raw materials. A real-world example would be one of our larger food and beverage clients, who selected central Iowa as the site for its in-plant distribution center. This DC is close enough to Midwest distribution hubs to facilitate outbound transportation of products, while also being close enough to the raw materials used to manufacture those products. The proximity of raw materials reduces the time and costs associated with procuring ingredients.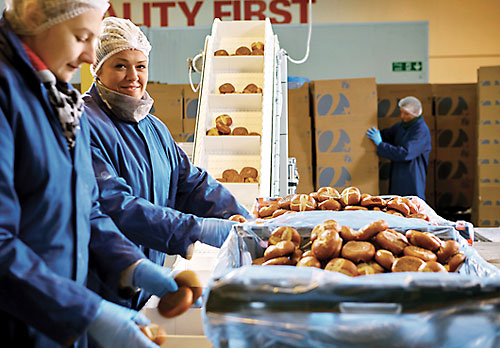 First and Foremost A Strategy, Not a Physical Asset
Cost will always play an important role in the positioning of distribution centers. Does a company want one central DC or multiple locations? Maybe it needs one in every major region in the U.S. How does the math work out? The more DCs a company has, the lower its overall transportation costs will be – but that can be offset by the amount of inventory those centers need to carry. This decision is something a company and its supply-chain providers should collaborate on.

The size and scope of a company's business and the size and geographies of its customer markets are core indicators of how many DCs are needed. For example, if a company is running a regional chain of grocery stores, it can probably make do with one DC. A nationwide beverage company will need more distribution points if its products are produced by local manufacturing and bottling ventures. However, the size and scope of these local DCs can be smaller than central distribution facilities.

Companies that manufacture private-label (store brand) products tend to prefer distribution centers closer to the point of manufacture than to the food and beverage clients they serve. That's because private-label manufacturers could add or lose a contract at any time. Positioning DCs close to individual clients could create unnecessary exposure to risk.

Labor: the Engine Behind Successful Logistics
Another significant decision point in DC strategies is the ability to source quality labor. This issue has universal relevance, regardless of industry. A skilled, dedicated workforce is an essential component of keeping a supply chain moving. For companies that experience seasonal surges, flexible access to a reliable source of labor is also important. The frequency of these peaks can determine how heavily a food and beverage company should weight the labor pool in site selection.



A skilled, dedicated workforce is an essential component of keeping a supply chain moving.

Candy manufacturers are a good example of this. Many candy companies plan on at least four surges a year: Valentine's Day, Easter, Halloween, and Christmas. In almost all of these instances, companies not only ship heavier volumes of "normal" products, they also produce and ship unique products tied to the holidays — heart-shaped for Valentine's Day, egg-shaped for Easter, volume packs of small bars for Halloween, and seasonally unique products and packaging for the holiday season. To add to these challenges, a "normal" candy bar typically has a longer shelf life than its seasonal counterpart, which has an abridged time in market. Even a small logistics delay due to a labor shortage can be extremely costly to the manufacturer.

One way XPO has been successful in mitigating labor issues is by structuring logistics operations in campus-like environments. This allows us to pair food and beverage clients with clients from other industries that have complementary peak seasons. We also cross-train our labor force and shift labor between client supply chains as needed. Labor in any industry is stabilized by retention, and the campus solution has proven effective in retaining many good logistics workers who might otherwise have left after seasonal employment.

Finally, in addition to location, the size of the proposed distribution center and its ability to expand are important considerations. Mergers and acquisitions are becoming the norm in many industries today. Some longstanding companies are joining with their peers, and startups are opting to be acquired rather than go public. If a company expands its market offering with the acquisition of a brand, competitor, or supplier — or divests operations to reduce its market offering — the supply chain strategy should be rethought and the distribution capacity reshaped as soon as practicable.

In the end, the site selection decision comes down to the specific needs of the company, the profile of its consumers, and its time-to-market requirements for each channel, including e-commerce. It's a good practice to make these decisions with the input of one or more experienced supply-chain providers who understand the many unique attributes of food and beverage distribution.