Many distribution centers today are relying on outdated methods to capture data and keep track of operations. In some cases, pencils, clipboards, and punch cards are still the tools of the trade, as operators are required to record information manually and input data into a fixed terminal. In today's environment, these antiquated methods are no longer sufficient to keep track of the supply chain and operate an efficient distribution center.

With the power of mobile technology, data analytics, and cloud computing, warehouses and throughput centers now have the opportunity to access, analyze, and relay business-critical data instantaneously. Employees can access information from the warehouse floor, on the bed of a truck, or even while operating a forklift. Scanners and "smart shelf" technology can instantly identify when a shelf is low on goods, or when a supplier has run out of stock, and technology allows companies to dynamically share information across a campus with little effort. All-weather fixed-video systems and facial recognition software can keep track of vehicles and people entering and exiting the premises, while vehicle-based technology can monitor hours of service information, customer interactions (delivery, returns, on-site sales, etc.), and incident capture.

An integrated deployment of cutting-edge technology solutions such as these can keep a distribution center supplied with automated, reliable, and instantaneous data capture at every link in the supply chain. Because the control room and warehouse employees have faster access to business-critical data and end-to-end situational awareness of production, throughput, and distribution, an integrated technology approach will result in significant increases in efficiency, productivity, security, and cost-savings. Let's take a look at some of the tech tools and processes available that can help revolutionize today's distribution centers.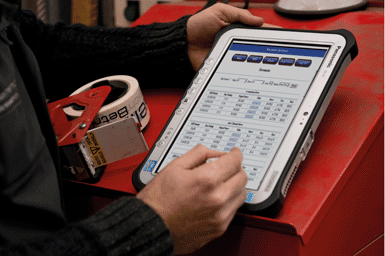 Tablets


Instant, ubiquitous access to business-critical information is the key to situational awareness in the distribution center. With specialized data-capture technologies, information on shipping, warehousing, throughput, as well as customer and employee information can be made available in real time. Using cloud storage and analytics, Frontline employees can access company sales data, shipping information, and more on their handheld device from anywhere in the facility.

Granted, almost all supply chains have computerized inventory management systems in place. However, many still rely on fixed computer terminals to enter and receive data. What makes tablets special is their portability, their ease-of-use, screen size, and the ability to add new applications. Tablets' smaller screens and increased portability allow employees to access and update information from anywhere — on a loading dock, on the warehouse floor, or in a freezer.

When a warehouse receives an incoming shipment, for example, the receiving dock can categorize and process the delivery immediately at the point of contact on a wireless-enabled tablet. Running separate applications, the same device can then also accompany a driver on his route, a warehouse manager inspecting the facility, or an executive managing purchase orders. Instead of remaining chained to a fixed location, tablet computers offer near-universal access to enterprise systems, and allow users to run a much wider variety of business applications on one device.

It's also important to make sure the tablets are suited for the tasks at hand. Many consumer-grade devices are ill suited to the often harsh environments of distribution centers. To meet this need, a new breed of rugged tablets has been developed that offer shock, temperature and water resistance, long battery life, and daylight-viewable screens.

Because they can accompany an employee anywhere and provide instant access to business data, wireless-enabled tablets represent an evolution in supply chain technology, and are one of the most valuable tools available to distribution centers. A new generation is entering the work force — one that is accustomed to carrying more computing power in their pockets than was available in most PCs five years ago. Tomorrow's workers will be accustomed to using consumer-style tablets in their daily life. The ability to instantly access and capture data and an inherently user-friendly design mean tablets can be used by anyone, and they allow warehouse workers to focus on processing customer orders more quickly.



Vehicle Technology


The lifeblood of the supply chain is transportation. Deliveries arrive and depart the warehouse hundreds of times a day. In order to track vehicle movements in real time, innovative logistics operations are now outfitting their trucks with telematics solutions that automatically communicate a vehicle's location, service hours, travel time, and incident reports back to the command center. This data can be fed into cloud-based or on-site analytics solutions that can determine optimal shipping routes, respond to incidents, and communicate arrival/departure times to warehouse staff.

In addition, many delivery fleets are being outfitted with dashboard consoles or tablets that allow drivers to record and transmit delivery information, capturing signatures, customer interaction, cargo data, and more. With this steady stream of instant information available to drivers and to headquarters staff, distribution centers can ensure the right cargo gets to the right place on time, and respond to any incidents along the way.



Barcode and RFID Scanners


Manually receiving products and entering data into a fixed terminal is an inefficient and time-consuming process, and introduces the risk of costly data errors and delays. Instead, distribution centers should use mobile devices with bar code scanners or RFID readers at the receiving dock to instantly categorize materials when they arrive. With scanner-equipped mobile devices, the risk of human error is dramatically reduced, inventory accuracy is improved, and the receiving and identification process becomes much more efficient. In some cases, "smart shelf" technology keeps track of inventory with RFID scanners and sends alerts when a warehouse is running low on materials. This information can instantly be uploaded to an internal or cloud-based analytics platform that allows businesses to manage incoming shipments, allocate resources, and predict the number of goods they need to stock in the future.

The larger a warehouse facility, the more difficult it becomes to keep track of inventory. With rows upon rows of shelves, crates, or specialty containers, it's nearly impossible to maintain oversight of all inventory when relying on visual inspections alone. Without an automated inventory system using barcode and RFID scanners, determining if you are running low on stock and coordinating resource allocation can become a nightmare.



Fixed And Mobile Video Systems


Of course, monitoring incoming deliveries to the warehouse shouldn't end with barcode scanners and RFID readers. Fixed video camera systems can be installed on the loading dock, the warehouse floor, or any other high-traffic areas to increase visibility and monitor vehicles and people who enter the facility. This information can be transmitted immediately to management on a PC or tablet, allowing full situational awareness at all times.

Many video systems are enabled with software that allows them to identify faces, vehicles, and license plate numbers. With integrated video systems, warehouses can take advantage of a real-time overview of the warehouse floor to make sure workplace regulations and safety procedures are being followed. The added security is especially useful at unsecured facilities and in distribution centers holding hazardous, delicate, or valuable materials.

A number of delivery fleets also deploy mobile video solutions to capture video from vehicles. Fleets can capture a front-only video feed, or install up to five cameras to get a 360-degree view around their vehicles. With 4G, that video can be streamed to a command center, or just captured on a black-box-type device and downloaded at the end of the day. Video oversight of the delivery fleet can help ensure successful customer interactions, driver safety, and freight security.



Digital Signage


High-definition digital displays allow managers to dynamically share information across a campus with little effort and extend situational awareness to everyone at the facility. These digital displays can be read even with high levels of ambient light, and can be easily updated from a central location. By offering constantly updated information, management can communicate results — such as productivity goals, urgent messages, and video feeds — with employees immediately.

Distribution centers are aware of the value that technology-enabled situational awareness can provide in terms of greater efficiency, visibility, and productivity. IT managers should assess the options available to them and craft a strategy to introduce integrated situational awareness technology to their warehouses and distribution networks. Ultimately, complete end-to-end visibility and management capabilities will have a transformative effect on the distribution center in terms of efficiency, capabilities, and cost savings.