Fashion trends and site selection are similar — what's hot this year may not be in vogue the next — and definitely not in the next five years. For many organizations, corporate real estate philosophy hasn't evolved much. They're still following the old mantra of "location, location, location." However, more progressive companies are beginning to change their corporate real estate philosophy to catch up to the 21st century idea of "logistics, labor, and love." They are bringing logistics and real estate under one roof, and building an organizational consensus on strategy that aligns the goals and objectives of both groups.

While many organizations like to showcase their collaborative spirit, we've found many continue to operate with silos. The functional areas of an organization are hardly aligned to the overall goals or with the other functional areas. Part of this stems from the fact these functions don't sell, produce, or operate anything — they are simply overhead. In addition, many organizational goals revolve around sales growth and profits within certain customer service criteria. It's this gray area of "within certain customer service criteria" that causes misaligned goals between the functional areas.

For instance, corporate real estate is typically charged with managing all real estate tasks for the organization. Essentially the corporate real estate team negotiates leases, finds properties, buys land and/or buildings, etc. Its overall performance is assessed by its ability to get tax and labor incentives, low rent, and low prices, inevitably leading it to pick the lowest-cost provider. While these intentions are noble, they are not necessarily in step with the overall goals of the organization and with other functional areas.

Consider a recent case of a real estate VP who was chided in her performance review because she didn't go with the lower rent rate of $2 per square foot. The 750,000-square-foot facility she chose was a buck more per square foot or $3. On the surface it appears she just cost the organization $750,000 annually, but by understanding the new site selection mantra of "logistics, labor, and love," she may have just made an exceptional deal.



Logistics, Labor, and Love


This new mantra of "logistics, labor, and love," for industrial and manufacturing site selection, puts the shift in corporate real estate philosophy into focus. The logistics function has the responsibility to deliver the organization's products at the lowest total cost within "certain customer service criteria." Therefore, the big drivers in choosing any site for warehouses and distribution centers (DCs) are transportation and labor costs. According to the latest "State of Logistics Report", transportation costs are 62.8 percent of total logistics cost. Labor and customer service costs totaled an additional 5.9 percent, and rent is only 3.9 percent. Rent is only a very small piece of a DC's "total" cost. Figure 1 provides a breakdown of all costs for a DC or warehouse.

Understanding and finding ways to mitigate transportation and labor costs should be the focus. The facility at $2 per square foot was located in an area with no easy direct access to a major highway interchange and a long way away from a critical intermodal ramp. The annual transportation cost differential for the $2 site was over $4.5 million per year.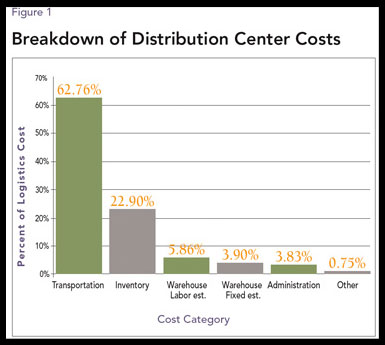 Be careful of local governments and developers who may sing a siren song to beguile you to invest in their community. When you ignore logistics and labor costs and base your site selection decisions on local governmental "love" and/or incentives alone, you may incur higher costs in later years. Love is an important criterion in the site selection process, but the financial implications of free land, tax abatements, and other incentives should be among the last criteria considered in order to achieve a total cost analysis.

Five Steps to the Right Site
There is no simple formula for choosing the right site. Many companies leave money on the table because they jump too fast to the end of the process. We have outlined a five-step process that will maximize the benefit to your organization, while minimizing the risks of making a mistake around this deceptively complex and critical decision. It will ultimately help you align your corporate real estate goals to the overall corporate goals.



Step 1: Strategic Context and Criteria Development


First, create a strategy for the site selection process designed to support your business strategy and run the site location mathematical model to project supply chain costs. Next, assemble the team, articulate your basic requirements, and develop preliminary cost profiles to determine the relative importance of such factors as labor quality, logistics and operating costs, quality of life, and quality of operating environment.

Time to complete this step will be dependent on available cost data and the length of time to run the site location analysis. Multiple iterations of the "model" are common due to the tweaking of the input data elements. While this step is being completed, you can start step two and run it in parallel with the data gathering.



Step 2: Initial Screening


Make an initial screening of locations that meet your requirements. Rate communities in a specific geographic area on each key requirement on a scale from 1 to 10: labor attributes, cost structure, operating environment, access to infrastructure, etc. List the top four or five candidates and analyze their benefits based on such variables as number of overall and average distances to customers and expected delivery time. Use the results of this step and Step 1 to narrow the list of possible locations. See Figure 2 for an example initial screening chart.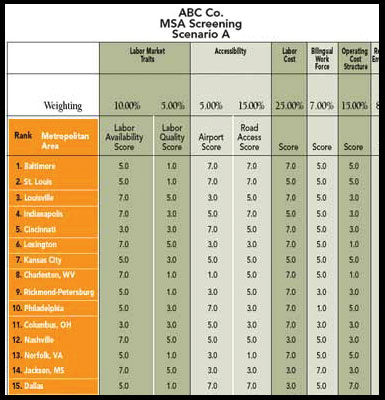 Step 3: Location Assessment and Process Planning


Create a qualitative-cost matrix for each location on your list, showing the trade-offs. If, for example, the matrix shows "city 4" rates 20 percent lower for quality (of labor force, operating environment, etc.) than "city 5," but that "city 5" costs 10 percent more, you now have a clear idea of the trade-offs between the two cities. You use this matrix to create a shorter list of locations. See Figure 3 for an example of a qualitative-cost matrix.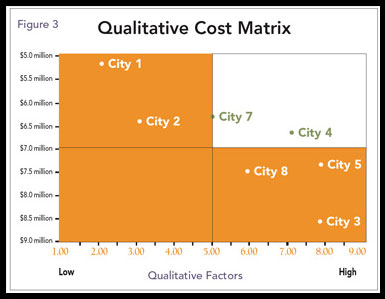 Step 4: Field Visits
Conduct field visits to the remaining locations on your list. Assess them for potential site-building operations, incentive possibilities, a deep dive into the labor market, and logistics infrastructure and costs. This is the first time you should be in contact with the local economic development offices. Distribute requests for proposals and analyze the proposals you receive.



Step 5: Negotiation and Selection


Prioritize and finalize the negotiation process relative to the final two or three locations. After the final incentive packages are presented, the team meets to make the final choice based on all the components — logistics cost, qualitative elements, and economic incentives. While the negotiation is being done with the economic development representatives, you are also negotiating with landlords for leases and/or purchase of a site. In addition, develop a letter of intent to give to the two or three finalist sites. It's a good idea to have a backup site in case you cannot come to terms with a specific landlord or owner. Once you have your lease/construction costs in hand, you go back to the winning economic development group to sign up for your incentives.



A Consistent Roadmap


This five-step process should take your company from defining for itself the key business success attributes, through translation to location attributes, and the vetting of potential markets and locations against these to yield an optimal place and site to do business. Attributes and their weightings vary across business types, but the repeatable analytic process will provide a consistent roadmap and discipline to ensure a successful outcome. Don't forget "logistics, labor, and love" as the key strategy and process for industrial/manufacturing site selection.