Union Pacific has opened its newest Intermodal facility in Santa Teresa, N.M., which replaces an old facility within the city of El Paso, Texas. Governors and officials from both sides of the border were on hand for the opening of this new facility, including Union Pacific CEO Jack Koraleski.

The $400 million investment for the 2,200-acre site will connect businesses to strategic markets in the southwestern U.S. and beyond. It will provide logistics gains for shippers along its Sunset Line, which runs 760 miles from El Paso, Texas, to Los Angeles and serves key locations in Calexico, Mexico; and Yuma, Phoenix, and Tucson, Ariz. "Our new rail facility in New Mexico is a key part of our relentless effort to create value for our customers through safety, service, and efficiency," Koraleski explained.

The 300-acre, high-tech intermodal terminal (known as the Santa Teresa Intermodal Ramp or STIP) is expected to process more than 170,000 freight containers this year. It is to be expanded in future years to eventually handle 700,000 containers a year. "It will become the cornerstone for economic development in the region bringing much needed jobs and additional mixed use development and investment with the promise of transforming the border area into an international industrial trade zone," noted New Mexico Governor Susana Martinez. The facility itself will create 300 permanent jobs that could grow to 600 at full build-out.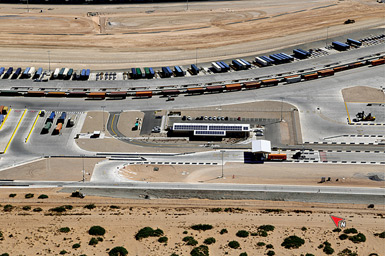 New Mexico Border Authority Executive Director Bill Mattiace discussed the improvements already made in the border crossing with Mexico designed to streamline and speed up freight border traffic, including a heavyweight truck zone for overweight container transfers. Additional road infrastructure improvements to the highways leading to the U.S. side of the border are in the planning stages. Because the area has been designated a foreign-trade zone, freight from overseas can be loaded directly onto trains from West Coast ports for processing and shipment to Mexican factories and for distribution by rail across the U.S. It can also serve as a north/south processing point within the FTZ to save on duties and Customs fees on imports from Mexico.

The UP Intermodal opening is the trigger point to jump start development in the region. Many companies are expected to look at the Santa Teresa/Las Cruces area now for performing value-added services for imports and exports that would not have looked here a few years ago. The area, which sits within the Mesilla Valley, borders Mexico to the south and Texas to the east. Interstate 10 allows direct east/west access to both coasts and I-25 provides northern access to U.S. markets. Fortunately for the region, the Mexico border crossing, directly south of the new UP Intermodal, is new and efficient, allowing cross-border traffic to move with minimal delays. The El Paso International airport, less than an hour away, provides international access to both passengers and freight.

Additionally, Jerry Pacheco, founder and vice president of the Border Industrial Association, told the El Paso Times that although several El Paso companies have moved to the new Union Pacific complex in Santa Teresa, El Pasoans shouldn't view that as a negative. "This gives Union Pacific the ability to be more vibrant and grow its business, and promote this as a large intermodal hub for this region," Pacheco said. "We still will use El Paso suppliers, and shop in El Paso. The whole region benefits. It grows the pie."