When economic development experts in Tennessee discuss their state, they tout its strength in manufacturing and its status as a logistics hub. The state has become a particularly crucial home for the automobile manufacturing industry, but it's not solely a manufacturing-heavy region. Tennessee also increasingly is attracting innovative, technology-oriented businesses, especially to Nashville, which has gathered press plaudits as a burgeoning Silicon Valley.

Rachel Buchanan, director of Economic Development for the Blount Partnership in Blount County, Tennessee, says Tennessee has many features of a business-friendly state, such as one of the lowest tax burdens in the country and a state government that is ambitious about promoting business-friendly policies.

Buchanan and Clay Walker, CEO of NETWORKS Sullivan Partnership, both point to the tenure of Gov. Bill Haslam, who served as the state's governor from 2011 to 2019, as a period when economic development assumed a prominent place in the state political picture and important strides were made to attract corporate investment. Under Gov. Bill Lee, who succeeded Haslam this year, they are seeing a similar emphasis.

"It's definitely a priority here," Buchanan says. The continued growth of companies that already have a large presence in Tennessee helps signal to companies that the state is a place where they can thrive. There's a great deal of job growth and reinvestment from existing industries across the state, and that makes Tennessee a very attractive destination for new projects as well.

Workforce Development Via Higher Education
In today's economic development climate, where skilled labor remains a challenge for a wide range of industries, "a capable workforce is almost everything," Walker says. John Bradley, senior vice president for Economic Development with the Tennessee Valley Authority, says 10 years ago being able to offer "a good site" was almost all that was needed — but increasingly a skilled workforce is just as important.



The continued growth of companies that already have a large presence in Tennessee helps signal to companies that the state is a place where they can thrive.

Rachel Buchanan, Director,Economic Development for the Blount Partnership

Tennessee has emphasized building a pipeline of talent to attract major employers. The focus has been on advanced manufacturing. And Buchanan notes that workforce investments in the state have paid dividends. "The focus on workforce readiness and programming has been a huge selling factor to companies and industry," she says. "It shows them that we are investing in our people in a way that will directly benefit them."

The centerpiece of Tennessee's workforce development efforts is the Tennessee Promise. Funded through the state lottery, Tennessee Promise is a last-dollar scholarship program that pays for state students' tuition and mandatory fees at numerous postsecondary institutions that offer two-year, associate degrees — after other financial aid has been exhausted.

Participating schools include community colleges, technical colleges, and some four-year colleges with two-year programs.

"It's hugely important because a lot of people use the Tennessee Promise to get a technical degree and sometimes use it to earn credits toward a four-year degree," says Buchanan. "It's really helped with an immediate need because it's improved the pipeline of technical workers."

In addition to the Tennessee Promise, the state offers Tennessee Reconnect to boost the preparedness of its workforce. The program helps adults older than 25 attend higher education institutions, whether they are returning to school or attending for the first time. Bradley points out that the technical degrees that many students are pursuing through the statewide programs help prepare graduates for high-paying jobs — not the low-wage work sometimes associated with "blue-collar" jobs and associate degrees.

And, in his first legislative initiative, in early February, Governor Lee announced the Governor's Investment in Vocational Education (GIVE) to expand access to vocational and technical training for Tennessee students. The GIVE initiative is a two-pronged approach that utilizes regional partnerships to develop work-based learning and apprenticeship opportunities.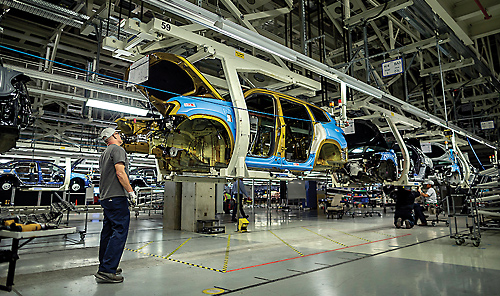 A Logistics Hub
One of Tennessee's enduring, inherent advantages is its location. "We have a God-given gift in that we're centrally located in the Southeast," Bradley says. "We've got a great rail system. We've got a great interstate system for trucks. We've got companies like FedEx and UPS that are here so it's a logistics manager's dream. [From] Tennessee, you can reach most of the population of the United States overnight."

Economic development organizations across the state have labored to create sites where companies can quickly move in and get to work with the infrastructure and utilities in place to support them without added investment of time and resources. "We've really spent a lot of time with the state and with the local communities preparing to get sites ready for companies, because when companies come in, they've got to hit that market as quickly as possible," Bradley explains.



The focus on workforce readiness and programming has been a huge selling factor to companies and industry. It shows them that we are investing in our people in a way that will directly benefit them.

Rachel Buchanan, Director,Economic Development for the Blount Partnership

Many of the sites the TVA has played a role in developing are located in rural communities, and Gov. Lee has demonstrated a particular interest in boosting rural economic development. "Our unwavering commitment to rural Tennessee will carry on with Governor-elect Lee," Economic Development Commissioner Bob Rolfe told the Upper Cumberland Business Journal. "In just three short years, we were able to increase our job commitments in rural Tennessee from 28 percent to nearly 50 percent, and I am confident that we will build upon this momentum in the new administration."

In actuality, Tennessee has distinctive regions with their own strengths, although Nashville's rise as an internationally recognized draw for innovative companies can sometimes overshadow the success of other major cities in the state, such as Memphis, Chattanooga, and Knoxville, as well as the strides that rural communities in Tennessee have made with attracting manufacturing clients.

Major Industries
The automotive industry's presence in the state is particularly impactful. Tennessee is host to three major assembly plants (Nissan in Smyrna, General Motors in Spring Hill, and Volkswagen in Chattanooga) and more than 900 auto suppliers. In addition, Nissan's North American headquarters is in Franklin. According to the Tennessee Department of Economic and Community Development, the state has automotive operations in 88 of its 95 counties and boasts a concentration of automotive workers that is more than four times the national average — with more than 134,000 automotive workers in the state.

The auto industry's impact in the state is obvious because automotive suppliers, such as Denso, which has three production facilities in Athens, bloom around auto manufacturing facilities. "If you took all of the suppliers in our region and added them up, they employ a lot more people than the actual automotive manufacturers themselves," Bradley says. "The downstream impacts are just huge."

In addition to automotive, Tennessee has a strong aerospace culture. The state's economic development organization says the aerospace cluster includes 52 companies. In Sullivan County, for instance, people employed in aircraft parts manufacturing grew 199 percent between 2011 and 2016 as the region pushed to take advantage of an aerospace industrial park with direct access to runways and cargo facilities.

The presence of the Oak Ridge National Laboratory, the largest U.S. Department of Energy science and technology laboratory, has also helped spur development in a wide range of related fields, such as material sciences.

Finally, Tennessee's unemployment rate remains very low, despite the fact that the state is seeing more capital-intensive business such as data centers and OEMs employing automation and robotics moving in. "The impact of that is that jobs are actually trending down," Bradley notes. "But that's not necessarily a bad thing. I think the jobs that are coming in are of a higher quality because of that capital investment."