A convergence of competing and connected forces — fueled by suddenly low fuel costs, port congestion, driver shortages, and the impact of mega-containerships on ports — are making for a complex and, at times, perverse mix of problems facing the global supply chain industry.

For example, the driver shortage coupled with low fuel costs is a frustrating combination for logistics providers, but there's another related question: Would more drivers and cheap fuel mean even more congestion at West Coast ports already on the verge of gridlock? Who can figure that one out?

And here's another question: Are current low fuel prices fool's gold? It's impossible to plan for long-term freight and equipment activity based on pricing that could be short-lived. If fuel surcharges go away, that also impacts trucker and carrier profitability.


The driver shortage is reaching the acute stage predicted since the recovery started.


So the messages are decidedly mixed, and the correct strategies unclear.



Fuel Costs


The main questions are how low fuel prices will go and how long they will stay that way.

A survey of 306 investment professionals conducted in late January by ConvergEx Group asked, among other things, what oil price level would indicate that a global recession was inevitable. "The idea behind this question was simple — at some point oil prices aren't just a nice theoretical tailwind for global economies," says Nicholas Colas, chief market strategist at ConvergEx, in a note. "Rather, they become a signal that worldwide demand is contracting so quickly that oil prices must quickly decline to reflect that fact." Bottom line: if oil drops below $30 a barrel, a global recession is virtually inevitable.

Nearly 70 percent of those ConvergEx surveyed believe oil has not found its bottom yet. But Organization of the Petroleum Exporting Countries (OPEC) Secretary-General Abdalla Salem El-Badri contends oil prices will stay where they are (about $45 a barrel on January 24) and will slowly rebound. About 90 percent of those in the ConvergEx survey forecast an end-of-2015 price of more than $60, while 47 percent estimated it at $80 a barrel or more. "The bottom line here is that investors say the drop in oil prices has been a net positive thus far, but their forecast is less sunny," said Colas. So watch the futures and the hedging activity of major users.

Slow-steaming by container operators on major ocean trade routes has been a prime strategy for some time in order to save on fuel costs. But here's the conundrum: Bunker prices are reaching a "tipping point" where it is less expensive to operate fewer ships at a faster speed than more of them at slower speeds. This is a testy calculation for operators because the decision to abandon slow steaming could backfire if fuel prices surge. Besides that, many operators have modified their vessels to travel at slower speeds. They are also hesitant to speed up because slow steaming allows them to use excess capacity, while going faster could force them to lay up vessels. Another factor is the impact on port congestion through a mix of slow-steaming and fast-steaming vessels; carriers would have to renegotiate terminal slots with port operators.



Drivers/Equipment Expenditures


Falling diesel fuel prices continue to lower freight costs, but that is mostly offset by higher driver costs as operators try to attract and hire more drivers. The driver shortage is due to retirements, new driver safety regulations, and hours of service (HOS) regulations — although this will ease somewhat until September because portions of the 34-hour HOS restart rule were suspended.

"The driver shortage is reaching the acute stage predicted since the recovery started," according to the latest Cass Freight Index Report. Even though the global economy is not growing as expected, the U.S. economy is expected to be stronger than last year in 2015, "which will put more strain on carriers as volumes increase," the report continues. While the trucking industry is ordering new equipment at record levels, it is "finding it hard to train, seat, and retain qualified drivers." Also labor expenses other than driver pay and benefits are growing exponentially and likely will be passed through to customers in the form of rate increases this year.


Ports across the nation are facing tricky congestion issues due to the pending deployment of huge containerships by ocean carriers.


And while falling fuel prices are discouraging truck and rail equipment buyers from capital cost expenditures on equipment with compressed natural gas (CNG)- and liquefied natural gas (LNG)-powered units, industry experts maintain that natural gas remains a viable replacement for diesel fuel. It just might take longer than anticipated.

"Lower diesel prices are tempering excitement for natural gas," said the investment firm Stifel Nicolaus & Co. in its transportation earnings preview report issued in late January. "But natural gas engines may be the future, particularly if oil prices rebound." The Stifel report said natural gas comprised about 2 percent of heavy-duty tractor engines for 2014 and it is "unclear" whether that number will increase this year.



Congestion


Highway congestion is as bad as it has ever been, and falling fuel prices won't improve the situation. While lower fuel is an economic boon for people who must drive to work and businesses that deliver freight, it also means more vehicles on roadways, burning more fuel and emitting more pollutants into the atmosphere.

According to an ABC News report, Americans spend 14.5 million hours every day stuck in traffic, trying to commute or move goods to market. "What you have is essentially more people driving more vehicles more miles on about the same-sized road system [as existed 30 years ago]," says William Fay, president and CEO of the American Highway Users Alliance, who was quoted in the report. This is an especially dire situation for freight mobility in port regions, which are already facing major congestion issues.

Congestion at U.S. West Coast ports is expected to continue "well into 2015," according to Drewry Shipping Consultants. Drewry says U.S. shippers should prepare for further disruption and ship arrival delays.

As 2015 began, U.S. West Coast ports battled to maintain productivity in the face of unprecedented congestion woes caused, in large part, by the stalled contract negotiations between the International Longshore and Warehouse Union (ILWU) and the Pacific Maritime Association (PMA). This has gone on since May of 2014 and there's no immediate end in sight, despite the recent involvement of a federal mediator.

The labor situation is not the only problem, and congestion is not just a West Coast issue. Ports across the nation are facing tricky congestion issues due to the pending deployment of huge containerships by ocean carriers, leading to increased times at berth per vessel handled at the terminals, while putting pressure on equipment, productivity, and storage space.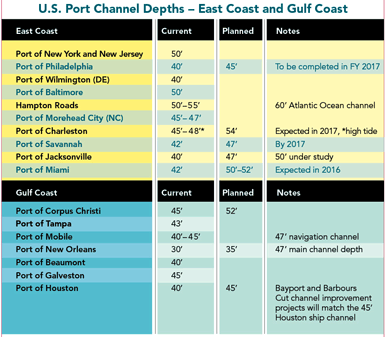 The huge ships keep getting larger: Japan's Mitsui O.S.K. Lines (MOL) is in the market to buy 20,000-TEU new-builds through a third-party charter deal, according to news reports. The largest containership currently in service is the 19,000-TEU China Shipping Container Lines (CSCL) Globe. When one of those mega-ships makes a port call, assuming the port has the channel depth to accept it fully laden, the resulting surge in containers can overwhelm terminal capacity and equipment, slowing the loading and unloading process and creating more congestion.

In addition, the formation of big container shipping alliances such as the 2M, G6, and the CKYHE has meant more lines loading on the same vessel, complicating yard operations and leading to more moves within and between terminals, especially when it comes to loading and discharging trains, along with increased truck congestion and driver shortages.



Inland Ports


Inland ports are poised to play an increasingly vital role and could be a large part of the answer to both the fuel and congestion issues.

Rail-centric inland ports have been around for a long time, but their ascendance in the current economic and transport climate is well-timed and probably necessary. Located outside crowded port areas, where land is scarce or not available at all, inland ports' advantages are well documented because of their positive impact on regional industrial development and because they create space for more buildings in proximity to intermodal sites, thus relieving pressure in port areas and on roadways. They also make supply chains greener, as long- and medium-haul truck movements switch to rail intermodal carriage.

A good example is the $50 million South Carolina State Ports Authority's Inland Port, which opened in October 2013. The 100-acre facility, located in Greer, about 200 miles from the Port of Charleston, was developed by the Ports Authority and Norfolk Southern. It handled 42,555 total rail moves in its first complete fiscal year. Greer's location is within 500 miles of a third of the U.S. population.

Jim Newsome, president and CEO of the South Carolina Ports Authority, notes, "It's an exceptional location to handle distribution of products and it's right in the middle, pretty much, of Atlanta and Charlotte. For us, this is the fastest-growing corridor in the Southeast. We're excited about the prospects; it has a lot of interest…just on the cost side it is a viable solution. Put a container on the train to Charleston and it's there the next morning."

The Port of Charleston is handling record-breaking container traffic, growing 52 percent versus 25 percent in the 13 other container ports combined, Newsome says. And the deepening of the Charleston harbor to 54 feet, expected in 2017, will accommodate mega-sized container vessels. That means the Inland Port will be even more important — it has the capacity for 100,000-plus rail moves a year. Norfolk Southern recently added a sixth rail trip on Saturdays from Greer.