The old saying goes: "location, location, location." For the Panama Canal, which connects the Atlantic and Pacific oceans, location is not the issue. Perhaps the saying should be revised to "money, timing, and even more money."

One of the world's greatest engineering and construction feats, the Panama Canal, opened for business in 1914. Today an estimated 5 to 6 percent of world cargo volume traverses the 50-mile waterway. One hundred years later, one of the world's largest construction projects — a $5.25 billion expansion project at the same location — is nearing completion, but cost overruns to the tune of $1.6 billion have added a new and somewhat complicated dimension to the story.

The expansion project, which today is about 75 percent complete, will double the canal's capacity with a third traffic lane and a more environmentally friendly set of locks, as well as the widening and deepening of new and existing channels so that it will easily accommodate most of the world's largest containerships, which carry 12,000 to 13,000 twenty-foot-equivalent units, or TEUs. Those ships are up to 235 feet longer and 54 feet wider than the current class of so-called Panamax vessels. Expansion makes the dream of all-water routes between U.S. East and Gulf Coast ports and Asia's major ports an economically feasible and scalable reality.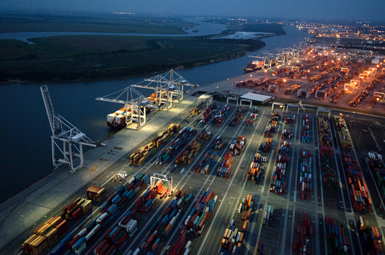 Approved by a national referendum in 2006, the expansion project began in 2008 and was originally supposed to be completed this year to coincide with the canal's 100-year anniversary. That set off a major scramble on the East and Gulf coasts to get ports ready — namely to deepen channels and build infrastructure, including inland infrastructure, to accommodate the giant ships using the newly enlarged canal.

But timing is everything, and the timing at the moment is not so hot. The 2014 completion date was already adjusted to mid-2015 (apparently due to a problem with cement quality); that was before word of the massive cost overrun problem became public at the end of last year.

The United for the Canal construction group (GUPC), led by Spain's Sacyr Vallehermoso, threatened in January to halt the biggest part of the expansion project if the financial dispute was not resolved. Cooler heads have since prevailed, for the moment. The threat is still out there, however, and while further delays could occur due to the cost overrun issue, the plan to finish the project next year is on track. Panamanian Finance Minister Frank De Lima has asserted the project will be completed in 2015 no matter what, "with or without" the GUPC consortium, which also includes Impreglio of Italy, Belgium's Jan de Nul, and Constructora Urbana of Panama.

While the expansion may not become the huge boon that many port officials anticipate, it's a good thing to invest in new, modern cargo infrastructure, and the delay to 2015 could be a blessing in disguise: ports can finish their projects and put their marketing strategies into top gear.





Roundup of Activity


Meanwhile, the stakes are high for U.S. ports that have invested billions in dredging, raising bridges, and renovating dock infrastructure to lure the huge ships that will use the expanded canal. Here is a roundup of port activity as of the end of 2013 — some completed, some still in progress. Keep in mind that ports receiving the largest of the ships must have channels and water depths alongside berths that are 50 feet deep to accommodate those "post-Panamax" vessels, which — fully laden — require 47.6 feet of draft without tidal restrictions.



New York/New Jersey:

The Port of New York/New Jersey, the pre-eminent East Coast port, is one of four major East Coast ports that either already have, or will have, the needed water depth to handle the mega-ships by the time the expanded Panama Canal opens.

Of equal importance for this region's canal plans is the Bayonne Bridge, which spans the Kill Van Kull Channel. The deck of the bridge must be raised because it is too low for the larger post-Panamax ships, thus limiting access to four of the port's five container terminals. In May 2013, the U.S. Coast Guard approved the port's planned project to raise the deck of the Bayonne Bridge by 64 feet, at an estimated cost of $1.3 billion. The project is scheduled for completion by 2017, with navigational obstructions removed in time for the Panama Canal expansion opening by 2015.



Virginia:

The Port of Virginia at Hampton Roads has a strategic position and infrastructure, including inland rail connections, which makes it perhaps the most "canal-ready" of East Coast ports. Channel depth is already at 50 feet at Hampton Roads, and there are plans to go to 55 feet at Norfolk. It has room for terminal expansion and is served by the Norfolk Southern and CSX railroads with no bridge or tunnel impediments that exist at other major ports. Hampton Roads has the potential to have inland trade connections far toward the West, according to Sara E. Russell, a maritime trade scholar at Old Dominion University. The port handled a record 2.2 million TEUs last year, its highest total since 2007. Rail cargo comprised 34 percent of the port's total container traffic, and the port added two new services, the G6 CEC Suez service and the Zim ZCP Asia-Panama Canal service. Its intermodal volume also increased due to growth on Norfolk Southern's Heartland Corridor.



Maryland:

The Port of Baltimore's channel is 50 feet deep and its primary container terminal, Seagirt, has a modest amount of land available for expansion. But more problematic is intermodal throughput: Baltimore's two main terminals have on-dock rail transfer facilities, but access by double-stack intermodal trains to and from those facilities is impeded by mainline infrastructure factors that could prevent service to the Midwest absent a major relocation of Seagirt's intermodal facility.



Georgia:

Savannah is the second-largest gateway on the East Coast for Asian imports. The Georgia Port Authority's proposed deepening project (expected to cost $662 million) for the Savannah River has recently been designated for a fast-track permit review. With navigation channels of 47 feet, shipping lines deploying post-Panamax vessels in their Far East-U.S. East Coast services could make calls at the Port of Savannah during periods when tides are favorable and ships are not fully laden.



South Carolina:

The Port of Charleston requires the least amount of dredging to deepen its channel to a 50-foot depth. The South Carolina legislature has committed $300 million to dredging for Charleston. The goal today is to dredge the channel to 52 feet to allow ships even bigger than can move through the expanded Canal to call on Charleston direct from Europe or via the Suez from Asia/India. There was a plan for Charleston and Savannah to team up as a common port, but that idea for this level of capacity increase is currently on hold.



Florida:

The deepening of the PortMiami's channel from 42 feet to 50 feet is scheduled to be completed this year. PortMiami recently took delivery of post-Panamax cranes, which are large enough to unload the wider ships. The Florida Department of Transportation is also working on construction of a $550 million tunnel for trucks to transport cargo directly from the Miami port to Interstate 95.

Studies for the deepening of the Jacksonville harbor from its existing authorized depth of 40 feet to a navigable channel of up to 50 feet, and accompanying reviews and approvals of a new intermodal container facility at the Port of Jacksonville, are under expedited review.

Estimates that an expanded Canal will divert significant percentages from West Coast intermodal market share are probably more wishful thinking than reality.





Blessing in Disguise?


Moving goods by water is generally cheaper than moving them by land because of the economies of scale of shipping so many containers on the new generation of mega-ships. That suggests all-water routes will offer even lower-cost shipping from Asia to the East Coast and Midwest through the Canal than exists today. But it is not that simple, because containers loaded on the West Coast, which has built up its container yards and has long-established highway and rail infrastructures, have the advantage of speed to market, which can make a huge difference to owners of beneficial, high-value and/or perishable cargo.

Also, West Coast ports and railroads are not going to sit idly by and allow the all-water Canal route to lop off huge chunks of their market share without a fight. Estimates that an expanded Canal will divert significant percentages from West Coast intermodal market share are probably more wishful thinking than reality.

Plus, the pressure is on East Coast ports beyond 2015, because without a significant increase in container terminal capacity, the number and geographic configuration of Far East all-water services that can be effectively operated to the East and Gulf coasts "could become constrained over the long term (beyond 2025)," according to Department of Transportation's Panama Canal Expansion Study. Both New York/New Jersey and the Virginia ports experienced drayage delays in January as they try to recover from closures during the holidays and the extremely cold weather.

Handicapping the winners in the Canal expansion sweepstakes is tricky. The top four, in no particular order, might turn out to be Charleston, which can already handle Post Panamax ships at high tide; PortMiami, which is "all-in" on expanding rapidly and is the first deepwater port north of the Panama Canal; the Port of New York/New Jersey, which has a dominant market position, population, and size; and the ports of Virginia, because of their port depth, mid-Atlantic location, and established terminal and intermodal infrastructures. There will be port-of-call winners and losers for Post-Panamax size ships.

While the expansion may not become the huge boon that many port officials anticipate, it's a good thing to invest in new, modern cargo infrastructure, and the delay to 2015 could be a blessing in disguise: ports can finish their projects and put their marketing strategies into top gear.