Most of Canada's economists agree that the country's economic performance will be better in 2017 than it was in 2016. Canada's economy contracted 1.6 percent in the second quarter of 2016, a result of the intense Alberta wildfires in and around Fort McMurray, which caused oil sands production shutdowns and mass evacuations. This disaster also had a huge impact nationally, because Alberta produces about 80 percent of Canada's crude oil and 68 percent of its natural gas (the oil and gas sector also accounts for about 18 percent of the province's GDP).

"The Alberta wildfires, and the sharp pullback in oil sands production in May, took the Canadian economy on a brief detour into negative growth," comments Craig Wright, senior vice president and chief economist at Royal Bank of Canada (RBC). "The recovery that is under way should spur a similarly sharp rebound in growth, and we anticipate that momentum will carry over into 2017."

It's also hoped that Canada's 2017 economy will benefit from improved energy prices, low interest rates, and federal stimulus. RBC forecasts the Canadian GDP will grow at a rate of 1.8 percent in 2017, up from 1.3 percent in 2016. However, even if energy prices do rebound significantly, they will not likely be back to levels that prevailed over the past decade, due to ongoing competition from lower-cost shale producers.

For 2017, the Conference Board of Canada predicts the provinces with the highest GDP increases will be British Columbia (3 percent), Ontario (2.6 percent), Manitoba (2.6 percent), and Prince Edward Island (1.7 percent). Provinces that are more resource-dependent, such as Saskatchewan and Newfoundland and Labrador — are expected to struggle with maintaining positive growth.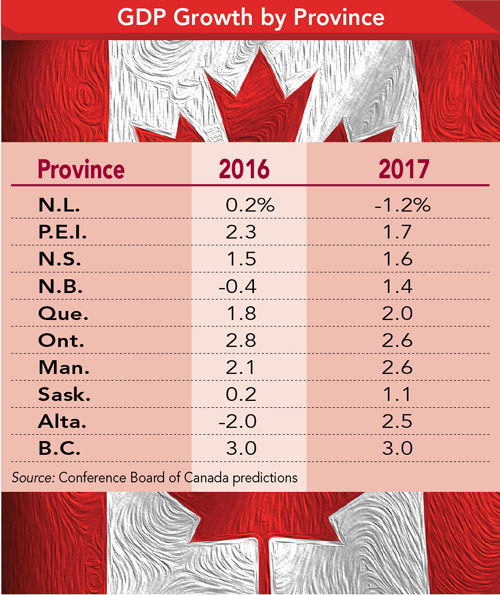 Diversification Is Key
At 3 percent, British Columbia is expected to have the fastest-growing provincial economy in 2017. Although the mining sector is weak, gains in forestry, construction, transportation, and real estate will help drive growth. Software publishing, computer system design, and other related technical services are also expanding. In August 2016 unemployment in British Columbia had dropped to 5.5 percent, the lowest among the provinces.

Ontario has also shown impressive job growth, adding 16,200 jobs in September across a variety of sectors. Ontario's unemployment rate was 6.6 percent in September. Job growth was largely driven by a 5.4 percent increase in manufacturing over the first seven months of 2016, compared to the same period the previous year. Growth was led by motor vehicle assembly, which is on pace to increase by more than 10 percent by the end of 2016.

For example, planned auto-related expansions in Ontario include General Motors' upgrade of its Oshawa plant ($554 million), Fiat Chrysler Automobiles' $331 million expansion in Brampton, and $713 million from Ford Motor Company, much of which will be spent on a new engine program in Windsor. These upgrades also include some advanced technology development — Ford is partnering with Waterloo's BlackBerry, and General Motors will continue with its connected and autonomous vehicle engineering and software R&D development at the Markham Software Center.

Manitoba and Prince Edward Island (PEI) both depend on their agricultural sectors to drive their economies. Exports of food products (especially seafood) from PEI have steadily increased in 2016. There are, however, stressors in the agricultural markets, such as low crop prices. To ease the impact of price swings in agriculture and energy/mining, both provinces have diversified into other industries, such as advanced manufacturing. Because low crop prices have hurt farm incomes, farmers are spending less on new equipment, which is depressing heavy equipment sales (modest increases in oil prices in 2017 should, however, help bump heavy equipment sales in 2017).

Smaller, high-tech manufacturing clusters that are performing well include aerospace, clean energy, information and communications technology, and bioscience. Bioscience is a rapidly growing industry on Prince Edward Island, which generates over $200 million in annual exports. An international bioscience firm — Sekisui Diagnostics — recently announced a $3.5 million expansion and renovation of its facility in Charlottetown. "Sekisui Diagnostics is dedicated to continue growing our business here on Prince Edward Island," says director of manufacturing Brian Stewart. "Not only do we have a group of highly skilled and dedicated employees, we have the support and collaboration of government, which will take us to the next level."

Technology Driven
According to Ryerson University's report, The State of Canada's Tech Sector, 2016, Canada's high-tech industries are a major driver of innovation and a dependable source of economic growth across a wide range of industries. In 2015, the technology sector generated about $120 billion in revenue, or 7.1 percent of Canada's economic output. About 860,000 Canadians are employed in the tech sector, representing 5.6 percent of Canada's total employment. Also, according to the report, the tech sector invested more than $9 billion in research and development in 2015.

High-tech clusters are located in most of Canada's major cities, including Vancouver, Calgary, Winnipeg, Toronto, Waterloo, Montreal, and Halifax. Some high-profile companies that are getting international attention include Montreal's PlusGrade (revenue upgrade platform for the airline industry) and Vancouver's UrTheCast (real-time, high-definition images and data from space for geospatial and geoanalytical applications).

Essential for the continued expansion of these and other sectors is having a plentiful supply of highly skilled workers. A paucity of skilled workers, combined with the large proportion of the national workforce that is aging and retiring, could slow down the growth of the workforce to as little as 0.30 percent per year. Given this demographic reality, achieving faster economic growth will require raising productivity and/or finding more workers through expanded immigration policies. In October 2016, Immigration Minister John McCallum announced that Canada would welcome 300,000 immigrants to the country in 2017. The previous target from 2011 to 2015 was 260,000, but that number was increased to 300,000 to assist with the Syrian refugee crisis and will now be the permanent base number. The 2017 target boosts entries for those in the "economic" class — skilled workers, businesspeople, and caregivers — from 160,600 to 172,500.

In a press release, Kevin Lamoureux, the parliamentary secretary to the leader of the government in the House of Commons, indicates that immigrants not only fill jobs that would otherwise remain vacant, they also contribute to the character and social fabric of communities. "Immigration plays a critical role in terms of the future of Canada, in particular in regions where the threat of depopulation is a reality," he states.