The Province of Ontario is partnering with Steel Technologies to expand the company's Woodstock plant and invest in innovative technology, creating 15 new jobs and retaining 75 positions.

With more than $855,000 from the Southwestern Ontario Development Fund, Steel Technologies will expand its facility to meet increased demand from the auto industry for lightweight materials such as aluminum and advanced high-strength steels. The company will install new equipment to increase efficiency and double production. Ontario's investment secures more than $8.5 million in private-sector investment from Steel Technologies toward this project, which is expected to be completed by the end of 2018.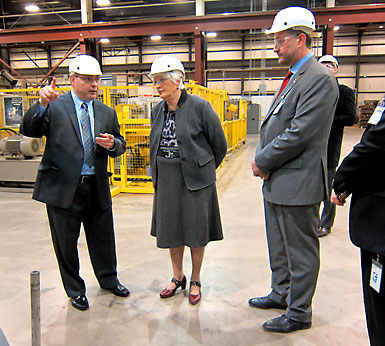 Mark Gemin, vice president of Steel Technologies Canada Ltd. (STC) accepted the funding announcement by saying, "We are pleased to partner with the Ontario government on this project. At Steel Technologies, we are committed to delivering value-added products and services to our customers. The 64,000-square foot expansion at the Woodstock facility will give us the footprint we require to install new equipment allowing Steel Technologies to process advanced lightweight materials to meet growing demand."

Ontario Minister of Economic Development Brad Duguid said, "I am pleased Steel Technologies continues to innovate and expand its Woodstock operations, and bring new jobs to southwestern Ontario. By supporting our manufacturing sector, the province is working hard to grow the economy and create good paying jobs."

Steel Technologies first established in Woodstock in 2007 and is owned by the $50 billion Mitsui & Co. Ltd., which is headquartered in Japan. The company is an industry leader in flat-rolled steel processing for the automotive, appliance, lawn and garden, agriculture, construction, office furniture, hardware, and consumer goods industries. The Woodstock plant specializes in precision slitting and distribution of high carbon and alloy flat-rolled steel.

"I am pleased with today's announcement and am thrilled to see a local company continue to innovate so that they are ready for the next generation of manufacturing", said Woodstock Mayor Trevor Birtch. "On my recent business mission to Japan we visited with Mitsui to express our appreciation and pledge support to any future investments they may be considering, which now makes this announcement even more special!"