In today's dynamic and often uncertain business environment, organizations of all types and sizes are searching for opportunities to optimize performance and maximize competitiveness while remaining sensitive to overall costs. Work's accelerating pace of change — fueled largely by technological, regulatory, economic, and cultural trends — requires companies to adopt agile operational strategies in order to quickly reconfigure structure, processes, people, and technology.

Americas-based real estate executives responding to CBRE's 2018 Americas Occupier Survey revealed that although real estate decisions were once focused on building cost, location, and amenities, the framework for making real estate commitments now includes flexibility as an equally important component. While corporate real estate has long been viewed as necessary overhead, today's executives recognize the need for flexibility and are employing agile workplace strategies that meet the demands of the organization today and in the future.

Incentive eligibility requirements
Companies are seeking alternative real estate solutions — grounded in the concept of agility — to deliver highly effective and efficient workplaces, differentiated assets, and optimized real estate portfolios that create and protect value for owners, occupiers, and service providers alike. An agile and amorphic approach provides occupiers with alternate real estate solutions; however, these approaches may not align with companies seeking economic incentives from state and local entities that have narrow eligibility requirements, specifically as they relate to minimum levels of investment and job creation.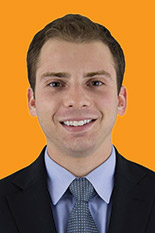 While economic incentive consideration may be site specific, incentives are mainly driven by the level of capital investment, headcount, and payroll associated with a project. Capital investment and job creation are measured to estimate the potential indirect and direct taxable revenue a project may generate.

As a growing number of companies seek to employ agile real estate strategies, the typical capital investment and headcount levels for a given deal have changed. Agile strategies tend to reduce the capital required for a project by leveraging the growth of co-working networks and flexible on-demand space. Additionally, these strategies can reduce the overall lifecycle facility costs and the time and effort necessary to procure a real estate solution. Finally, agile real estate solutions allow companies to utilize on-demand hiring and employ freelance or contract employees, avoiding costly overhead generally needed to operate a self-sustaining business. As a result, incentive policies with more flexible eligibility requirements will most effectively attract companies utilizing agile workplace strategies.

Agile Real Estate: What, How, and Why
What is agile real estate? Workplace environments and space agreement structures that are dynamic and nimble in supporting organizational objectives and employee needs — today and tomorrow.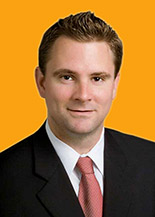 How do you achieve agility? Create a unique and implementable strategy that increases productivity, drives efficiency, creates appropriate flexibility, and delivers rich experiences to employees and tenants.

In February 2018, CBRE published a survey in partnership with CoreNet Global titled "Stress Testing Your CRE Agility." With more than 85 responses, the survey revealed the best practices employed by corporate real estate departments that described themselves as "agile." (Note that respondents were primarily in the finance, technology, government, manufacturing, and pharmaceutical industries.).

Why does agility matter? Agility delivers more effective workplaces and assets and streamlined portfolios that help drive better business performance, helps attract and retain talent and tenants, and increases asset value. Based on responses to CBRE's 2017 Global Occupier Survey, the implementation of an agile, shared workplace strategy is driven by the following internal and external needs:
Reduce costs (45%)
Obtain a short-term space solution (42%)
Increase flexibility in leasing terms (41%)
Acquire satellite/remote office spaces (25%)
Attract and retain talent (21%)
Promote networking or collaboration (15%)
Promote innovation (13%)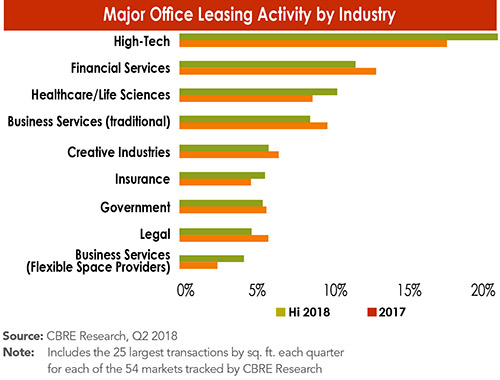 Flexing Their Muscles
A recent U.S. MarketFlash by CBRE, "Flexing Their Muscles: Flexible Space Provider Leasing Surging," shows the elevated demand for flexible terms:
Flexible space providers accounted for 4.4 percent of square footage leased in major deals during the first half of 2018, nearly double their share in H1 2017 and up from less than 1 percent in 2013.
Flexible space providers have been the primary growth driver within the business services sector.
One third of major leases signed by business services firms in H1 2018 were flexible space providers, up from less than 7 percent five years earlier.
If a similar rate of growth continues, flexible space providers' share of major leasing will surpass the legal, government, and insurance sectors by mid-year 2019.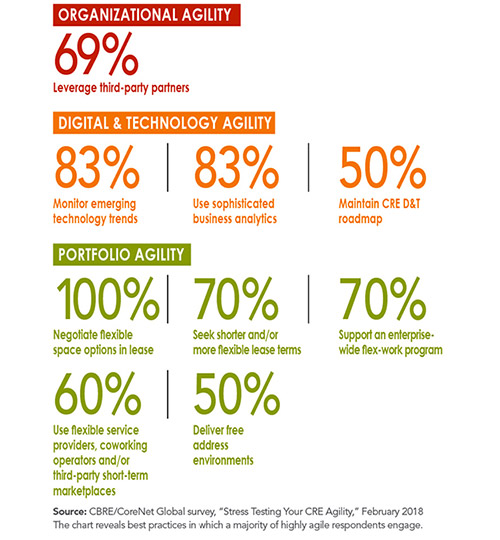 Corporate occupiers have been the major drivers of the expansion of agile space solutions over the last few years:
A Fortune 50 multinational technology company made headlines at the end of 2016 when it announced its decision to give nearly 30 percent of its employees in New York City access to co-working locations. The company cited its desire to tap into the startup culture in a more flexible co-working office arrangement.
A Fortune 500 multinational investment bank and financial services company launched a fintech-focused accelerator space in the Flatiron section of NYC in 2016 to help innovative startups collaborate, experiment, and grow.
A Fortune 50 multinational information technology company partnered with a co-working operator at its recently launched NYC office space in West Soho.
A Fortune 50 multinational engineering and electronics company launched a co-working innovation hub on the top floor of its research campus in April 2017.
Incentives: Flexibility Will Flourish
Even as companies increasingly employ agile real estate strategies, incentives will continue to be top of mind for corporate real estate decision-makers; incentives play an important role in the site selection process. Traditionally, state and local entities offering economic incentives have based incentive policy on overall economic and fiscal impact and also require minimum levels of investment and job creation. An agile real estate strategy could reduce the level of investment and/or headcount; thus, state and local entities should proactively revise policies to reflect the reality of companies incorporating flexible workplaces into their real estate strategy.