AD: Is there a difference between manufacturing workers in the past and workers today?

Fast: In the past, we had analog controls and gauges, and we relied heavily on operator experience and tribal knowledge. The last couple of generations of manufacturing equipment have been digital. So today the machine operator has to be computer literate in order to access and manage the equipment. Companies now are looking for people that have a technical school background. There is more skill required now, both educationally and physically.

AD: What can be done to better prepare workers for the factory floor of the 21st-century?

Fast: I would start with high school counselors in educating students by putting a positive face on a manufacturing career for someone who is not college-bound. We need to educate the educators. We want people to be able to envision themselves as being able to make a good living and be successful working in a manufacturing environment. So many high school graduates end up working in a restaurant or retail, and it's hard to support a family and have discretionary income with the kinds of wages that are being paid there. Manufacturing jobs are typically much better paying than service jobs, so there's a strong financial incentive to go into manufacturing.

AD: How important are soft skills for a potential factory-floor worker?

Fast: There are lots of companies out there that are transitioning their cultures into team cultures. Knowing how to work in teams will be an important part of being successful on the shop floor. We have to be really careful. We have to bring people in that have the flexibility, the temperament, and the social make-up that it takes to work in teams. Folks that are uncomfortable in team settings may be the wrong people to work on the shop floor. They have to fit into the culture.

AD: You tend to like workers that have grown up participating in team sports. Why?

Fast: I think it's important because it shows that someone has developed a respect for the coach. They have learned to grow from a coach, and they've learned to support their teammates. Win or lose, on the field or off, there's a real bonding that happens on teams. There's no "i" in team. So it's important that we bring people in that are open to working in that kind of environment and know how to do it.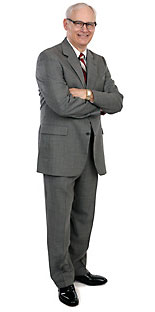 AD: Tell us why you like potential workers to take the Myers-Briggs test.

Fast: All of us have a four-letter Myers-Briggs indicator. I find that teams work much better together if they understand each other's profile. If you do this test as a team exercise, then each person gets to really understand the DNA of the other team members. If you don't understand what the differences between team members are, they can become a grating issue with which you struggle every day. Everybody's different and we have to be able to manage our way through that, and that only comes from understanding.

AD: You tell hiring managers to "trust your gut." Please explain.

Fast: Most of us have had the experience where the candidate had all the right answers to the specific questions but it just didn't feel right. We need to explore that. Maybe we need a second interview. Typically in an interview, if you have a person that has the skills, is communicating effectively, and is open in the discussion, you can develop trust in an hour interview. But if you don't feel like that when the interview is over, you have to pay attention to that. It's so easy to make a bad hiring decision and then spend the next year trying to fix it. If it doesn't feel right, talk to some more people.

AD: Many companies seem to be moving to a hiring model of permanent contract workers. What are your thoughts about that for the factory floor?

Fast: I understand what companies are doing because of cost issues, but I don't like the model. I don't know how you build teams when you have people coming and going. They don't feel an allegiance to the company. They are probably getting the least amount of wage that the company can get away with in the marketplace. And I doubt they are supported with strong education and training programs. I think the model is a cop out by the company. The only place I've seen it in a prevalent way is for those industries that are cyclical. I think it makes sense in that situation where you don't have a long-term view of the capacity requirements. But I oppose it as a way to run the business.

AD: Why are technical schools so important to the factory floor hiring process?

Fast: Whether you are a small company that doesn't have training resources, or you're a big company that has a learning center, there are still requirements for technical training where it doesn't make sense to have the educational training expertise in-house. We have experts right down the street at the technical college that we ought to utilize. These schools do a wonderful job of not only teaching technical skills, but also teaching behavioral skills and what it takes to be successful on the shop floor. Every company should have some kind of relationship with a technical school.

AD: You place a premium on succession planning. Why?

Fast: Succession planning is the long-term life-blood of business. We have to have a process in the plant so the shop floor folks understand that they have opportunities to learn a machine, if they have that kind of ambition. Supervisors have to understand that they can get into management, if they have the skills and ambition. That's how you perpetuate a culture and a performance expectation for the long term. If those opportunities aren't there, you will lose some of your best people.

AD: What impacts do you think the Trump administration will have on manufacturing?

Fast: In the last three months since the election, we've had an increase of 57,000 manufacturing jobs; 28,000 of those came last month, so there is certainly optimism out there. Let's see if the rhetoric turns into actions that get executed in a positive way to grow manufacturing jobs.