When manufacturing commercial airline components, a skilled labor force helps leave nothing to chance. Food for thought: the next time your plane lands safely and smoothly, you're likely supported by landing equipment manufactured in Ontario, Canada, where 40 percent of all commercial airline landing gear is made.



Skilled Labor


Ontario's skilled labor force includes a deep pool of manufacturing specialists who know not only aerospace in general — but also landing gear, specifically. Many of the world's top landing-gear manufacturers locate in Ontario to access this labor force, including Messier-Bugatti-Dowty, UTC Aerospace (formerly Goodrich), Héroux Devtek – and now, Japan's Sumitomo group.

Japanese landing-gear manufacturer Sumitomo recently decided to establish its $50 million global aero division head office in Mississauga, Ontario. A number of factors contributed to the decision, chief among them being the growth potential Sumitomo gained from being part of the Ontario aero cluster.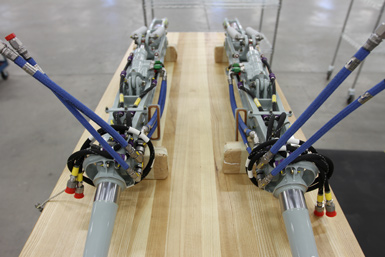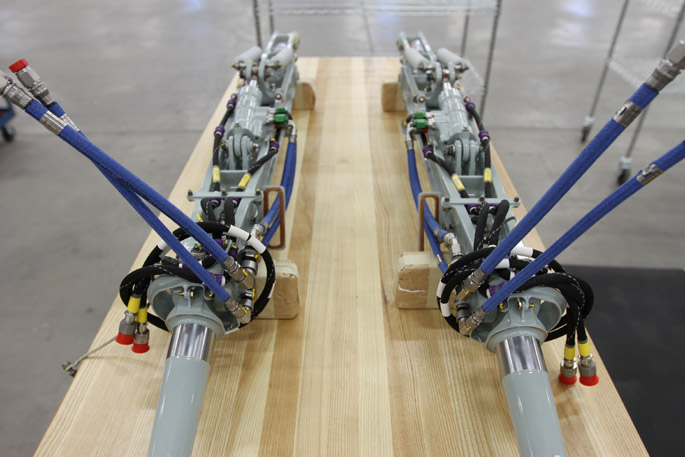 "Our new Mississauga facility is ideally located at the heart of Ontario's concentration of landing gear expertise," said Shinichi Nakamura, president of Sumitomo Precision Products (SPP) Canada Aircraft, at the opening of the new plant. From this base, Sumitomo looks forward to offering an expanded suite of products and services to its North American aerospace customers."



Low Operating Costs


The availability of aero expertise and access to the North American market are just two of the competitive advantages that help Ontario-based aerospace firms like Sumitomo thrive in niche markets worldwide. Cost is another big factor. In a global industry where margins can be razor-thin, Ontario's comparatively low business-operating costs have caught the attention of many companies.

According to KPMG's Competitive Alternatives 2012, the average costs for operating an aircraft parts manufacturing operation in Canada (and the Toronto region) are lower than the average in any G7 country. Lower corporate taxes contribute to keeping those costs down. Ontario's combined (federal-provincial) general corporate income tax rate is lower than the average of G8 and G20 countries, and lower than the average federal/state rate in the United States.



A Growing Industry/Broad Supplier Base


All these competitive advantages underpin the growth of Ontario's aerospace industry, which now includes more than 350 firms with combined annual sales of approximately $6.5 billion, 80 percent of which comes from exports. The industry includes top-ranked companies, such as Bombardier, Eurocopter, and Honeywell, as well as smaller players with highly specialized technologies and services.

Sumitomo's new facility in Mississauga will be a center for the final assembly of landing gear and landing-gear control systems. The company currently sources about a third of its landing gear components from Ontario suppliers, and this is expected to grow with the new facility.

For aero companies, the supplier base in Ontario is broad and deep. It includes manufacturers of structural components, satellite sub-systems, and avionics that service customers both worldwide and within the Ontario cluster.

Bombardier, for example, has a state-of-the-art facility in Toronto, where the company manufactures its highly successful series of business jets and turboprops, as well as wings for the Learjet 45 XR. Bombardier is quick to credit part of its global success to the quality and diversity of local suppliers.

"We've been on this site for 82 years and built over 8,300 aircraft," said Bombardier Vice President and General Manager Simon Roberts. "We couldn't have done that without the supply chain within Ontario."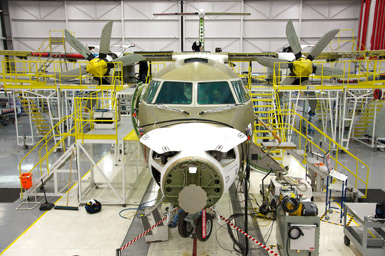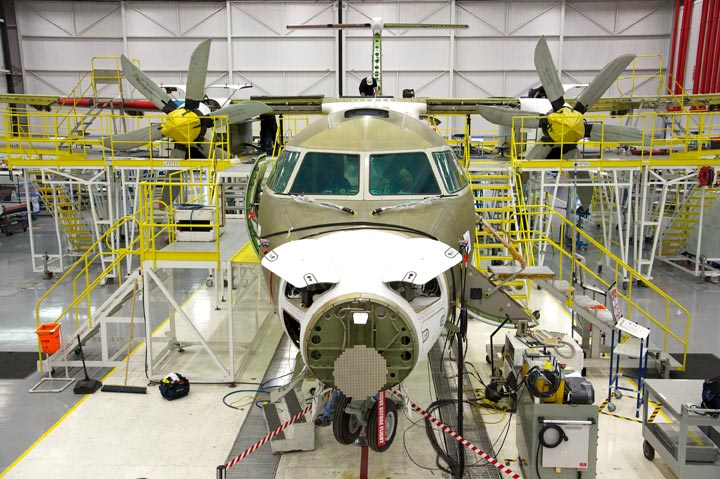 The supplier base is particularly broad because Ontario is also home to world-scale automotive, electronics, and information technology industries whose advanced manufacturing needs and capabilities overlap the aero industry. This industrial diversity provides innovative companies with the economies of scale they need to develop lightweight composites, next-generation sensor arrays, and other leading-edge technologies. These new materials and capabilities are helping aero companies worldwide respond to critical challenges such as climate change and sustainability.

Pratt & Whitney Canada, one of the research leaders in Canada's aero industry, is investing nearly $140 million in its research and manufacturing facility in Mississauga. One of their goals is to develop new electric-engine technologies that will help operators reduce their fuel consumption and greenhouse gas emissions.



Innovative Solutions


Research and innovation have long been hallmarks of the Ontario aero industry. During the past 75 years, made-in-Ontario innovations with global impacts have included the anti-gravity suit, the de Havilland Beaver (the world's first successful short take-off and landing airplane), and the world's first emergency locator device.

Today, the demand for innovative solutions is greater than ever. In Ontario, companies like Sumitomo can partner with world-class aerospace research centers within the cluster and draw on the expertise of 22,000 highly skilled aero industry workers. The talent pool is constantly replenished through a post-secondary education system that includes 18 universities and colleges offering 40 aerospace-specific programs, from aircraft technician to Masters and Ph.D. programs in aerospace engineering.

In addition, to help offset some of their innovation costs, aero companies in Ontario can access one of the most generous R&D tax incentive programs of all the industrialized countries.

This focus on support for innovation with global impacts goes beyond the aerospace industry and has made Ontario one of North America's top destinations for foreign direct investment. In 2012, Ontario attracted the most foreign capital investment among major North American states and provinces.