Silicon Valley is still the crown jewel of tech real estate, but industry leaders are taking note of new hidden gems emerging in other desirable locales across the country.

The need to expand into new markets is gaining ground, especially considering the sticker shock associated with the nation's traditional tech hub markets. Competition for real estate is fiercer than ever in places like San Francisco and Silicon Valley, leading to tremendous year-over-year rent growth. Established companies and successful startups alike find tremendous recruitment value from being in the center of the action where unemployment rates are historically low and salaries remain high. With that said, many startups and small- to mid-size companies simply find it to be cost-prohibitive.

Some surprising new market contenders are rising to the occasion, from Albany to Columbus to Sacramento, according to a new report, "Cracking the Hardest Code: Where to Find Tech Talent." By crossing tech employment data with real estate trends, JLL's analysts discovered that clear indicators of promise in these up-and-coming markets, including access to talent, real estate availability and affordability, and overall ecosystem strength.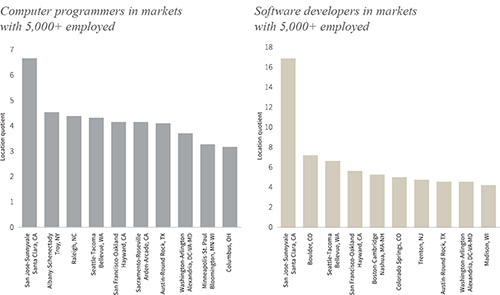 It's all about the talent pool
What are the markers of an emerging hotspot? First and foremost, the talent has to be in place and ready to get to work.

The best indicator that a location will offer a healthy talent base is its concentration of software and programming jobs, as opposed to actual quantity of jobs. A high concentration of these jobs bodes well for recruitment, organizational stability, and future job creation. For example, Silicon Valley boasts the highest concentration of developers and programmers, and it's also got the healthiest tech ecosystem.

Unemployment trends offer another meaningful clue. A gentle slack in employment could signal some talent availability. Conversely, if unemployment rates are too low, the salaries needed to compete may become too high.

Researchers also looked at real estate trends. How much new development is under construction? What are the vacancy rates? Development can be a sign of market momentum and choice in real estate, while vacancy rates can help paint a picture of how hard a firm will have to fight for quality space.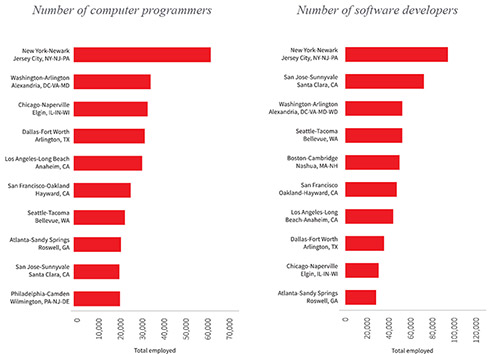 Five hidden gems with vibrant ecosystems
You might be surprised by some of the emerging hotspots. However, each of the following markets possesses all the attributes befitting a strong tech ecosystem.


Startups and computer programming at a premium in Albany, New York. The capital city of the Empire State has gained recognition as a prominent incubator in the region's "Tech Valley." And, with roughly 5,880 computer programmers, the metro area is home to the second-highest concentration of computer programmers in the country, after Silicon Valley. In Silicon Valley, programmers' average annual salary is just over $106,000—much more than the $76,000 average salary in upstate New York. The cost of living is lower, too, as are asking rents, making it a win-win for employers and employees.
Silicon Valley and San Francisco talent migrates to Sacramento. California's capital city has become home to 11,000 programmers, thanks in part to the dramatically lower cost of living compared with the Bay Area. Meanwhile, employers can easily achieve roughly 20 percent savings on wages. In Sacramento, they also find less of a death grip on real estate availability, and a city council that's actively fueling the industry with a $10 million "Innovation and Growth" fund.
A former steel town, Columbus is winning tech talent and has worthy wages. By 2020, the capital city of Ohio plans to be recognized as a "center of knowledge and innovation." With a talent pool drawn from The Ohio State University and some major multinational corporations, Columbus is rife with computer programmers, boasting as many as Austin, but with more competitive wages.
Software developers reach new heights in Colorado Springs. Colorado Springs was not at the forefront of the tech scene like neighboring Boulder and Denver. But behind the scenes it has quietly become another haven for tech talent, and is currently home to roughly the same amount of software developers as Boulder, or about 6,000 people. Talent is abundant here at an array of academic institutions, including the Air Force Academy as well as companies like Lockheed Martin.
Successfully badgering for innovation in Wisconsin. Madison, the state capital of Wisconsin, is a charming Midwestern college town—whose bustling tech presence has inspired the presence of industry heavyweights. The city's population ranks 17th in the Midwest, but, with 9,000 software developers, it clocks in with the nation's 10t-highest concentration of developers. And, with wages 40 percent lower than in Silicon Valley, it's not likely that tech firms will be exiting the area anytime soon.
Technology is revolutionizing the way we live and work. It's only natural that the people who develop that technology are also transforming the real estate decisions of the firms depending on them. As the war for talent rages on, hidden gems like these will only gain luster for both employers and employees.