Innovation is still gold in the booming technology sector — but California's Silicon Valley is no longer the only place to mine it. Many of today's tech firms and startups need to expand outside primary tech hubs like Silicon Valley and San Francisco to find affordable labor and locations for operations that don't necessarily require the high-cost locations at "ground zero." The good news: today, they don't have to. The tech industry is expanding outside its pricy hometown in the quest for lower costs, modern facilities, and access to talent.

In fact, the power of the $5.3 trillion global tech industry is resetting the office-leasing map across the United States, according to JLL's 2015 United States Technology Office Outlook. Increasingly competitive leasing conditions and rapidly shrinking vacancies in the major tech hubs are spurring an exodus to lower-cost, high-opportunity cities like Nashville and Austin.

Impactful Expansion
Last year, 34 technology companies expanded into more than 2.1 million square feet of new office space, across 19 markets outside traditional tech centers. These decision-makers took into account a series of related factors, including job growth, local tech wages, average rents for in-demand creative space, real estate costs per employee, as well as all-in costs.

Another factor in the nationwide tech diaspora is the importance of technology to almost all industries. Tech companies are not the only ones that need tech talent, as even professional services companies are increasingly technology-driven today.

Furthermore, the maturation of the tech sector has led to demand for specialty technologies for healthcare, marketing, scientific research, financial services, law, e-commerce, and other sectors. From "fintech" to "medtech" to, yes, corporate real estate data and analytics, demand for technology talent is creating new energy — and real estate demand — in secondary cities that serve industries now seeking tech-savvy talent in the science, technology, engineering, and mathematics (STEM) fields.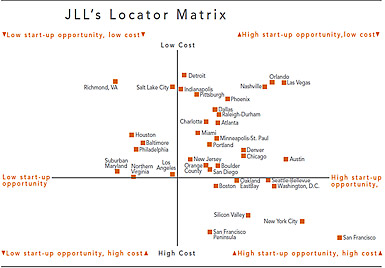 Wanted: Room to Grow in a Fast-Growing Field
The tech sector is spreading like wildfire, and that progress is not expected to slow this year. The global tech market will continue to grow by 4 to 5 percent in 2016 and 2017, predicts Forrester, and tech office leasing is shooting up across the board also, as might be expected. In 2015, roughly three quarters of technology office leases represented expansion, a meaningful 30 percent higher than the proportion of expansion leases in financial services, the second most-expansionary industry. Tech has also been responsible for the largest amount of large-block leases, accounting for about a fifth of office leases in the 20,000-square feet-and-up category.

Expansion, Not Exodus
To be clear, traditional tech hubs are not losing their allure. Brand-name companies, as well as startups with no capital restrictions, continue to make markets like Silicon Valley, New York, Seattle, and Boston the hotbeds of innovation and excellent places for cross-pollinating ideas, accessing new capital, and winning patents.

The fact that northern California rents are very high only underscores its appeal: Nine of the top 15 most expensive U.S. office markets are in the region, with downtown Palo Alto leading the pack at $98.68 per square foot. The most prized streets command even more, with San Francisco Peninsula's Sand Hill Road and Palo Alto's Hamilton Avenue ringing in as America's most expensive streets, at $141.60 and $124.44 per square foot, respectively.

But these primary hubs are no longer the only option for growth-oriented companies. Many startups are staying in their hometowns while establishing a smaller Silicon Valley office; while established organizations of all sizes that began their journey in northern California are expanding their horizons, along with their real estate footprints.

Will a different location with cheaper rents enable companies to spend more money on valuable talent or research and development? Or will spreading talent out across many different locations stymie innovation by reducing collaboration? Smart expansion is becoming a necessary, complex part of survival for technology companies, and the cost of real estate must be measured carefully against its value in terms of access to talent, venture capital, and resources.

Some First-Class Benefits in Secondary Markets
Many tech leaders believe that multiple locations support, not challenge, innovation and talent development. In fact, startups and established companies alike are finding a new approach to site selection. Some have concluded that paying high rent to be close to a tech epicenter is not necessarily the best or only way for a growing company to gain access to top talent.

The top-15 most-expensive U.S. tech submarkets have an average vacancy rate of 7.6 percent. Locations like New York, the Bay Area, and Boston each provide deep access to capital, innovation, and top talent — all generally worth the price tag for capital-rich startups and established companies. However, concessions aren't going up, and rents aren't going down. In many of these markets, competition for tech talent is just as fierce as the competition for office space, so why not look elsewhere?

Silicon Valley technology heavyweights are seeking real estate opportunities far beyond their home base. In 2014, these companies leased a total of 20,000 square feet or more across nine markets — including Atlanta, Detroit, Orlando, and Phoenix — for a total of 3.5 million square feet in 20 leases.

Another conventional viewpoint being turned upside-down is that a tech startup must be based in the Bay Area to have access to private capital. But that's no longer the case as startups and venture capitalists alike have begun to cast a wider net. In 2014, 75.8 percent of unicorn companies were in San Francisco or Silicon Valley. In 2015, that percentage shrank to 59.2, with lively start-up scenes emerging in Utah; Oakland/East Bay; Boston; Washington, D.C.; and Orange County as venture capitalists looked beyond Silicon Valley for opportunities.



Increasingly competitive leasing conditions and rapidly shrinking vacancies in the major tech hubs are spurring an exodus to lower-cost, high-opportunity cities like Nashville and Austin.

JLL's 2015 United States Technology Office Outlook

Where Will Tech Grow Next?
Expanding companies grow best by finding the sweet spot between cost and growth opportunity. Value comes in measuring factors like technology employment growth, percentage of millennials and educated workers in the area, innovation-friendly infrastructure, a concentration of startups, and access to venture capital. Cost calculations should include everything from real estate costs and average tech wages to housing and costs of living.

JLL has devised a matrix that takes all those factors into account, visually mapping market start-up opportunity compared to costs in all viable U.S. markets for expanding companies, from small startups to mid-size tech companies. It includes the full range of factors that influence tech leaders shopping for a place to grow.

For example, low start-up opportunity and low-cost markets include Salt Lake City and Los Angeles, while "ideal" high-opportunity, low-cost environments for tech companies on a budget include Nashville and Denver. In this category, Austin wins out for strongest metrics for tech growth, yet relatively (still) affordable costs. Unsurprisingly, high-opportunity, high-cost markets include Silicon Valley and San Francisco — though one surprise does come in the form of the San Francisco Peninsula, which rests in the bottom five of viable options (largely due to its lack of housing for the workforce).

Some standout markets — for better or for worse — follow.

What's Hot?
Austin: The Lone Star State's tech hub is experiencing 15 percent annual tech job growth. Though rents are still a pretty penny less than in the primary markets, average asking rents are catching up. Now at $32.59, Austin rents are the tenth-highest of 37 U.S. markets.

Nashville: The Music City is heating up fast, with the $100 million TechHire program and innovation running rampant. Nashville boasted the greatest patent density in the country in 2015. Rapid expansion, however, could be challenged by lack of modern office space.

Phoenix: With 3.9 million square feet of new space under construction, workplace offerings here are expected to be friendly for tech talent, with modern space available at competitive prices. Already, Phoenix offers the second-lowest average apartment rent of all 37 markets, which could serve talent recruitment efforts. Moreover, the average office rent in Phoenix's most-expensive tech submarket, Tempe, is 78.5 percent cheaper than in Silicon Valley's most expensive submarket, Menlo Park.

Holding Steady
Las Vegas: While Zappos has found success in the land of casinos, cost-prohibitive factors like 12.7 percent job growth and an average tech wage at $79,408 are holding back overall market growth as a tech center. The market's future will depend on whether another brand-name tech company will choose to expand in Las Vegas.

San Francisco Peninsula: It may be close to the tech epicenter, but the very high cost of living and real estate pressure holds this market back.

Of Interest
With lackluster growth, Charlotte, Detroit, and Baltimore round out the bottom five viable tech markets in the United States — but they are on the map, and of high interest to many startups seeking affordable rents and talent.

Predicting the Next Wave of Tech Demand
Austin may be hot now for tech startups, but rents will continue to rise in the next 12 to 18 months. Los Angeles may be in a holding pattern at the moment, but if the population of millennials and an educated workforce continues to expand, it's poised to capture tech interest, too.

For growing tech companies, tomorrow's search for space will be one that balances out the costs and returns for talent and creative space. Silicon Valley remains the epicenter. But increasingly, casting a wider web is just part of the business.