AD: Bosch Rexroth is just completing a five-year investment of $80 million to open your largest hydraulics manufacturing facility in North America. Why did you select Fountain Inn, S.C., as the place for this kind of investment?

McCormick: We are a European-based firm. We knew we had to grow our presence in North America. To do that, we needed good access to East Coast ports. South Carolina has an excellent port in Charleston, and we use it extensively. South Carolina also is a manufacturing-friendly state, and they are aggressively pursuing manufacturing. They see the future of South Carolina as the place that things get made. We like working with people that like manufacturing.

AD: Why did you choose this particular piece of property?

McCormick: This investment turned out to be an extension of an existing facility. We were making a significant commitment to our future, so we looked at all the alternatives. We looked at other states before deciding to take our rather small presence and make a long-term commitment in a much larger facility.

The adjacent property and facility came on the market, but there was a protected tributary between these two properties. Also, the building was a logistics center, and we needed heavy manufacturing. To get there required driving a mile, but the building was only a few hundred meters away from our existing facility. We met with government officials to tell them we needed to interconnect this into a campus. South Carolina agreed to help us build a bridge over the waterway and a road from the end of the bridge to the property. We now have three buildings on a campus.

AD: This property was originally a warehouse. How did you convert it to a modern manufacturing facility?

McCormick: Our internal architecture consultants and an engineering partner found a creative solution to transform the building, which brought us unique advantages. We kept the four walls and the tall roof. We needed an 18-inch floor for large machines, so we cut out the floors in the areas where we have heavy manufacturing. Then we put in the floor we needed. We retained half the original floor. We have a lot of heavy utilities overhead. We installed a grid of steel beams below the roof deck to carry the additional utilities. Where that grid ended, we built the technical mezzanine, which housed the air-handlers and machines that take up a lot of floor space. We put that up in the air, as well. It took a year to gut and rebuild the building.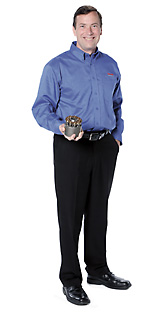 AD: Tell us how Bosch Rexroth is working with Greenville Technical College to develop the labor force in the area.

McCormick: The number-one constraint for anyone in our business is high skilled labor. Greenville Tech is our partner in our apprenticeship program. We provide the facility and they provide the classroom instruction. It was a true partnership to build up a world-class apprenticeship program. It also gives a career path to our existing associates.

AD: What else are you doing to help develop your labor force?

McCormick: This issue of technically skilled workers has been identified as a key area of investment and development for our company. We have engineers from our facility go to the local middle school and keep the very youngest kids excited about STEM (science, technology, engineering, and math) education. We have a youth apprenticeship program of high school kids that come over once a week that compete in First (For Inspiration & Recognition of Science & Technology) Robotics, which is an international competition. We have dozens of university interns and we have people doing post-graduate work here. We are engaging in terms of time and talent at all levels. In terms of hiring for the facility, we had a lot of job fairs. We also partnered with other HR firms to help us with marketing in this region and other regions.

AD: Tell us about the Bosch Community Fund.

McCormick: Within Bosch communities, the Bosch Community Fund makes money available to specifically promote STEM education and help our Bosch businesses grow the local work force. We are now engaging ourselves in the education process. We've come to the realization that it doesn't help to complain. You have to become engaged. We realize manufacturing was overlooked by one or two generations of young people, so we have a demographic issue developing. We are working urgently to close it, in part, by using the fund.

AD: Bosch Rexroth has a strategy to invest locally to serve global customers. Please explain.

McCormick: Compared to the size of our market in North America, we were under-represented here. We wanted to have local capabilities that were on par with our local customer base. Some of our largest global customers have their main production, engineering, and administration in North America. When companies want to discuss a new product or application, we used to refer them to a different time zone and language. That's not a success factor. We are building up our R&D in this bigger footprint, so that we can produce the product, but also engineer it locally. So all the things we can handle for a market the size of North America, we can now handle in this facility.

AD: How does Bosch Rexroth work in conjunction with Robert Bosch North America?

McCormick: Bosch Rexroth is part of a larger organization, Robert Bosch North America. Our local efforts here are leveraged across the larger organization. Some of the local efforts we are doing here are our own initiative. Some of them are supported through our parent, like the Bosch Community Fund. We benefit from our corporate infrastructure and our corporate giving. They let us recommend where we invest that money. There is a coordination of those efforts across the U.S. to ensure best practices are shared — and to ensure that we are not sprinkling a little bit everywhere and nothing is getting done. So they are ensuring we are giving significantly in places where we see the gaps nationally so that we can address systemic issues.