Maximizing space utilization has become one of the most important market trends among real estate and facility managers, according to a survey from independent research firm Verdantix. Between rising real estate costs and the introduction of solutions for easier space and occupancy data collection, organizations are realizing the cost-saving potential of optimizing their workspaces. Yet, the number-one objective for real estate management has moved from reducing costs to improving the comfort and well-being of building occupants.

While you don't want a large number of employees in a space too small to accommodate them, you also don't want a lot of unused, wasted space. In general, between 40 and 60 percent of workstations are vacant at any given time. Finding the proper solution only increases in complexity when you factor in the increase in employees working remotely and the desire among the millennial workforce for more streamlined, collaborative space.

How can you ensure you optimize your space in a way that saves you money without sacrificing employee satisfaction or retention?

Steps Toward Space Optimization
Determining how to best optimize your space or whether you need to relocate requires a strategic process. Historically, it could take months or even years to determine how to improve your space utilization. By following the right steps, you can cut down that time to just a couple of weeks or less. Here's where to start:

1. Audit your existing data:
To begin, you must have existing space management data. Without data, you cannot plan or justify space reassignment. Traditionally, tracking utilization of space has been difficult; most charged with the task were manually recording data in spreadsheets. Today, more sophisticated space management programs have been introduced that make the process faster and simpler.

Whatever method your organization uses, this data will help you take inventory of your existing space, including space type (cubicles, offices, conference rooms), occupancy status for each, and to which department that space is currently assigned. With the full picture, you can begin evaluating how the spaces are used.

2. Assess current space utilization:
Critical to space optimization is knowing how often you're using spaces and how they are being used. For instance, is a space occupied by an employee regularly, empty most of the time, or used for collaboration or hoteling? Note who is in and how often, trends across departments (e.g., outside salespeople may rarely be in the office), differences in usage by space type, and whether days of the week have an impact. Tracking occupancy has become a bit easier with badges that ping when each employee comes and goes, and sensors on desks or chairs that monitor when that space is occupied.

3. Consider future requirements:
It's important to remember that you're not only optimizing for today; you're optimizing for tomorrow, six months from now, a year from now, and so on. Distribute surveys to various department heads and managers, which ask for information about space they have, which buildings and/or floors they inhabit, headcount, as well as the forecast for the next year. Do they project growth due to a budget increase? Will they need a dedicated storage or conferencing area?

This is also a time to consider departmental affinity — where departments should be located to make their jobs easier, including colocation. For instance, complementary teams like sales and marketing may meet frequently and would benefit from being in proximity. On the other hand, unrelated departments that have limited or no collaboration have no need to be placed close to one another. Additionally, if your business occupies multiple floors, certain departments might be better suited on higher or lower floors.

Finally, just as you project department growth, consider overall growth and contraction for the future. Perhaps you'll offer work-from-home opportunities, hoteling, or have a call center with shifts, where multiple people occupy the same space at different times of the day or week.

4. Review space alignment:
Take your existing space data and determine whether it's aligned with your future ideas. With this information, it's time to make a decision. You might find that your current space or building is not fit for your strategic goals. Alternatively, you could determine that the space can work by moving some people around.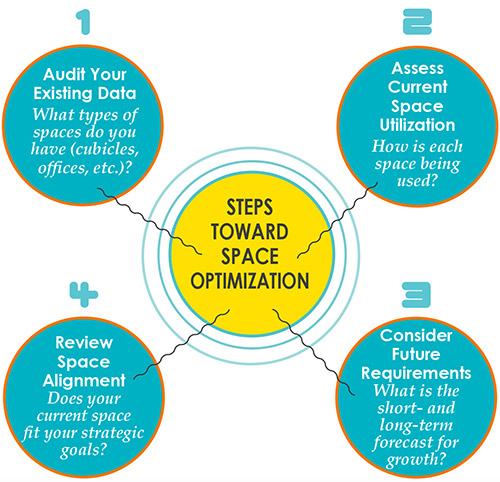 If you are in the latter position, move forward with your strategy with four goals in mind:
Optimizing space with colocation and future growth in mind
Minimizing square footage
Minimizing churn, moving as few people as possible
Minimizing costs involved
Technology for Workspace Optimization
While there is no way to fully automate the space optimization process, there is technology available to streamline it and help you make more informed decisions. According to market research from Verdantix, 24 percent of respondents in the retail and consumer products industries use commercial software to support space monitoring and plan to invest more. Leading integrated workplace management systems (IWMS) solutions have space management functionality that leverages the power of spatial recognition and artificial intelligence (AI) to collect, store, and utilize data about your space to determine the best solution for your workspace in far less time.

AI systems use computer-aided design (CAD) to identify and draw walls, cubicles, doors, windows, columns, and more, improving as they are fed more data. As a result, polylining can be done more quickly and accurately than if it were drawn manually. Additionally, while wayfinding was once done from scratch — with someone manually drawing or walking through the space, eating up a lot of time and money — AI-enabled wayfinding creates the "Google maps" of your office navigation, finding the optimal path between two spaces at the push of a button.

Leveraging your existing space utilization data and the actual geography of your entire workspace, IWMS with AI will create a handful of potential layouts for maximizing your space, displaying where different departments could be located for more efficiency and productivity.

As office spaces and businesses themselves continue to evolve, organizations must consider whether they are optimizing the space they're in or whether changes can be made. IWMS and AI can help leadership make informed decisions that will serve both short- and long-term needs while keeping costs down. And AI is only expected to increase in popularity in the years to come, offering new, innovative ways to do business across industries. Forrester estimates that businesses using AI will "steal" $1.2 trillion from companies that don't.