It's no news that lingering supply chain disruptions and inflationary pressures have forced project teams across the U.S. to shake up their procurement and delivery processes. The projects of today are rife with risk, as supplied materials' lead times and pricing have proven to be no longer as reliable as in past years.

Design-build has become an invaluable resource in the current environment, as earlier designs and contractor "onboarding" have become increasingly vital to keeping cost and time factors under control. Design-build gives project teams the flexibility they need for developing creative solutions and ensures proper alignment between the various members of the team.

In that regard, companies like Clayco are utilizing their intellectual capital like never before by thinking further down the road and "future-proofing" the delivery of their projects. By being in complete control of engineering and procurement, they're able to offer comprehensive, cost-effective options for tackling the unique challenges of today's projects.

A New Variable
For years, the owner-designer-contractor conversation around materials was primarily about cost and vendor alignment. Now, there's another, more urgent, variable — lead time. For most projects, the lead time for products is much longer than traditional timelines and can vary significantly between vendors. Therefore, design, procurement, and project team onboarding must occur earlier in a project's life cycle to ensure there are fewer wrinkles down the line.



Earlier designs and contractor "onboarding" have become increasingly vital to keeping cost and time factors under control.

Some of the more radical approaches have been in procurement, whereby the entirety of a project's materials and equipment is ordered directly by the project team long before groundbreaking. A project's steel erection package, for example, would have had an 8–10 week lead time prior to the pandemic. Now, the lead time for those same products is six to 10 months. While it doesn't take that long to fabricate the steel, much of the front-end design must be completed earlier to lock in mill pricing and ensure a position in the "queue" for a future rolling slot.

For example, Clayco's integrated model and in-house engineering capabilities enable it to design and procure many components — such as steel, roofing, electrical, and mechanical elements — much earlier in the process. The company can size major equipment, get quotations on lead times, and place orders long before detailed design is complete and subcontractors are on board. Case in point, at a high-rise project in downtown Phoenix, Clayco brainstormed with its project team to develop a strategy for procuring and storing the entirety of the construction materials for the project — even custom millwork — long before breaking ground.

It was a collaborative approach, whereby project executives, designers, subcontractors and owner worked collectively on the means and methods for getting it done. Clayco was able to develop alternative strategies and order from vendors with a domestic supply chain strategy who were not dependent on containers from overseas. And as one of the largest purchasers of roofing materials, bar joists, and deck, electrical, and mechanical systems, Clayco was able to order bulk items of product, lock in prices, and work closely with suppliers to meet all of the projects delivery goals. Being aware of regional market dynamics has been equally important at the Phoenix site. Two mega semi-conductor projects are simultaneously under way and at their peak will require over 10,000 craftspeople, in total. That has significantly strained the local workforce, not to mention impacted both wage rates and project costs.



The lead time for products is much longer than traditional timelines and can vary significantly between vendors.

This additional variable puts an even higher level of importance on contractors to perform due diligence and to develop mitigation strategies and contingency plans. Beyond the supplier and subcontractor companies, it is important that contractors down to the crew level understand the skillset of the people actually performing the work. In extreme cases, unique labor attraction and/or retention plans may be necessary to ensure the necessary level of skill on the jobsite.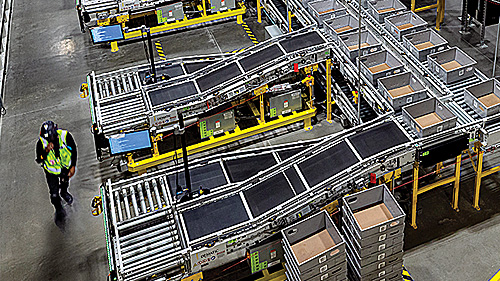 Solutions: Warehouse Automation & Modularization
The exploding demand for e-commerce and online purchasing has prompted an unprecedented amount of investment capital in the warehousing and distribution sector. As such, automation and robotics in that sector have taken on added importance during the current supply chain crunch, as speed to market is critical.

But even as market demands drive the need for more warehouses, material-handling automation companies face some of the same supply constraint issues as construction teams, e.g. lead times, delivery issues associated with their products, and a finite amount of available labor doing construction.



Material-handling automation companies face some of the same supply constraint issues as construction teams.

Owners such as Amazon are selecting sites and requiring contractor input much earlier in the process to stay ahead of the curve. Design-build teams are also turning to modularization as a solution for mitigating craft labor shortages and controlling costs, and designing mechanical, electrical, and other systems in a manner that enables them to build many of these components "off site." The end result? Accelerated schedules, greater dexterity when sourcing materials, and a heightened level of collaboration among project team members.

Off-site modularization was already becoming the rule rather than the exception in the industrial/manufacturing and mission-critical space, but supply chain constraints have served to push project teams further in that direction on other project types. And out of necessity, many specialty contractors are also getting in on the act. Many of the larger mechanical contractors, for example, have developed their own engineering capabilities, built fabrication shops, and thus enhanced their delivery models.

Nevertheless, a modular approach must be discussed during the early stages of design for it to be successfully implemented. Modular assemblies must be engineered with the end in mind, such that they are designed with the integral structural components for shipping and installation. Ideally, the end result is greater control over cost and schedule and reduced risk of labor. However, perhaps most significantly, the clean "controlled shop" environment that modularization provides can significantly enhance quality. In the face of unparalleled schedule constraints, a modular approach ensures quality remains an achievable objective.