Having a reputation as one of the largest global financial service institutions in the world, Barclays occupies roughly four million square feet across the Americas. In managing this real estate, its Capital Corporate Real Estate Services (CRES) team has traditionally relied upon long-standing relationships with service providers to assist in managing and delivering ongoing projects. When considering the impact of an upcoming and unusually extensive series of capital-related projects, the CRES team quickly realized it needed some additional assistance that required comprehensive strategic planning and support. A specialty service provider was needed to administer overall control and visibility for a major integration that would impact its business, real estate, and — most critically — its people.

The most important factors to focus on in any corporate relocation, whether around the corner or across the country, are the people and the organizational culture. These projects can encompass everything from site selection and lease negotiation to the relocation of staff from a number of locations.

Companies embarking on a major relocation are intimately engaged in a dialogue with a number of third parties. All parties on board should help perform the necessary due diligence required to develop appropriate solutions to the issues that prompted the relocation in the first place. In addition, understanding the implications of time, budget, and the overall duration of the project are critical. With constant and rapid changes in technology, it is important to be sure the final developed facilities are not obsolete once the relocation is completed.

In recent years we have seen a paradigm shift that embraces an overarching emphasis on people as part of a more balanced approach. There are certainly many important and critical technical components, and while the metrics are important, the ultimate goal is making it work for the employees. Both of these aspects must be successfully addressed in order for a major move to be successful for any business.

Just like any other significant initiative, the first step requires a lot of listening, followed by raising the examples of past experiences to apply the lessons learned. The project management team must focus on the nuances of the client's business and corporate culture as much as the technical aspects of the project at hand. They need to embrace the bigger picture and address factors like a long-term view of occupancy and site selection, even if the relocation is within the same city.

Over the years, there have been many corporations that have successfully relocated their headquarters, such as Bloomberg, Weight Watchers, Russell Investments, and Barclays Capital, and the Home Office of the British Government in the United Kingdom. It's a huge endeavor, and we'll highlight a couple of the projects and why they were a success.



Your Number-One Stakeholder: Employees


Back in 2009, following the acquisition of Lehman Brothers, Barclays Capital required a project management team to coordinate the moves of multiple work streams, projects, and people around North America, South America, and Canada. A team was mobilized to provide overall control and visibility of all integration, normal business as usual, and future pipeline projects across the Americas region.

Integration was successfully completed in less than six months, with more than 15,000 people moves. Two different cultures were being brought together, and the differences extended far beyond varying space standards and, for example, the color of carpet. In fact, there were core differences in their missions, beliefs, and corporate governance, all soon to be "under one roof." In addition to managing the physical real estate assets, the project managers helped bridge the cultures by recognizing the differences, helping the organizations embrace change, and smoothing the transition for what was an extremely aggressive integration.

Similarly, Time Warner recently announced its headquarters relocation within New York City, and early indications have already evidenced a pattern shift that considers the work force as the most essential part of the holistic strategy. The technical aspects are critical, but it all emanates from the people.

Project managers need to foster and coordinate a people-focused approach, with all efforts directed toward addressing employee needs. An important objective to remember is to never start with the metrics. Keep the team focused on the people. You will get to the metrics. Pose the following questions: Does this suit our staff? What is right for our people and for our business?

When Nissan relocated its corporate headquarters from California to Nashville, the company took its team through a very structured process. The project managers needed to be there to assist everyone involved, not just the employees but also their families. Orientation visits and general meetings about the new location were conducted. Representatives from the chamber of commerce were involved in an advisory and supportive capacity. In any major relocation, employees must understand why they are moving in order to increase motivation for the move. It was all about giving people a feeling for the place. When moving across the country, individuals' lives are disrupted and families need to find homes and schools. Both the client organization and the project management team need to do everything possible to support people and sustain the work force.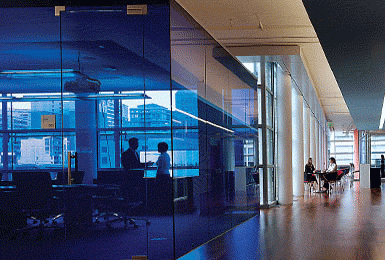 Maintaining the Culture


Another important component of a successful relocation is creating the appropriate structure and environment for the client's organizational culture. Sometimes dealing with these issues is fairly straightforward, such as when you have a relatively uniform culture across the organization, with most divisions and departments operating in a similar fashion and situated in comparable facilities. However, different standards often exist, and there is a pressing need to marry all the elements harmoniously.

How do you maintain identities while creating a unified whole? How do you ease the transition to a new type of work environment, one that may, for example, significantly reduce dedicated personal space? How do you maintain or create a high-functioning work environment? Start with the business achievements targeted for your staff and let those drive the design solutions.

Shortly before lease expiration, Russell Investments sought to relocate its San Francisco offices to a new facility configured to support a more open style of working. A 12,000-square-foot site was required to accommodate market trading, back-office functions, and client meeting spaces. Resilient infrastructure was essential to address critical business needs, with built-in flexibility for future change.

Russell Investments sought to implement this new open workplace strategy within a "turnkey solution," whereby the building landlord was responsible to construct Russell's space. As in its Seattle headquarters, the company required a flexible environment in San Francisco that encouraged collaboration to facilitate innovation and deliver the greatest business advantage. Significant constraints were placed on the project from the onset due to budget and an accelerated schedule of four months from lease signing to building turnover.

Private offices were eliminated, and an open plan with a bench-style desk system was adopted, with rooms for private discussions. PCs were replaced with laptops, and "plug and play" technology was integrated into collaboration bars and meeting rooms to support flexible working. Docking stations with dual monitors were provided at each desk to support the new work style and reduce paper usage.



Technology Glues it Together


Once all the people-focused, cultural goals and objectives have been delineated, technology will have an impact on the final desired outcome of the relocation. Make sure that the desired, required, and specified technical aspects of the project are a good fit for the objectives and goals set forth. It is very important to think beyond the obvious and present a range of factors for consideration such as:


Workplace standards


Critical systems support


Available infrastructure


Sustainable alternatives

Once again, this goes back to the overall business case and how the employees will use the facility. It speaks to branding, identity, and communications as much as it does to architectural design and technical specifications. Project managers are at the hub of coordinating these aspects.

Finally, after the overall objectives have been set, it is important to put pencil to paper to test ideas and cost strategies (both initial investment and life cycle), and to conduct an analysis of long-term elements of the project plan. Once again, it is important to ask the question: Is the proposed plan sustainable for the long term for the business?

Corporate headquarters relocation projects take place over long periods of time. The scale of these facilities is generally substantial, which means that the move-in date will be long after the initiation of the project. Even when things are fast-tracked or phased, the ultimate result will, in many ways, be a moving target.

Especially now, with the fast-paced changes in technology, both for building construction and IT infrastructure, the team needs to be visionary in its choices, looking well into the future to know it will not be moving into an obsolete building. This is especially true with IT systems and infrastructure, which are constantly evolving. It is hard to know just where and what all the technology will be when the move-in date approaches. Things need to be up to date when the project is complete — not out of date as the team is moving in.

For the Weight Watchers organization, which has a long history of progressive thinking in helping people to attain their health goals, this same progressive approach was applied to its corporate headquarters relocation in New York. There was an early focus and visioning effort around building a technologically flexible work environment that would support varying business groups, from creative developers to those responsible for maintaining vast amounts of real-time data to facilitate 50,000 Weight Watchers client meetings each week, taking place in countries all over the world.

Now in operation, the Weight Watchers' vision has been achieved. In part, the technology backbone has served as the "glue" to provide progressive wireless mobility for staff around the workplace and while on- the-go, as well as a streamlined means of communicating with remotely located staff through various cost-effective video technologies.

Things won't be completely right. Be prepared to grasp that concept early on and carry it through the process. While some will profess to have a crystal ball and predict what a business environment will look like next year or five years or 10 years into the future, no one can really guarantee anything with certainty. The real foresight in a world of people, space, desks, and computers is to be flexible. Better yet, build an institutional mindset that embraces flexibility.