Houston and New Orleans today are not thought of as economic competitors. Dial back the time machine to 1950 and you would see a different story. These two cities were running neck-and-neck based upon population and competition for economic success in the New South. Both cities had nearly 600,000 residents and were competing to attract energy and banking investments on a global scale. Both were connected to the Gulf of Mexico and major ports and a supporting financial services industry. Fast forward nearly 70 years and Houston has quadrupled in population, is the fourth-largest American city and the seventh-largest economy, while New Orleans has lost over 200,000 people, barely makes the top 50 of largest American cities, and is the 45th-largest economy.

Houston is now an American mega-city, but the real question from a corporate site location standpoint is, which are the growing regions today that are attractive for high-wage job and capital investment that could well be the Houston of tomorrow? As Figure 1 illustrates, only four of the top-10 largest cities in 1950 remain on the list of the 10 largest U.S. cities. In 1950, the East Coast and industrial Midwest dominated the high growth regions, while today's mega cities are dominated by the South and West from a regional perspective.

Growing markets attract substantial economic investment — even as their costs continue to rise. Understanding which regions are growing and developing is measured by a number of economic data points — population growth, GDP growth, unemployment levels, income growth, and poverty reduction, just to name a few. Houston, Phoenix, San Antonio, San Diego, Dallas, and San Jose were all growing mid-sized urban markets over the past several decades. Population shifts to the South and West, in many cases, drove company decisions to locate in these regions, as they could provide a growing pool of skilled labor as well as an increasing number of consumers to whom companies could sell goods and services. Global airports soon followed this business and population base and, all of a sudden, these cities were blowing by the industrial Midwest and well established East Coast cities and creating a new generation of mega city.

A comparison of the largest Metropolitan Statistical Areas (MSAs) is instructive to understand which of the United States' largest urban markets are succeeding from an economic standpoint. Companies undertaking a corporate site location project will begin (but not end) the process with a regional market analysis to identify growing markets that provide the best chance to connect with customers and suppliers and gain the workers needed for success. This analysis focuses on regional population, economic and income growth, as well as unemployment levels and poverty rate reductions — all of which illustrate general economic health of a market. This analysis helps narrow the list of communities in which companies will then review potential sites, real estate options and costs, cost of doing business, and tax incentives — all which are part of the corporate site location process.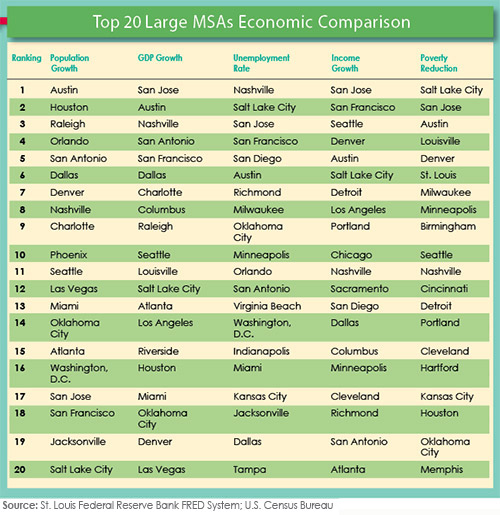 An Economic Comparison of MSAs
An economic comparison of the top-20 large MSAs (Figure 2) is based upon a current review of population, GDP, and per capita Income growth (2010–15); unemployment levels in 2017; and poverty reduction rates (2010–15).

First, several MSAs consistently appear to be economic winners based upon these measures including Nashville, Austin, Dallas, Seattle, San Jose, Salt Lake City, Denver, Oklahoma City, San Antonio, and San Francisco; they appear to achieve economic success in nearly all these measures. Also, several growing mega cities and mid-sized communities are worthy of attention with multiple high-rankings from these economic data points including Miami, Atlanta, Houston, and Minneapolis; they meet economic success by three of these economic measures, illustrating impressive economic success. Finally, communities like Las Vegas; Raleigh; Orlando; Washington, D.C.; Columbus; Richmond; San Diego; Cleveland; Detroit; Kansas City; Louisville; Portland; Charlotte; Jacksonville; and Milwaukee deserve credit for achieving success on two of these important economic rankings.

In the future, the largest metro regions in the nation will again come from the emerging group of mid-sized urban markets. The largest cities of 1950 are not moving up on the list of growing regions — they are moving down. The top-20 growing MSAs not only include the invaders from the South and West — such as Houston, Dallas, San Antonio, and Phoenix — but also include emerging markets such as Austin, Orlando, Raleigh, Las Vegas, Charlotte, Jacksonville, Tampa, Salt Lake City, and Columbus.

Many of these same cities are apparent when growth rates for regional economies are compared. The top-20 fastest-growing U.S. regional economies include tech centers like Austin, San Jose, San Francisco, Seattle, and Raleigh; emerging mid-size markets such as Nashville, San Antonio, Charlotte, Jacksonville, Indianapolis, Phoenix, Portland, San Diego, Sacramento, Salt Lake City, and Las Vegas; and mega-regions like Atlanta, Miami, Dallas-Fort Worth, and Denver. From an unemployment standpoint, add in Kansas City, Richmond, Milwaukee, Virginia Beach, and Washington, D.C. But the 50 largest MSAs with the lowest unemployment rates look just like the region's leading in population and overall economic growth.

As Figure 3 illustrates, traditional East Coast cities of Philadelphia, New York, Boston, and Baltimore, as well as industrial centers such as Buffalo and Cleveland, jump into the top 20 list of income growth. However, the list in general is very similar to economic success as measured by unemployment, population, and overall economic growth. From an industry standpoint, technology-driven economic growth is clearly the major winner. The growth of the tech sector in San Jose and San Francisco (aka Silicon Valley), Austin, and Raleigh is clearly the economic driver making these markets attractive for economic investment.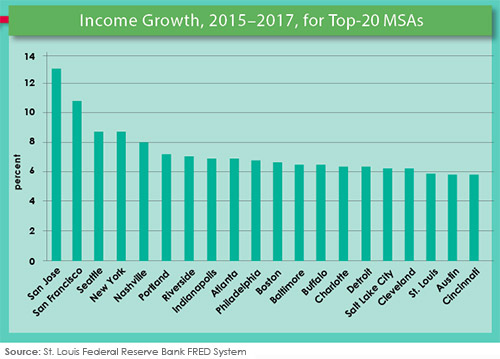 A Comparison of Educational Attainment Levels
Energy is the "gasoline" behind markets such as Houston and Oklahoma City. However, mid-sized urban markets that are booming such as Salt Lake City, Las Vegas, Columbus, Charlotte, Minneapolis, and Nashville are driven in large part by growth in the advanced service sector that is attracted to a large pool of highly educated, skilled workers. These growing mid-sized urban markets are succeeding in large part based upon the availability of a highly skilled, college educated workforce. These regions are not large players in the tech sector but in the Information Age they are proving that a large pool of college educated workers can serve to attract economic success.

As Figure 4 illustrates, many of these successful urban centers are approaching 50 percent of their population holding a four-year, bachelor's degree that is needed for most jobs in financial services, information technology, and corporate headquarters positions — which are driving a post-industrial economy.

Logistics, distribution, and fulfillment centers are also a growth market for many of these communities, as traditional retail centers transition and online purchases drive rapid fulfillment center growth led by Amazon and others. Regions like Columbus, Ohio, have over 80,000 logistics jobs driven by three major logistics centers, a large workforce pool, and a competitive tax incentive program for national companies.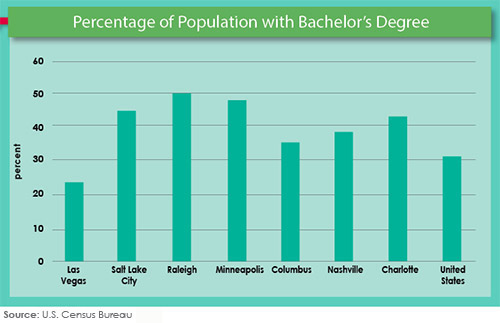 Where Population Is Growing
Skilled workforce is not the only driver for regional growth. Large-scale demographic changes impact that growth as well. Since the end of World War II, the Western and Southern States have been growing substantially, and that does not appear to be slowing. Population growth impacts economic development. Western and Southern States will continue to grow and present attractive targets for economic growth during 2019.

Picking regions to consider for a corporate site location project often centers on measuring a large number of communities to determine which ones are growing and likely to provide a long-term base of skilled labor and economic activity. Fortunately, major U.S. metro centers offer a wide range of successful regional economies for corporations to choose from.