Even before New York politics interfered with the Amazon HQ2 project, it was not the typical economic development project — not even counting the 50,000 jobs associated with it — but the decision of the company to end up in two major urban markets goes against recent corporate site location trends favoring mid-sized urban markets over mega-cities. Any economic development project that is going to create 50,000 jobs will end up in large urban market — likely one of the top-10 mega-cities in the United States, primarily based upon the availability of that many skilled workers. However, in the age of automation, there are simply no other economic development projects with that many workers; in fact, the days of the 10,000-worker factory are over. Corporate site location projects that comprise more than 500 jobs are on the high-end, and the location for most of these projects, in large part, is in growing mid-sized urban markets.

Growing mid-sized urban markets are succeeding in retaining and attracting high-wage jobs because they illustrate economic vitality through increasing population, stable demographics, strong private-sector job performance, a solid workforce pool, and a much lower cost of doing business compared to their mega-urban counterparts. This does not mean mega-urban centers (top 10 largest population centers in the U.S.— New York; Chicago; Los Angeles; Houston; Dallas-Fort Worth; Miami; Washington, D.C.; Philadelphia; Atlanta; and Boston) are not successful. These global cities offer massive consumer and business markets, leading global industry sectors, an urban renaissance, and connections to markets through unmatched airports. However, many companies are focused on the faster pace of growth, lower cost of doing business, and a workforce large enough to serve most company needs in a mid-sized urban center.

A data-driven corporate site location process illustrates that mid-sized urban markets compete well with the mega-cities across the United States. Our analysis of mid-sized urban markets compared to mega-city markets is based upon researching how much these markets are growing by population, macroeconomic and private-sector job growth, strength of the demographic profile, and the cost of doing business in a select group of mid-sized urban markets compared with the 10 largest mega-city regions in the U.S.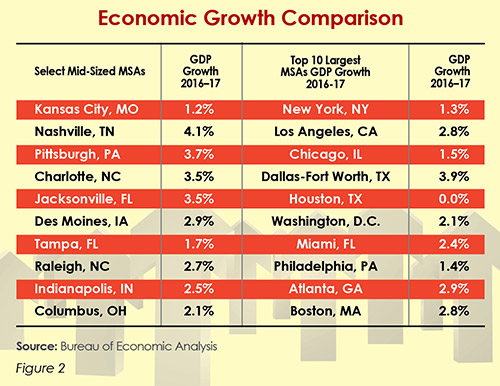 Population Growth
Population growth is an important measure of the economic vitality of a region. Growing populations provide a larger pool of workers and illustrate overall economic strength and an expanding market in which companies can gain customers. Mega-cities have a traditional advantage when it comes to population — if New York City were a state it would be the 12th largest in the nation just ahead of Virginia with a high population density making it relatively easy to connect people with jobs.

However, many mid-sized urban markets have been growing faster than their larger mega-city cousins. As Figure 1 illustrates, from a population standpoint, of the top-25 growing Metropolitan Statistical Areas (MSAs) in the U.S., only two — Dallas-Fort Worth and Houston — are from the mega-city category. In fact, the mega-city regions are growing but the majority of this growth has been below 10 percent over the last seven years — except, of course, for the booming state of Texas with Houston and Dallas-Fort Worth's population growth in the double digits.

This population growth success of mid-sized urban markets is supported by the stronger overall macroeconomic success of mid-sized communities compared to mega-cities. Figure 2 illustrates how many mid-sized communities are outpacing larger mega-cities in overall economic growth.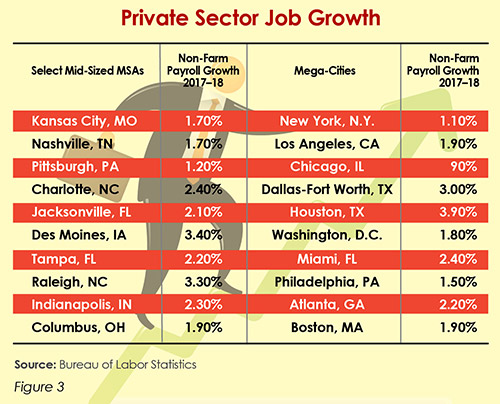 Job Growth and Other Demographic Data
The non-farm private payroll measure is another important metric in determining economic success of a region. As Figure 3 illustrates, other than the booming Texas markets in Houston and Dallas-Fort Worth, the mid-sized cities compete very well in private-sector job growth.

Demographic data is another important economic measure in which mid-sized cities are on par if not far ahead of their mega-city counterparts. Targeted mid-sized and mega-cities have similar population growth rates just below 10 percent, as well as the percentage of their populations with bachelor's degrees (around 36 percent), and poverty rates very close to the same range. However, the median average income in the mid-sized communities is actually slightly higher than in the mega-cities, but the cost of living factors — such as median home values — are double in the mega-cities compared to their mid-sized city counterparts, with higher gross residential rents and a much longer worker commute time as well.

Another critical advantage for mid-sized cities is the labor force participation rate. All regions have skilled workforce issues, and while mega-cities have a larger overall pool of workers, they actually have a substantially lower proportion of their residents engaged in the workforce.

Cost of Doing Business
Mid-sized cites also enjoy a significant advantage compared to their larger mega-city counterparts when it comes to the cost of doing business. Cost of doing business in a corporate site location context is generally determined by a company's labor and real estate costs as well as government taxes. Mega-cities, with their large population concentration, rarely win when it comes to a cost-of-doing-business comparison primarily driven by higher wage rates and very expensive real estate. With average asking rents in Manhattan over $70 a square foot, mid-sized cities do not lose the real estate cost advantage very often. The industrial real estate market also compares well for the mid-sized cities where asking rents are generally five and six times less than for their urban counterparts.

Mega-cities will not make up ground on the cost of doing business factor from a labor cost standpoint. In fact, Figure 4 illustrates the average wage rates for computer and mathematical occupations, key to the information technology sector, are nearly $13,000 higher per worker in the mega-cities compared to the mid-sized cities. While the example is a slim slice in one industry, it illustrates the benefits of mid-sized cities from a wage rate perspective.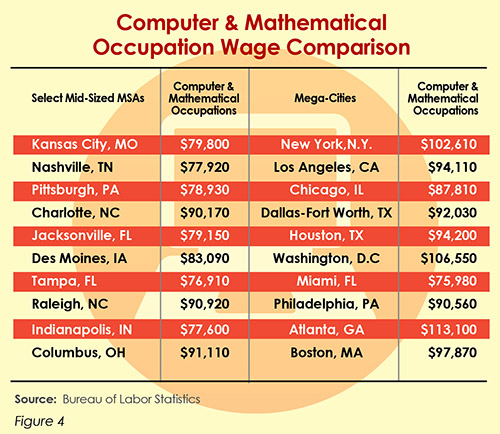 Taxes
Finally, taxes vary mainly based upon the state in which the city is located. Many states permit their municipalities to use a municipal income tax. For communities like Columbus, Ohio, for example, this creates a competitive disadvantage compared to states like Texas and Florida that do not have income taxes at all, but Ohio and its cities also aggressively use tax incentives to negate any competitive disadvantage their local tax code provides.

Companies Choosing Mid-Sized Cities
Mid-sized cities are scoring substantial economic development wins. Some examples follow:
Pillar Technology, a leading national software development firm recently purchased by Accenture, opened a new office in Des Moines, Iowa, after a national search for a new location in which to expand its business.
Baker McKenzie, a global law firm with 13,000 employees in more than 40 countries, recently announced its decision to open a new business services center in Tampa, Florida, creating more than 300 new jobs by early 2020.
Root Insurance, a booming FinTech company that provides auto insurance completely over smart phones, decided to locate its 500-job project in Columbus, Ohio.
GEICO, the second-largest private passenger-auto insurer, announced it was opening a 500-jobs sales and customer service center in the Kansas City area.
Of course, the mega-city is not dead — Amazon proved that. However, mid-sized cities are highly attractive locations for companies looking for a skilled workforce, affordable cost of doing business, and access to a million-plus customers.