Economic growth is welcome in any region. But rapid economic growth can also present a host of challenges. Those states with recently discovered oil- and natural gas-rich deposits are experiencing demands on everything from infrastructure and real estate, to employment and industry services. Shared opportunities include shared challenges.

North Dakota's Bakken Shale region is one of those areas contending with explosive growth. "In just the past three years, our region has more than doubled," says Greg Johnson, owner/CEO of North Dakota Port Services. "Logistics has become our number-one challenge. And building infrastructure with long-term viability and value is also challenging. With national and international investors bringing in significant capital investment, we have had to make tremendous adjustments to address the many changes required to accommodate this amazing economic development opportunity, while always keeping in mind the needs of our residents," Johnson says.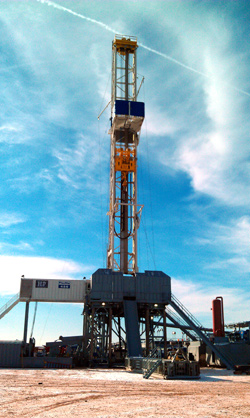 In order to support this rapid growth, the City of Minot has had to address the availability and quality of infrastructure, the need for housing for thousands of new employees, as well as the need for support services/professionals such as teachers, lawyers, bankers, and food service workers, to name a few.



Addressing the Challenges


Energy companies investing in Minot's Bakken Shale region want to get up and running quickly on production and distribution. The North Dakota Port Services (NDPS) concept of building an intermodal transport hub with rail and easy freeway access began nearly eight years ago. Today, this strategically located 3,200-acre development in Minot links the Bakken oilfield with areas within a 250-mile reach, including eastern Montana, northern South Dakota, northwestern Minnesota, and southern Manitoba and southeastern Saskatchewan in Canada. With 45 miles of track, shovel-ready sites, and full city infrastructure services, the big challenge of serving this industry has been addressed.

But addressing the housing and support services needs of workers recruited to fill the employment opportunities in the Bakken region continues to test local municipalities. According to Bruce Rutherford, international managing director at Jones Lang LaSalle, while hotels and apartments are under construction here, the high rent can be afforded only by highly paid energy employees, leaving other residents (including firefighters and police officers) without affordable housing options.

According to Rutherford's May 8, 2013 report in The American Oil & Gas Reporter, oil and gas companies are turning to real estate service providers to help address the problem, bringing in developers to build the needed apartments, houses, stores, restaurants, and schools. These emerging projects are expected to reduce the amount of temporary housing, and bring women and families into the community. He also reports that institutional investors' long-term risks are offset by rapid investment returns, with real estate investments in this region generally paying off faster and delivering double to triple the returns on similar investments in other locations.

By enjoying the benefits newfound energy sources bring to the area, while finding solutions to issues that test their communities, regions like Minot are addressing the challenges of rapid economic growth head on. Efforts to develop oil and gas resources must continue to take into account the needs of community development and quality of life.