Four and a half years following the Great Recession and a year after Hurricane Sandy, New Jersey's economy finally appears to be back on the road to recovery. Employment growth has picked up, and the unemployment rate is trending lower. Residential and commercial construction is also showing some signs of life. Despite the improvement, the Garden State has considerable ground to regain before it returns to its prerecession level. New Jersey's recovery is also slightly lagging behind the nation. To provide insight into the state's current struggles and where it is heading in the near future, we have answered several questions that are frequently asked about the Garden State. We also wanted to address some of the topics that have received wide attention recently but have not been adequately answered from an economic perspective.

Is New Jersey's pharmaceutical industry in trouble?
New Jersey has long been a pharmaceutical hub in the United States, thanks to a preponderance of research institutions and access to financial markets. The state's industry has been struggling amid sluggish demand, high operating costs and a large number of profitable drug franchises coming off patent. For example, Bristol-Myers Squibb lost its patent to Plavix in 2012, and in the coming years will lose its patents to Abilify and Reyataz, both of which yield billions in annual revenue. Roche closed its lab in Newark, which put thousands out of work. In addition, Merck is consolidating operations in the state and laying off about 20 percent of its global workforce. Merck already let go more than 100 employees in Readington this year.

Glaxosmithkline, Novartis, and Bristol-Myers Squibb have all downsized in the last two years as well. As a result, employment in pharmaceutical and medicine manufacturing plummeted during the recession and has yet to recover. The industry has lost 15,000 jobs since 2005. Year-to-date exports of pharmaceuticals and medicines are down 18.2 percent from a year ago, though some of this is payback from strong export gains in 2012. In addition, Johnson & Johnson agreed to pay billions in a legal settlement surrounding the marketing of Risperdal. About $400 million will come from its New Jersey-based subsidiary, Janssen Pharmaceuticals.

The industry does have its bright spots. Merck dedicated a new headquarters for its animal health division. Animal health is a growing area in pharmaceuticals, thanks to strong global demand for animal proteins and growing expenditures for household pets. Also, Bayer opened its new headquarters in Hanover, which consolidates operations from around the state and New York. The German pharmaceutical company also received a green light from the FDA to produce Adempas, the first drug that can be used to treat pulmonary hypertension without surgery, in the United States.

Furthermore, additional health insurance coverage from the Affordable Care Act should boost pharmaceutical demand. However, there are concerns that the effort to reduce medical costs will result in fewer insurance dollars available to pay for pharmaceuticals at current prices. This will ultimately depend on what health insurance consumers choose. In addition, there has been some political pressure to loosen patent restrictions to allow generic drug makers to enter the market earlier. Although this could potentially hurt the brand name producers, it would be a boon for the generics companies located in the state. Actavis, a major generic drug producer, has its U.S. headquarters in Parsippany, while Mylan Specialty and Teva, two other major players in the generics market, also have operations in the state.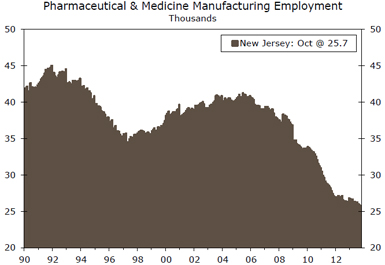 How will the rise in the minimum wage affect New Jersey?
The minimum wage in New Jersey is set to increase from the federally mandated $7.25 per hour to $8.25 per hour next year, a sizable increase of 13.8 percent. In addition, the minimum wage will be increased to reflect the rising cost of living beginning in September 2014. Economic theory would suggest that this would lead to a decrease in employment and a rise in prices if the new minimum wage is above the market wage. Although only time will tell how this policy change will affect the New Jersey economy, we expect the impact to be relatively small and slightly positive.

New Jersey has been in this situation before. In 1992, New Jersey increased its minimum wage to $5.05 per hour from the federally mandated $4.25, an even larger increase of 18.8 percent. Back then, just like now, there was concern that this would lead to a decrease in employment and a rise in prices at a time when the state was struggling with a battered economy. Two economists conducted a study to measure how the minimum wage hike affected businesses employing these low-wage workers. The study sampled fast food restaurants, major employers of minimum wage workers, in New Jersey and eastern Pennsylvania. Similar to today, at that time, Pennsylvania kept its minimum wage at the federally mandated level. The authors found that the minimum wage hike in New Jersey did not affect employment, nor was there a decline in non-wage compensation to their employees. The evidence was less conclusive regarding the prices at the stores. Compared to their counterparts in Pennsylvania, stores raised their prices, but compared to similar stores within New Jersey that paid wages above the minimum wage, the price increase was not statistically significant.

There are certainly limitations with this study. First, the world has changed over 20 years, and business and consumer reaction to a higher minimum wage and higher prices could very well have changed over time. Furthermore, the study focuses only on fast food restaurants, and although they are large employers of minimum wage workers, they are not the only ones. However, the study provides a glimpse of employment decisions and should alleviate some fears that this policy will have devastating effects on the same people it was intended to help. Even if the net employment effect turns out to be a negative one, the effect will be small relative to the state's economy. In 2012, about 49,000 workers, 1.2 percent of employed New Jersey residents, were paid the minimum wage. Of course, there are more workers who make between $7.25 and $8.25 per hour, but the total number of affected workers should still be relatively low. This also means that if employment does not fall, then the economic benefits from rising incomes of more than 49,000 workers will be muted.

About 63.1 percent of minimum wage workers are employed in retail trade and the leisure & hospitality industries, both of which are local consumer-driven industries. Let us assume that prices will rise at the affected businesses, and that the effects of the minimum wage increase could lead to New Jersey residents crossing state borders in search of cheaper goods. It is possible that New Jersey residents will head to Pennsylvania, which should have lower price pressures and a lower sales tax. In addition, Delaware has long lured consumers from other states to take advantage of their no sales tax environment, though it is unclear if these added price pressures will push even more consumers to cross that border. However, the minimum wage is also increasing in New York where the sales tax is already higher than in the state of New Jersey, indicating that the affected goods should not have much cost difference on either side of the Hudson River. Furthermore, many of the goods sold, such as hamburgers at fast food restaurants, are relatively inexpensive, so the price differential across state lines would have to be substantial to make up for the cost of gasoline and time.

To conclude, there is some recent economic research that suggests that a rise in New Jersey's minimum wage would have little effect on employment. We would caution, however, that this is one study that was done roughly twenty year ago. Today's labor market presents some unique challenges. As has been noted earlier, labor force participation has been faltering and income growth has been lagging. Retailers also seem to have far less pricing power today than they did back in the early 1990s. The net result is that more businesses will likely need to absorb the higher cost of an increased minimum wage, and the employment impacts could be greater than they were two decade ago. If employers are able to pass the higher costs on to consumers, the increase may have the indirect effect of pushing customers across state border or into consuming a different consumption basket, which would then hurt profits and potentially lead to employment losses later on. However, we suspect that the rise in prices would have to be substantial for such a strong change in consumer behavior to occur, which seems unlikely today. Furthermore, we suspect that a large increase in prices is unlikely in the first place, particularly when considering that the earlier study could not conclusively determine if those stores increased prices at all.