In growth, companies find themselves in the dilemma of identifying capital to increase capacity and managing opportunity cost where capital may be deferred. This dilemma is amplified as capacity constraints drive a company to complete the site selection process for an expanding or new facility.

Inherent as part of site selection, there is risk — risk of making the wrong site decision…risk in allocating an appropriate amount of capital…risk in completing a project on schedule and within the budget…risk in minimizing and preparing for natural occurrences, like weather, that we cannot control. In the end, the growth strategy puts an owner, manager, or developer in a situation where the appropriate strategic partner can mean the difference in making a profit or generating a loss.

As a solution, manufacturers, developers, and other commercial entities increasingly are choosing a design-build provider as a strategic partner in the location process. They realize that design-build minimizes risk, eliminates change orders, speeds time to completion, and reduces the cost, ultimately delivering a high-performance facility on a shorter delivery cycle. As an additional way to add value, clients are also starting to take advantage of building systems such as precast, which allow the construction process to begin before crews even hit the job site.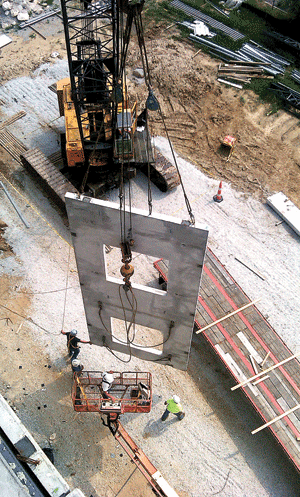 Some Examples


Let's consider the following: Like most manufacturers, Hitachi Automotive Systems places paramount importance on speed of construction to meet production schedules for new automotive components. As in the case of Hitachi, most, if not all, automotive manufacturers actually require the assembly line they've created to be approved for production before they will accept delivery of parts from said line. Once approved, the line cannot be moved or altered without going through this entire approval process again. When capacity, or more importantly, time, is limited, these types of requirements have a severe impact on construction schedules.

This is where design-build and precast building systems were combined to produce the best results for Hitachi's 289,000-square-foot facility to add manufacturing capacity to its operations in Georgia. Bristol Group's design-build capabilities, coupled with the sourcing of local precast components, helped deliver a high-performing facility on an extremely short delivery cycle, thereby lowering the risk for the client and delivering value in five key areas:
Speed -

Manufacturers need to stick to a schedule and have the expansion or new facility in production as soon as possible. Even while design is wrapping up and prep work for grading and utilities is under way, precast walls can be built simultaneously in a manufacturing facility, and then erected in a short period of time. This manufacturing process allows design and construction to overlap, further reducing the delivery cycle of a new facility.

In addition, because these components are cast indoors, they are not subject to weather delays, and they reduce the need for onsite labor, which has a much lower rate of productivity. For example, even with the cold, wet winter in 2013, Bristol Group was able to get Hitachi's Georgia plant under roof in 2.5 months and delivered a full two months ahead of schedule.

Quality control -

Precast is manufactured in a controlled environment, which produces the highest degree of quality and ensures uniformity. This approach can benefit interior function as well. Osram Sylvania, a division of Siemens, asked Bristol Group to assist in site selection and construction of a 7,500-square-foot addition to house state-of-the-art recycling machinery to reclaim the phosphorous coating on the interior of fluorescent light bulbs.

Osram Sylvania's plants typically have process tunnels with varying depths and widths to manage production flow. When the firm trims glass in its process, the excess falls into those tunnels for disposal. The traditional way to create those tunnels is to dig 10 to 12 feet with machinery and pour individual pieces of concrete — repeating the process until complete. This type of construction disrupts production flow and increases the client's risk because of the inevitable manufacturing downtime.

As an alternative, Bristol Group cast and set each concrete component in its own precast manufacturing facility in Central Kentucky so we didn't have to disturb operating machinery in the plant or dig excess material in the tunnels. This perfect marriage of the design-build process and our precast manufacturing facility created an innovative solution that saved time, ensured quality, and reduced risk.

Durability and performance -

It's not every day that a company is asked to site, design, and construct a building that has blast-rated glazing, ballistic-rated drywall, achieved LEED Silver certification, and won an award from the Associated General Contractors of Kentucky. The United States Attorney's Office had special safety needs and site constraints in downtown Louisville, Ky., and design-build coupled with precast was part of the solution.

In this case, each precast concrete component underwent a process where it was pre-stressed to increase strength and allow it to age gracefully without distress — resisting wind, impact, and fire. The six-story office building with two levels of secured parking used two sources of precast concrete elements. Architectural panels, structural precast columns, and structural precast beams were manufactured at Bristol Group's Lexington facility. Bristol Group sourced hollow-core floor slabs from a partnering vendor. The end result was an aesthetically pleasing facility, delivered under budget and on a shorter delivery cycle, and capable of outperforming the industry standards for safety.

Operations cost reductions -

In all three cases identified, proper siting, design, and inclusion of precast concrete components provided a superior building envelope. These facilities consistently outperform conventional construction by reducing air infiltration and moisture buildup while maintaining an equal cost of construction. The time to delivery also was shorter than the traditional construction process. A masonry building, even if it's well done, will start to crack. Precast is as airtight after 25 years as it is in the beginning. Along with the fact that concrete is slow to absorb and release heat, these qualities further reduce the overall operating costs, without increasing the construction budget.

Tailored design -

Finally, as companies work to site their facilities, the aesthetics can make or break the "go/no go" decision. Working with a strategic design/build partner who can explain every building system available allows clients to have a better opportunity to meet their expectations. In the case of precast concrete components, these materials can be produced with a variety of textures, colors, and finishes, including real brick material cast into the panel. Form liners allow for a wide range of appearances from hand-cut stone to lettering and even an organization's logo. With that said, precast is not always the solution. Therefore choosing the right site selection partner can mean all the difference in the world.
Integrating these processes ensures the client's expectations of quality, speed, responsive solutions, and — most of all — value are being met. Those expectations aren't just trends. They are the standards of success for the construction industry. As companies strive to decrease construction time and cost, increase facility performance, and manage their risk, choosing the proper partner can define their success.