It's no secret that there is a national shortage of skilled workers in the precision machining and advanced manufacturing industry. At the same time, there is a high rate of unemployment among veterans. Many communities are looking for solutions to this issue and the City of Lebanon, Indiana, is no different.

Lebanon, Indiana, has a rich history of manufacturing, but after receiving encouragement from the business community, local officials wanted to ensure that the businesses have a strong workforce pool to choose from. City representatives contacted the Vincennes University to share their vision for workforce development and the idea grew from there.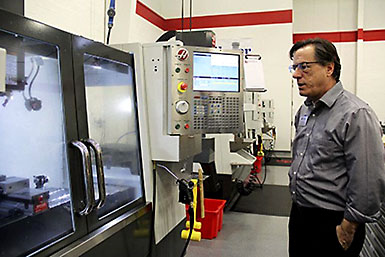 Earlier this year, officials from the City of Lebanon, machine-tool builder Haas Automation, and Vincennes University opened their doors to a new advanced manufacturing Training Center. The 20,000-square-foot Gene Haas Training Center will offer CNC and robotics training programs using the latest state-of the-art machine tools and equipment.

This center will address both issues, as well as provide training for the general public. A 16-week intensive training program will also be offered for veterans. According to Doug Bowman, director of VU's Haas Technical Education Center, "Indiana alone will need 7,000 new machinists over the next five years. Providing this high-quality training ?on state-of-the-art equipment will help bridge the advanced manufacturing skills gap."

City officials view this as a game-changer for the community. Not only will it serve as a resource for existing businesses, but they hope it will entice prospective businesses as well.