Janine Grossmann, Practice Leader of Interiors for the Ontario offices of Perkins+Will, works with clients in designing their workplaces and determining how to incorporate strategies that help promote health. She recently spoke to Area Development about health and wellness in workplace design.

AD: In your recent blog post, you indicate that health and wellness in workplace design is on the rise as a priority. Can you expand on this?

Grossmann: When we meet with clients, there is always the 300-30-3 rule discussion. On average, companies typically spend a ratio of about $3 per square foot per year for utilities, $30 for rent, and $300 for payroll. This means that even small productivity gains as a result of health and wellness measures have larger impacts than cost savings from energy or rent. Organizations want healthier employees because — in addition to decreased costs associated with fewer sick days and less time off — healthy employees will also be more engaged in their work and in the organization.

In addition, employers are starting to formulate health and wellness design strategies as a tool to attract and retain top talent. The elusive millennials entering the workforce value healthy, active lifestyles, and are demanding the same from their workplaces no matter what the building typology. The C-suite is paying attention to this trend and answering the calls for healthy workplaces to capture emerging talent.

AD: Does a space designed to promote health and wellness mean all its employees will be healthier?

Grossmann: A person's health and wellness is still an individual's responsibility, from the food they eat to the amount of exercise they perform, and the actions they take to protect their mental health. However, there are buildings that can make these choices less accessible for employees. Movement is a key component to a health- and wellness-enhancing design. A space that promotes the use of elevators over stairs, or does not even allow for the option of stair use, is already hindering an occupant from making a healthier choice.

High-tech labs or manufacturing facilities tend to be situated in suburban settings and may offer a limited range of meal options that sacrifice quality in favor of availability. In this respect, landlords can take the initiative by establishing healthy eating programs and attracting healthy vendors. Landlords can also partner with local producers to host a regular farmers' market in the parking lot. It's not only a good way to access healthy local food, but also a great way to engage with the local community and establish a positive presence.

AD: How do you see health and wellness fitting into manufacturing and high-tech spaces?

Grossmann: We find in designing labs and high-tech spaces that the conversation is often about the activities that will be performed in the space, such as making sure there is clearance for machines, or ventilation for fumes. However, it is often forgotten that these spaces will be places of work for people, and their design will impact occupant health.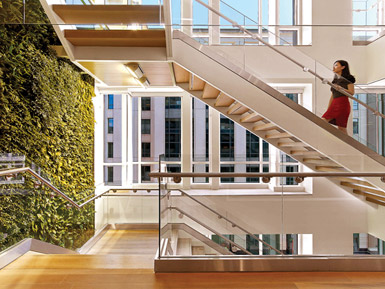 A particular challenge of the suburban setting for manufacturing and high-tech spaces is the dependency on single-occupant cars. The concern then becomes finding ways to facilitate healthier commutes and increase access to amenities to foster health and wellness in the facility. This can be done in the form of a small office gym or yoga studio, or even a space where occupants can relax after a stressful morning commute.

An upside that a suburban setting offers is the possibility for easier access to the natural environment. Landlords can capitalize on this by introducing biophilic activities such as walking trails around the office or a garden space for coffee and lunch breaks. Maximizing daylighting and abundant indoor plant life can also introduce aspects of the natural environment into a manufacturing or high-tech space. In fact, workers with access to daylight get, on average, 46 more minutes of sleep each night. More sleep has a huge impact on productivity.

A vibrant, animated space with abundant natural lighting and corporate branding can also increase morale at work. Providing such an area can simultaneously boost mood and affirm the corporate brand that is intrinsic within employees.

Our experience as a firm with high-tech laboratories in Toronto's MaRS Discovery District is an example of combining health and wellness considerations with those of sustainability and functionality. Cross-disciplinary research occurs in a continuous, activated space with ample daylighting, which allows for collision space and facilitates collaborative thinking.

AD: What is the biggest challenge with integrating health and wellness into a design?

Employees and employers alike are seeking spaces that are healthy as well as functional and sustainable.



Grossmann: To us, dispelling the seemingly contradictory notion of increasing productivity while encouraging movement has been the biggest challenge. Increased movement and physical activity are directly linked to improved health and wellness, which can in turn lead to better engagement with work and, consequently, greater productivity. Activating areas such as stairs can reduce facility energy use while positively influencing employee health. Centralizing key spaces by distributing fewer printers or server stations in strategic locations can also result in increased movement.

Combining the ability to move with open, inviting collision spaces can increase opportunities for the meeting of ideas and dynamic collaboration. Research has shown that walking can lead to more creative thinking; even indoor movement can boost the number of creative responses and protect long-term cognitive function.

Health and wellness may not always be at the forefront of discussions concerning high-tech and manufacturing spaces, but the conversation is changing. Employees and employers alike are seeking spaces that are healthy as well as functional and sustainable. By implementing a few of these strategies, facility owners can provide the immeasurable added value of good health.