No doubt, the food industry is evolving. Driven by consumer demand for healthier, tastier, fresher options, food companies are pushing the boundaries of innovation to stay competitive in a rapidly changing marketplace.

The industry's most forward-thinking companies are taking innovation a step further, pioneering the food frontier of tomorrow. These trail-blazing companies are exploring the power of nutrition to change the course of health management, creating a new industry at the intersection of food and bioscience.

What are the implications for location decision-makers? While the criteria for the selection of a location will continue to vary from company to company, priorities in site selection may shift based on the changing needs of an industry in evolution, but are always driven by talent.

Availability of Highly Educated, Specialized Talent
The availability of highly educated, specialized talent may become increasingly important in years ahead. It's certainly already a reality for food industry innovators.

For example, Swiss food giant, Nestlè, scoured the globe for a site for its new Health Science research home, where it will explore the therapeutic role of nutrition and develop new nutritional therapies. In the end, it all boiled down to one critical factor: the commercial and technical competence of the workforce.

It's not surprising. The company already has a product line that includes nutritional therapies for chronic medical conditions, but there are other emerging opportunities Nestlè has set its sights to capture. From the treatment of Alzheimer's to the underlying causes of gastrointestinal disorders, Nestlè is investing in research and leveraging cutting-edge scientific discovery to develop therapies that have the potential to change healthcare delivery.

To achieve its vision and maintain its status as an innovation leader, the company recognized that the ability to recruit the researchers and scientists that will ultimately accelerate scientific breakthroughs would be difficult in many otherwise appealing locations. That factor ultimately guided the decision to select a location in the heart of a major biopharmaceutical corridor, where recruiting a team of experienced scientists and researchers was achievable.

Nestlè is not alone in making access to talent one of the primary site selection criteria today. Many of the world's leading food companies, including Mondelez, Unilever, and Pinnacle Food Group, have established their R&D operations in innovation hot spots, where access to the talent they require for discovery is readily available.

While the need for highly specialized scientific talent doesn't diminish the need for expertise in production, quality assurance, and distribution for many food companies, even these fields require a more sophisticated workforce than in years past. With technology and automation driving the efficiency of all industries, many food companies are favoring locations where tech-savvy workers are plentiful. There's little doubt that access to a highly educated workforce with technology acumen will become an increasingly important site selection criterion in years to come.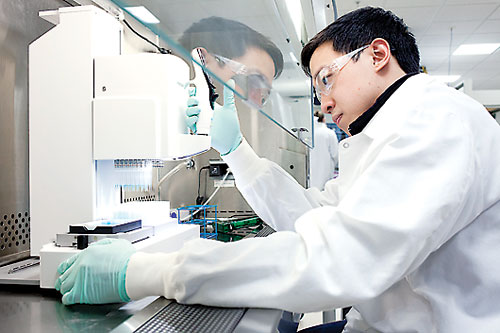 Access to Partnering Opportunities
Access to partners and an ecosystem that supports innovation has long been important to life sciences companies. It also has become increasingly important to food companies, especially those that focus on innovation.

As pioneering food companies increase their collaboration to accelerate scientific breakthroughs and launch new products, easy access to partners in other industries, as well as leading universities, is becoming as important a site search criteria to some companies as access to other suppliers and vendors.

For example, Chromocell Corporation, a biotech company that began its life in a life science incubator, has become a go-to partner for some of the food industry's leaders. While its founders never intended for the company to be part of the food revolution, its 120 scientists and researchers are now collaborating with food and beverage leaders like Nestlè, Kraft Foods, and Coca-Cola to increase the perception of sweetness and saltiness in food.

Many food companies also are stepping up their partnerships with flavor and fragrance companies like Firmenich, Symrise, and International Flavors & Fragrances, whose microbiologists, biochemists, and other scientists are not only involved in cutting-edge research to make food taste better, but are developing new solutions for healthier food.

Other food companies are turning to the research departments or specialized innovation centers of universities. As a result, they are selecting locations that put collaboration within easy reach. For example, more than 1,500 food companies have tapped into the services and support of the Food Innovation Center (FIC), a unique business incubation and accelerator program, which is part of the New Jersey Agricultural Experiment Station (NJAES) at Rutgers, the State University of New Jersey.

The technical and business support offered there includes the ability to conduct research and test batches in state-of-the-art USDA and FDA-inspected food processing facilities, which has proven valuable to both established and start-up companies. In fact, Dr. Schär, a manufacturer of gluten-free bread products based in Italy, was one of many companies to launch its first products for the U.S. market at FIC. The center has proven such a valuable partner that the company chose to open its first U.S. production facility a few miles away.



Easy access to partners in other industries is becoming an important search criteria.

Location Even More Critical
Location has always been an important factor in site selection decisions. However, as food innovators strive to bring heathier, fresher foods to market, location decisions will become even more critical.

For many companies, one of the biggest hurdles to profitable growth is distribution. And even food companies on the cutting edge of innovation sometimes struggle with meeting consumer expectations for speedy — even same-day — delivery without the expense associated with long-distance shipping. For many, the only answer to keeping costs in check is selecting a location that offers convenient and broad access to the markets they want to reach.

In a global economy, sometimes that's easier said than done since consumers, retailers, and suppliers can be located in the same city, across the country, or around that world. That's one of the reasons why the U.S. Northeast corridor, one of the most concentrated consumer markets in the world, has become a popular landing place for many food companies.

For companies that rely on shipping or receiving goods from around the world, access to air/sea connections is also a consideration. In fact, a location near a port with opportunities for sea, rail, road, and air connections becomes a necessary site selection consideration for companies that have global operations and customers. When a company has locations around the world, access to passenger air service also becomes important to facilitate broader collaboration between global team members.

Finally, food companies may require access to regulatory and financial centers as part of normal business operations. In some case, access to these resources also becomes a factor in the location decision.

One thing is certain. The innovations and opportunities in the food industry will create new challenges for location decision-makers. But it will be a win/win for those companies that can capitalize on its evolution and all of us who will have access to healthier, tastier, fresher food.