Investment in new drug discovery is at an all-time high, creating opportunity and demand for more innovative real estate strategies. Last year, U.S. biopharma firms spent a record-breaking $179 billion on research and development (R&D) to improve their future pipelines, according to JLL's Life Sciences Outlook 2019 report. And their investment is projected to grow by $34 billion by 2024, suggesting that there's nowhere to go but up in this industry.

This investment momentum is making waves even outside the sector, with today's life sciences industry proving a key economic driver in the U.S. After all, biotech and pharmaceutical leaders are revolutionizing the way we treat illness, with upwards of 7,000 medicines in clinical development globally and a record number of drug approvals by the FDA. And venture capital funding to the sector has also surged, growing 40 percent in the U.S. over the past year alone.

But soaring investment doesn't do away with pre-existing industry pressures. Upward momentum, for any one firm, means not resting on the laurels of innovation, but rather on simultaneously fueling innovation while finding new ways to become more efficient with operations. According to JLL research, big pharma R&D returns have sunk to their lowest levels in nine years, with the cost of bringing a new drug therapy to market having shot up from $1.2 billion in 2010 to nearly $2.2 billion in 2018.

Meanwhile the war for talent is also becoming more cut-throat than ever, with life sciences companies now competing not only against their own — picture big pharma players pitted against small-batch, nimble early-stage players — but also increasingly vying against the tech sector for the brightest employees. And industry wages are also growing faster than all other employment sectors, further turning up the heat on R&D costs. As of 2018, life sciences sector wages were more than 70 percent higher than the national average of all other occupations, according to the U.S. Bureau of Labor Statistics, as cited in the JLL report.

A state-of-the-art lab in an innovation-rich ecosystem can help mitigate the drop in average returns and offset the high cost of innovation. Our research shows that neighborhood and facilities can play a significant role in attracting talent, as well as supporting access to capital. And forward-looking operational efficiencies can help offset the soaring cost of rent.

Leveraging real estate innovation to stay ahead of cost pressures, while supporting a culture of innovation, demands a careful balancing act from corporate leaders. But companies can master this art by staying ahead of key trends affecting life sciences real estate today.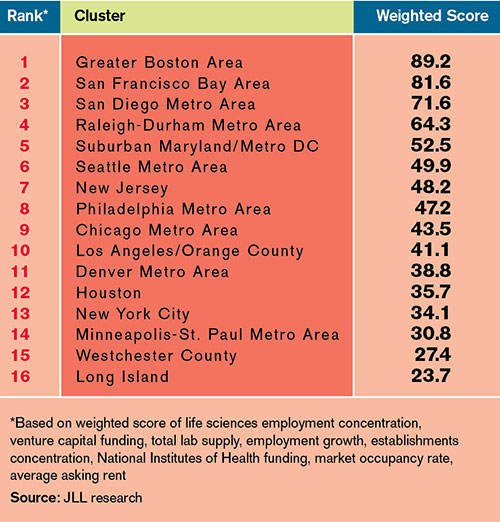 Three Top Considerations in Life Sciences Real Estate Strategy
The quest is on for future-friendly real estate strategy, from major big pharma firms to breakthrough drug developers in small incubators. Following are three key considerations for all those looking to give life sciences talent what they want, while rising to the challenge of rising rents and dwindling space:

1. Life sciences leaders are eager to drive recruitment and retention with locations and facilities that today's top talent crave.

More productive, inspired R&D innovation is only possible when the right people show up to do the hard work each day. Today's scientists and tech innovators aren't going to be impressed with the lackluster, cookie-cutter offerings of yesteryear. They're looking for meaningful work in dynamic live-work-play environments within innovation-rich neighborhoods where they might run into other innovators from other world-class research centers, at work, on the way to lunch, or at a trendy corner café or bar.

For all these reasons, and more, the high rents can be well worth the price of admission into expensive areas like San Francisco and Boston. These markets teem with coveted, naturally flowing talent, some of whom could be the next innovation star on any given life sciences R&D team.

Meanwhile, next-generation lab facilities will also help appeal to the brilliant minds who may be behind that next big medical breakthrough. Flexible, experience-driven design can support efficient, desirable laboratory locations and workplaces. And today's tech talent won't settle for subpar technology amenities.

2. Life sciences firms get creative to score a spot in the hottest R&D markets.

Suitable space is dwindling in the nation's most popular life sciences markets, with big pharma occupiers and emerging companies alike crowding the market. But there's no longer a one-size-fits-all approach when it comes to scooping up lab space within, and near, the nation's top clusters. As with any other industry, life sciences firms all start small too — but the need for pricy equipment, quality lab space, and investor support often drives them to seek out traditional space sooner than in other sectors.

Enter the growing concept of co-working labs, which can prove to be a great fit for the high-stakes world of life sciences research. Rising real estate costs compounded by a dearth of available lab space has spurred the rise of co-working and shared lab spaces across the country in an industry where a collaborative environment is proving to be a key to success.

In Philadelphia's King of Prussia submarket, for example, MLP Ventures' Discovery Labs is on pace to become the largest co-working ecosystem in the U.S. for healthcare, life sciences, and technology-enabled firms. When complete, the $500 million, 1.6-million-square-foot campus will comprise 12 connected buildings, including 50,000- to 125,000-square-foot range R&D spaces.

The results may be well worth the effort in terms of plugging into local talent pipelines. Consider, for instance, the fact that job growth in the most desirable life sciences clusters far outpaces overall U.S. job growth (11 percent), with growth rates of 26 percent in the San Francisco Bay area, 16 percent in Denver and Boston, and 12 percent in Raleigh-Durham.

3. Emerging markets are also attracting life sciences leaders' attention — often for good reason.



Leveraging real estate innovation to stay ahead of cost pressures, while supporting a culture of innovation, demands a careful balancing act from corporate leaders.

Top markets can indeed be well worth the top rents — but such knowledge helps no one when there's no suitable space to be found. Currently, vacancies in the nation's tightest life sciences submarkets are hovering at less than 2 percent, and exorbitant rents are just one signal of the shortage. In San Francisco's Mid-Peninsula neighborhood, for example, rents have nearly doubled from $32 per square foot to $58 per square foot since 2014, with vacancy below 6 percent over that same period.

It's worth noting that Boston and San Francisco top the list for new life sciences development, with more than 3.3 million square feet of new lab space under construction in each market. And yet, developers here and in other top-tier markets simply can't keep up with demand.

The good news is that other clusters are also picking up steam, nurturing innovation-rich ecosystems. In Houston, for example, the number of life sciences establishments jumped 15.5 percent over the past five years, trailing only Boston and Raleigh-Durham. Denver is also well positioned to support growth, with a 14 percent vacancy rate and a 15 percent employment growth rate.

Calling All Innovators: Lab Breakthroughs Demand Real Estate Breakthroughs Too
Location and quality of space can play a vital role in life sciences R&D. To capture that opportunity, real estate leaders need to understand how any given location and facility could support their firm's innovation needs. There are no hard and fast rules here. In fact, new ways of thinking will help CRE leaders unveil new ways of delivering value.

But some rules remain. The right location will most likely include a mix of world-class academic institutions, leading-edge research facilities, and a close, tight-knit medical community. And the right facilities will help support a dynamic workplace culture, driving engagement and productivity across a broad range of spaces — from flexible, easily re-configurable lab benches and furnishings, to casual collaboration spaces, to analytical spaces where data analysts can crunch the numbers.

To tap into the vast potential, CRE leaders can help advance life sciences goals by leveraging advances in real estate data and insights. They can ensure real estate goals are in lock-step alignment with corporate goals. And they can deliver a data-informed roadmap for the future that supports long-term scalability and resiliency.

Technological advances in medical development, compounded by growing demand from emerging economies, are projected to propel worldwide prescription drug sales from $900 billion in 2019 to $1.2 trillion by 2024. That's going to require a lot of innovation — and, in turn, the right lab space to accommodate effective — and rapid — discovery and development.

In a time of fast evolving and advancing global trends, the biopharmaceutical industry is paving the way for a new future for healthcare. And so, in turn, are the real estate leaders helping deliver the space for discovery to happen.