For the third year in a row, our construction management firm has conducted a survey among our clients and partners to determine what the real estate community truly thinks about sustainability in the built environment. Our survey measures everything from the expected ROI of sustainability, wellness, and resilience planning to which third-party rating systems have the most market impact. We find it a fascinating glimpse into how our clients perceive, value, and interpret the myriad factors that impact sustainability in the built environment.

While the survey shows that sustainability is still important to the building community, this year's results indicate some subtle shifts, particularly when it comes to acceptance of green building and the role of third-party rating systems.

Building Green vs. Certifying Green
As a whole, there's been a year-over-year rise in the general consensus that sustainability — defined by energy efficiency and conservation of natural resources — is becoming expected when designing and constructing the built environment. For example, 90 percent of respondents perceive green building as a code requirement, already mainstream, or becoming code. As more municipalities adopt a wider range of sustainability standards into building codes and a growing number of end-users demand sustainable spaces, fewer projects are seeing the need to push the envelope beyond best practices.

What is surprising is that interest in pursuing third-party rating certifications appears to be on the decline: 57 percent of respondents agree that there are too many third-party rating systems, and only half of respondents say they understand what's new in LEED v4. Also, when asked about current projects, more than a third of the respondents say they build to certification standards without seeking it. Another third will not seek certification at all.

We're seeing this trend play out in commercial interiors as well as in larger commercial and industrial development. One of our clients has redeveloped a former lab complex into a virtual mini-city for commercial, residential, and retail uses. In addition to being an adaptive reuse project, the complex includes widespread PV panels, a solar farm, salvaged materials, and other sustainable features. But the owners did not pursue any of the available third-party rating certifications. Why? They didn't find the expense and extra administrative steps valuable enough and, instead, opted to incorporate those same principles into the development independently.

That doesn't mean other clients aren't still going for certifications, however. Consumer goods company Unilever recently opened their new U.S. headquarters, which includes corporate office space, R&D, warehouses, and other functions across its facility. As described in the Unilever Sustainable Living Plan, the company aims high when it comes to sustainability. For its new headquarters, it is seeking both LEED and WELL certification and expecting the facility to reduce operating costs by 20 percent and water demand, carbon dioxide emissions, and total energy use each by 50 percent.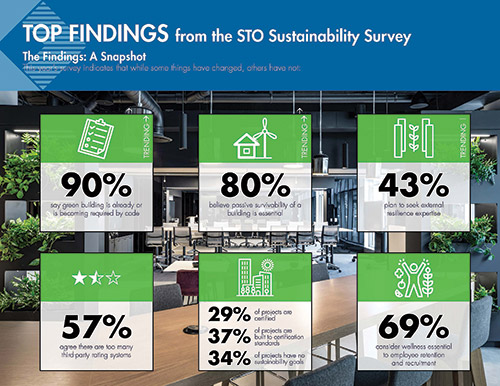 Wellness Is Growing
An overwhelming 93 percent of the survey respondents agree that wellness features and amenities in the built environment are already a core requirement of their real estate, an emerging need, or now becoming mainstream. Sixty-nine percent also agree that wellness is a strong component of their employee retention and recruitment strategy.

While those numbers seem appropriate for typical commercial office buildings, the desire to build for wellness extends to the industrial realm as well. A medical supply company based in Texas recently built a new headquarters facility to include more than 200,000 square feet of manufacturing, assembly, R&D, and office space — and it is certified WELL Silver — the first in Texas to achieve the standard. The building was specifically designed to encourage health and wellness, from the fitness center and on-site cafeteria to the collaborative intent of its workspaces. It's a perfect example of how wellness can be incorporated not only into the typical corporate office environment but also into more industrial-oriented facilities.



An overwhelming 93 percent of the survey respondents agree that wellness features and amenities in the built environment are already a core requirement of their real estate, an emerging need, or now becoming mainstream.

Resilience: Still No Alarm Bells
Despite following on the heels of one of the most costly U.S. hurricane seasons in documented history, the resilience trends in the 2018 survey findings remain surprisingly flat. The majority of respondents (63 percent) agree that a building designed to withstand extreme weather and climate change is an essential requirement, and 80 percent believe that passive survivability — a building's ability to maintain critical life-support conditions if services such as power, heating, or water are lost — is an essential requirement of their real estate portfolios.

However, only 43 percent will be seeking external expertise in resilience to evaluate and plan to meet their real estate needs — no change from last year. A reason for this may be, as one end-user put it, a "lack of industry-wide standards" or a "lack of awareness of future impacts." Or, perhaps with the growing awareness about resilience, more owners and end-users have already implemented resilience plans and no longer need consultation.

An exception in the industrial building sector is data centers. Due to their inherently critical, sensitive nature, resilience is always a number-one priority, whether it's protection from cyber attacks, terrorism, or natural disasters. And in large cities, especially in the Northeast and on the West Coast, municipalities plan for, and address, climate change and resiliency in their local zoning. With each geography having different requirements and challenges, and without having a comprehensive governing body to define and regulate "industry standards" for resilience, it may be difficult for building owners and developers to take a definitive stand on how to effectively prepare their real estate portfolio — no matter what the building type or where the market.