The COVID-19 pandemic has dramatically changed our lives, and each one of us likely has a personal story to tell that underscores that fact. But there are also stories to be told of sweeping changes that virtually all of us have felt. One of those is the altered state of the global supply chain.

The supply chain is, after all, an element of daily life that has an impact, either directly or indirectly, on just about everyone on the planet. The pandemic put a spotlight on the critical nature of this industry. Truck drivers and warehouse employees became everyday heroes on the front lines, making sure essential goods got where they needed to go. At the root of those changes is the explosive growth in e-commerce, as homebound consumers embraced online purchasing for everything from food and other necessities to furniture and appliances.

Two senior executives from XPO Logistics, a top-10 global supply chain services provider, recently answered Area Development's questions about their new normal. Ashfaque Chowdhury is president of XPO's supply chain operations in North America, Asia, and Latin America. Erik Caldwell is president of the company's last-mile business, which delivers heavy goods to consumers' homes on behalf of some of the largest companies in the world. They oversee two critical pieces of the supply chain that e-commerce has impacted directly.

AD: We can well imagine that some changes brought about by the pandemic are temporary, while others are more permanent. What changes are here to stay for the foreseeable future?

Ashfaque Chowdhury: The increase in e-commerce is a trend that's going to play out for a long time to come. The pandemic has accelerated e-commerce to levels that we would have expected in 2025. E-commerce is growing faster than brick-and-mortar, and this growth has tremendous implications for supply chains. Delivering a product through the e-commerce channel, compared to delivering it through a store channel, requires significantly more resources in the warehouse and logistics area. That means the right combination of people and technology are critical to meet this new consumer demand.



Delivering a product through the e-commerce channel requires significantly more resources in the warehouse and logistics area.

Holiday peak this year is expected to be like nothing we've seen before and we're hiring 25,000 seasonal and permanent workers worldwide to support it. This, coupled with the deployment of robots that can work alongside our employees to increase efficiency, will be the defining moments of what some are calling the "mother of all peaks."

Caldwell: That new normal leads to the need for reverse logistics in returning online orders. The overall volumes are challenging, but we're pretty adaptable at handling the increase in last-mile home deliveries of large bulky items. Returns are much more complex, and we're doing a lot more returns processing — as the shift to e-commerce has created more returns. Our technology is the savior there, since our systems integrate so tightly with our retail customers' systems — that's what makes it possible to get items back on the shelves so quickly.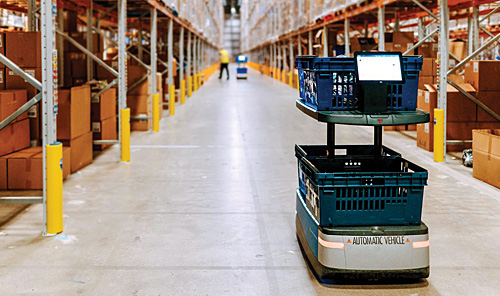 AD: In what other ways has technology helped you manage this crisis?

Caldwell: Throughout the pandemic our tech teams have been developing, enhancing, and deploying systems that have given us the productivity gains we've needed to meet the surge in demand. Things like automated route optimization and our capacity planning tools have helped, and our XPO Connect platform has given us better dispatch tracking and visibility with real-time updates, and they help reduce fuel consumption. Deliveries are contactless, so we're able to keep consumers and our employees safer.

Chowdhury: Certainly automation, in the form of robotics and collaborative robots or "cobots," has given us a much higher degree of physical separation of employees. It's really helped us double productivity rates and improve accuracy by up to 40 percent and, more importantly, created safer working conditions for our workers. That wouldn't have been possible without the many robots we've deployed in warehouses around the world.



That new normal leads to the need for reverse logistics in returning online orders.

Predictive analytics and AI technology have given us a much better idea of where and when resources are needed and what to expect so we can quickly adapt to the changing demand dynamics created by the virus. Our XPO Smart technology, for example, has enabled us to fine-tune the positioning of our workforce in a much more granular and efficient way. We're also using virtual reality (VR) to train new hires on how to work safely with robots, which improves the onboarding process.

AD: Given the labor shortage and how essential it is to retain employees, how have you kept your frontline workers motivated under the difficult working conditions they've been dealing with during the pandemic?

Chowdhury: Communication and showing appreciation go a long way. We've provided appreciation pay to tens of thousands of frontline workers to acknowledge their dedication and sacrifices. Communication has been robust — we've rapidly adapted to communicating virtually, and we've increased the frequency of virtual town halls. We've done a lot of listening. We've heard from our employees what their challenges are, and we've changed policies to make it easier for them to do their jobs.

Caldwell: The fact is, our frontline workers have always been very motivated, and that hasn't changed. At every level people show up and want to do a good job every day. I don't think COVID changed that at all. We didn't have to go out and super-motivate people. Of course, they can't help but be uplifted by the way the nation has appreciated supply chain professionals on the front lines and everything they're doing to keep the country moving forward.



No matter how fast you need to move, you need to share best practices along the way.

AD: What would each of you say is the number-one lesson you've learned from your experience with the pandemic?

Chowdhury: I think the first lesson is that sometimes the unthinkable does happen. It's important for leadership to swiftly respond to it, to lead people and pull the responses together to deal with something that is completely unprecedented. Waiting to deal with the problem and hoping it will get better doesn't help. Swift recognition and response are critical. Embrace change and adapt to it.

Caldwell: My number-one lesson is that no matter how fast you need to move, you need to share best practices along the way. Every day XPO employees were posting their ideas and experiences on Workplace, our internal employee communications tool, so they could be shared across verticals, regions, and business units. Externally, we released a pandemic safety whitepaper, "Essential Support for Essential Workers,"1 that we made available for free download. I'm very proud of that, and if our lessons learned can help others, all the better.