Foreign direct investment (FDI) in the United States is a compelling win-win proposition. Every day, communities across the nation benefit from highly compensated jobs, tax revenue, research and development spending, and other capital expenditures by foreign-invested enterprises. Meanwhile, companies of all sizes are demonstrating how establishing, reshoring, or expanding operations in the United States has become a business imperative in the age of the knowledge economy.

The fundamentals that make the United States a great place to invest — markets, business climate, and human and natural resources — are stronger than ever. In 2017, for the fifth year in a row, the United States topped the A.T. Kearney Foreign Direct Investment Confidence Index, an annual survey of global business executives that ranks which markets are likely to attract the most investment in the next three years. And the opportunities keep growing. Much of the proof is in the numbers, measured by the U.S. government and multilateral organizations such as the World Bank and the Organization for Economic Co-operation and Development (OECD). SelectUSA Stats, a data visualization tool, offers new ways to analyze a wide range of FDI data from a variety of sources. Here are some examples:

The United States Continues to Hold the Largest Total FDI Stock in the World
At more than $3.1 trillion, the total stock of foreign direct investment in the United States equals 17 percent of GDP — larger by far than that of any other country. In 2015 alone, new FDI expenditures to acquire, establish, or expand U.S. businesses totaled $420.7 billion, an increase of 68 percent from 2014 expenditures of $250.6 billion, according to the latest statistics from the Bureau of Economic Analysis.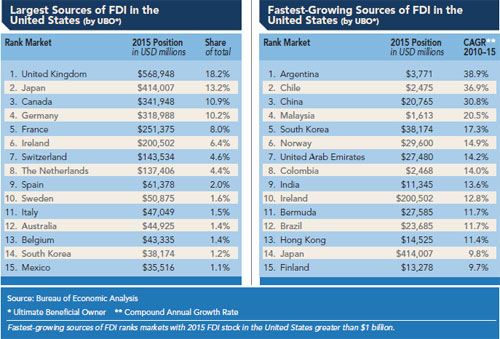 FDI Sources Are Growing and Diversifying
The composition of this investment also paints an interesting picture. Representing 18.2 percent of all FDI in the United States, the United Kingdom again ranked as the single largest source of foreign investment in 2015. Next on the list were Japan (13.2 percent), Canada (10.9 percent), Germany (10.2 percent), and France (8.0 percent).

FDI from three countries notably grew at compound annual growth rates (CAGR) above 30 percent from 2010 to 2015 — Argentina (38.9 percent), Chile (36.9 percent), and China (30.8 percent).

FDI Means Good Jobs
FDI has a measurable impact on communities across the nation. Some 6.4 million U.S. workers are employed by U.S. affiliates of foreign-owned firms, approximately one third of which are in the manufacturing sector. Not only do these high-skilled jobs pay 30 percent higher than the economy-wide average, but also for each job directly supported by FDI, there is at least one job indirectly supported by FDI.

Convinced that it's time to take the next step — either to invest or to attract investment? There are a number of resources that can help.

Federal and Other Levels of Support
SelectUSA, the U.S. national investment promotion program, works to facilitate job-creating business investment and raise awareness of the important role that FDI plays in the U.S. economy. As chair of the Federal Interagency Investment Working Group (IIWG), SelectUSA works with more than 20 federal agencies and bureaus, serving as a single point of contact to help business investors and U.S. economic development organizations (EDOs) to navigate the federal regulatory system. Serving both companies and U.S. EDOs, the program is frequently the first stop for business investors seeking information and guidance about entering or expanding their operations in the United States.

State, territorial, regional, and local economic development organizations across the country also offer a wealth of information and a wide range of resources to guide investors through the process of establishing or expanding their operations in a specific location.

Making Vital Connections: The SelectUSA Investment Summit
High-profile events like the annual SelectUSA Investment Summit connect investors with the diversity of opportunity across the United States, enabling business to explore locations across the nation in a matter of hours. Summit participants also hear about the U.S. business and investment climate directly from senior government officials and industry leaders, and learn about specific resources and tools to invest in the United States.

For more information, please visit www.selectusasummit.us and join the conversation on Twitter with #SelectUSASummit and #GrowWithUS17.